Tom Cruise Reveals He Underwent Rigorous Training to Fly Fighter Planes for 'Top Gun' Sequel
"They would have me go up in an F-18 for an hour or hour and a half, pulling anywhere around seven-and-a-half Gs."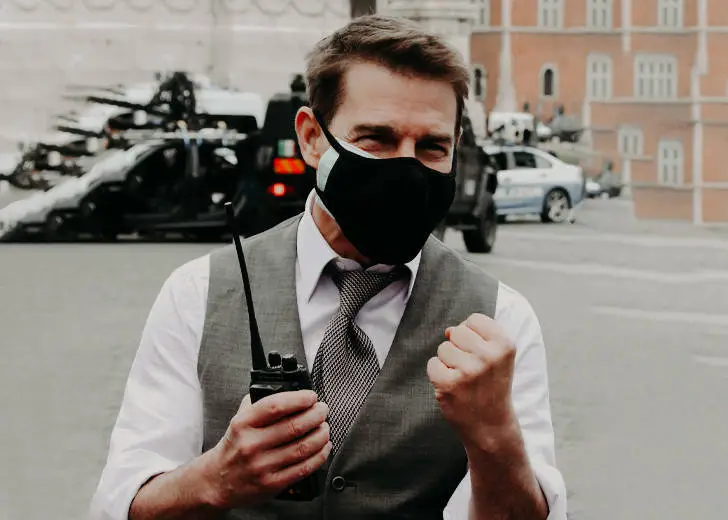 From jumping 25,000 feet out of a plane or climbing the world's tallest building, Tom Cruise is no slacker when it comes to doing his own stunt in movies, and he has no plans to stop. He is not afraid to defy death, no matter how dangerous. 
Cruise is constantly finding new ways to outdo himself, and in the long-awaited sequel to Tom Cruise's 1986 breakout film, Top Gun: Maverick, he is taking things up a notch with stunts that might be the riskiest yet and far more arduous than the ones he's built his career on. 
The Mission: Impossible actor is flying his fighter jet as six IMAX-quality cameras record his every move inside of the cockpit for a film. Cruise eschewed the green screen for actually piloting a jet, and this time he was not alone; the rest of the cast flew alongside him.
Cruise Had the Cast Go Through Grueling Training
Cruise will reprise his role as Pete "Maverick" Mitchell, who is a test pilot and flight instructor in the movie. For the training as a pilot, Cruise made his young cast members go through grueling training. 
Producer Jerry Bruckheimer, who worked on the original Top Gun, was on board with what Cruise wanted to accomplish. In the original movie, when they tried to film the cast in real F-14 fighter jets, nobody could handle the physical effects of flying at that speed, and almost everyone vomited, including Cruise. The scenes of the actors in the planes were reshot as the footage was unusable.
According to Miles Teller, who stars as Goose's son Bradley' Rooster' Bradshaw, he underwent three months of flight training to get comfortable with the craft and build up gravitational force tolerance. The training started in a Cessna and moved to an Extra 300, and from there, they got into an L-39 Albatros.
They would have me go up in an F-18 for an hour or hour and a half, pulling anywhere around seven-and-a-half Gs.
The cast also had to pass the Naval Aviation Survival Training, which included a water survival training, where they were blindfolded and submerged in an upside-down water tank, and they had to escape.
Meanwhile, Cruise was busy planning the aerial stunts and creating training programs for all the cast members with the great Top Gun pilots they worked with from the Navy.
Cruise Has Gone through Rigorous Training Before
In his 2011 Mission: Impossible- Ghost Protocol, the actor had to climb the Burj Khalifa. The actor had to climb 1,700 feet in the air.
He replicated the heated window of the Burj Khalifa with a makeshift glass wall heated with artificial lights and practice by climbing it. According to stunt coordinator Gregg Smrz, Cruise put in at least 200 hours of rehearsal time.
Cruise performed another death-defying stunt in the fifth Mission, where he needed to open an underwater vault.
For this scene, he had to hold his breath underwater for six minutes when most underwater sequences require actors to hold their breath for only ten seconds. He enrolled on breath-hold special operations designed for a military program with expert Kirk Krack. He had to train his body to use less oxygen.