Kevin Hart's Height Doesn't Hold Him Back from Feeling Confident
American stand-up comedian and actor Kevin Hart's height is below average, but his confidence and ability to crack the self-deprecating height jokes makes him special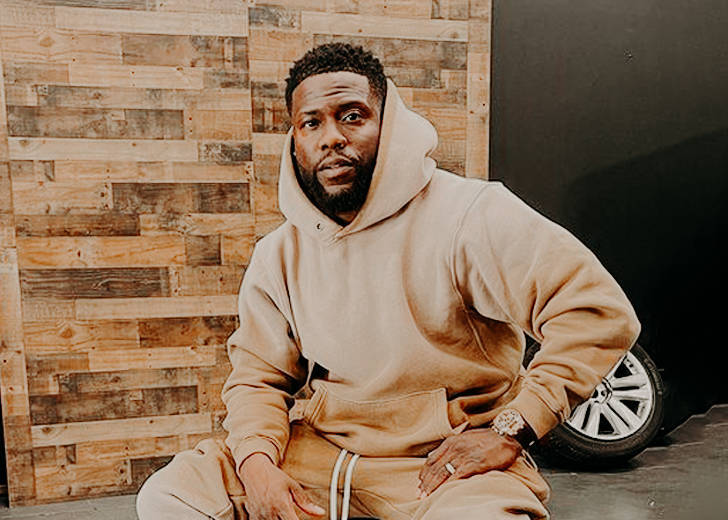 American stand-up comedian and actor Kevin Hart's height is below average, but his confidence and ability to crack the self-deprecating height jokes makes him special.
Hart Embraces His Height 
Hart is one of those celebrities who never shied away from speaking about his short stature. He's pretty confident in his skin and embraces it like no other. While performing his gigs, he's made his audience laugh at his own expense. As a child, he's made fun of his height that took power away from anybody who could mock him. He called it a "self-deprecating" way that he still follows it to stand confident.
"I disarm you of it by saying it myself. I did it in all of my stand-up, so you can't address it anymore."
In a 2014 interview with Oprah Winfrey, the actor confronted he was "beyond confident and comfortable" with his height. When Oprah asked about how he got so comfortable with his height, Hart responded that he's always been comfortable with his stature. 
"Generally, men who are not six feet tall have a complex about it; instead, you (referring to Hart) turned it into," Oprah added, to which he immediately replied that he's beyond confident about who he is as a person and considers himself sexy. The Jumanji actor also revealed that he always tells his lady that he's sexy. "I love me," he added.
Hart pointed out that he doesn't believe in changing his body to "appeal to" what people might like. He added that he's "playing cards" with what he got, and as people get only one life, he embraces his. 
"If we just playing poker, I gotta make this hand work, this is it for me, and this is what I'm gonna ride out, so how do you not embrace it? You've one life, I'm gonna embrace mine".
During a 2018 interaction with Mopi, when he asked about the advice he could give to those who struggle with their short height, the funny man replied that size means nothing; personality is the best and most powerful thing you have. 
He then explained, just because they stand next to a taller guy doesn't mean they can't have the heart and mentality of a taller man. Hart also added that confidence defines a person and your stature, and he never thinks that his height holds him back.
"I think confidence is what defines you. What defines how tall you really are. For me, it's never good to think of my height holding me back."
The 41-year-old even married a lady, Eniko Parrish, who's a few inches taller than him. When the couple first publicized their relationship, the first thing everyone noticed was their height difference. This adds another feather to his level of confidence.
The Confusion about Hart's Real Height
While many websites list him as a 5 foot 4, some other reports suggest that he's two inches shorter than that. No one knows The Wedding Ring actor's real height, and it's none other than the man himself who adds to the confusion. 
Every once in a while, he uploads funny posts on his social media with misleading information about his height. In June 2018, Hart took to his official Twitter handle and wrote breaking news that he thought he grew a few inches and declared that his height is 5 foot 5.
Breaking news people....I think I grew a little bit. I just had to add a line on my height wall...This is HUGE! I am a full 5 foot 5 now. From now on when I play Basketball I'm going to need to be fed in the post damn it....I'm drop stepping all day! — Kevin Hart (@KevinHart4real) June 14, 2018
Similarly, a year later, in March 2019, the comedian tweeted he grew a quarter of an inch again. "Haters will say that I'm photoshopping my pics now that I'm taller," he added.
Yo I grew a little bit...I just measured myself on my height tracker on the wall in my house and it says that I grew a quarter of an inch....oh yeah. Life is great!!!!! Haters will say that I'm photoshopping my pics now that I'm taller — Kevin Hart (@KevinHart4real) March 6, 2019
To add to the perplexity, in an interview with Variety on June 2017, he debunked the mystery of his height and revealed that he's "5 foot 4 and a half".
"I'm five foot four and a half. A lot of people think it's just five foot four; it's not."
However, in a 2019 interrogation with Vanity Fair, Hart agreed to take a lie detector test to reveal his height. The truth about his height was among the first questions asked by the journalist. As humorous as he is, the stand-up denied the stat initially. 
"Are you 5 foot 2?" asked the journalist, to which he responded, "Absolutely not, 5 foot 4". As the polygraph machine moved, he said, "5 foot 3". The machine ticked upwards, and he changed his answer to "5 foot two and a half" but finally settled with "5 foot 2" in a serious tone.