Nessa Barrett Reveals Why She Unfollowed Tana Mongeau Following Split with Jaden Hossler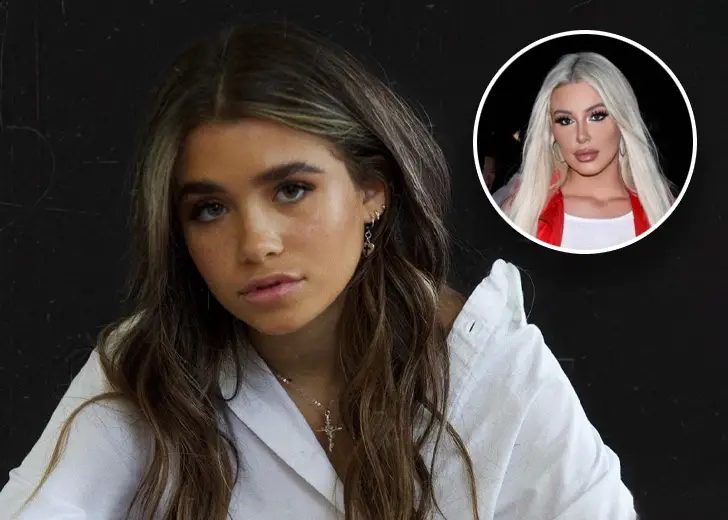 Last year, when Jaden Hossler and Nessa Barrett confirmed their relationship, the internet went off on them. 
They were criticized because their union stemmed from them allegedly cheating on their exes Josh Richards and Mads Lewis. 
Lewis and Barrett then went back and forth on social media, with the former claiming she had finally seen the latter's true colors. 
Meanwhile, the latter claimed people didn't know anything happening behind the scenes, insinuating she was not happy with Richards.
She iterated she was taking the high road by keeping everything to herself. 
Despite the hate, some of her friends, like Tana Mongeau, commended the singer for her maturity. 
During an episode of CANCELLED with Tana Mongeau podcast, the controversial social media star noted people were too quick to judge Barrett and Hossler. 
She also revealed she had heard the stories from all parties involved off-camera, which made her sympathize with the couple. 
However, Mongeau, who had supported Hossler and Barrett, appeared to have chosen a side after the couple announced their breakup recently. 
Nessa Barrett Unfollows Tana Mongeau 
On May 11, Mongeau took to her Instagram stories and uploaded a photo of her attending the 'Comatose' singer's meet and greet virtually.
She could not be at the event physically but showed her support for the rockstar by attending the event via a video call. 
However, after that, internet sleuths discovered Barrett had unfollowed Mongeau. 
This was reshared on tiktokinsiders, and in the comments section, the 'Hefner' rapper expressed her shock. 

Tana Mongeau attended Jaden Hossler's meet and greet virtually, and Nessa Barrett unfollowed her. (Source: tiktokinsiders/Instagram)
"oh wow ??? IVE DONE NOTHING BUT HAVE HER BACK. IM SAD WOAH," wrote Mongeau. 
Most users opined  Barrett did the right thing and criticized Mongeau for taking Hossler's side. 
One user wrote, "but you posted her ex? Why would she wanna see that when she's trying to heal????"
Another user claimed she probably knew her best friend, Josie Canseco, was flirting with Hossler but said nothing even though she claimed to have Barrett's back.
Nessa Barrett Explains Why
However, before this could escalate any further, Barrett explained her actions. 
In the comments section of another post by tiktokinsiders, the TikTok turned singer shared that she loved Mongeau and had nothing against her. 
She added the latter could be friends with whoever she pleases, but she didn't want to see certain things. 
Barrett then revealed she had unfollowed many people for the same reason. 
Mongeau, too, responded to Barrett's comments, saying she still loved her and revealed they had communicated offline. 
She didn't want people to think she was not on Barrett's side and assured netizens she still had her back.
Despite Mongeau's and Barret's comments about their friendship, fans were not convinced. 
They called out Mongeau for her actions in the comments section and claimed she was inserting herself into the drama because she wanted clout.  
A user wrote, "I don't know if the whole friend thing is different in the influencer world but in the real world friends don't tend to be buddy buddy with their ex-es."
So far, Barrett and Mongeau have not further commented.