A Complete Timeline of Mads Lewis' Feud with Ex-boyfriend Jaden Hossler and Nessa Barrett
"It was obviously already not a trustworthy relationship or it was toxic if your boyfriend can't do a song with their best friend's girl," Richards said before it all played out.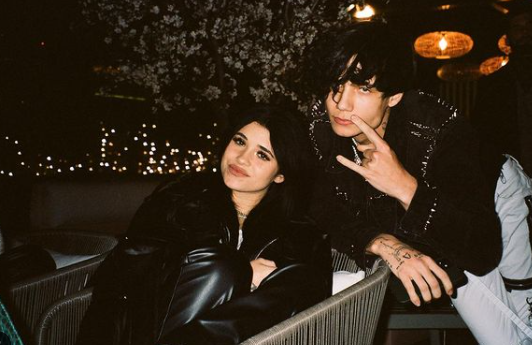 The world of TikTok went through another massive shockwave of drama, and this time Nessa Barrett and Jaden Hossler were at the epicenter, with their respective exes, Josh Richards and Mads Lewis. 
In short, Barrett and Hossler came out as a couple in recent months, and Lewis made a few comments on the issue. Then, shortly after, Richards got pulled in, and the friendship that the four of them shared went through hell. Still, as always, there was more to the story.
Where It All Started
By now, it has been established that it all began with two couples who shared an amicable bond with all parties involved. Lewis and Hossler had been dating on and off since 2019, while Barrett and Richards shared a similar relationship, but theirs was a little longer. 
Meanwhile, Hossler and Barrett released a song together. The song was titled 'La Di Die.' The two were spending a considerable amount of time together promoting their latest work. 
All seemed to be going well right until Lewis unfollowed Hossler on Instagram, and started deleting pictures of them together. Then, she put up a fast-paced slideshow on her Instagram to Taylor Swift's 'Better Than Revenge.'
The slide show began with pictures of the original couple when they "had it all." Then came a frame of 'La Di Die' being played on Spotify. Finally, as the slideshow came to a close, Swift sang, "She took him faster than you can say sabotage."
Lewis later acknowledged that the video was immature and confessed that she was tired of looking like the bad guy. At the time, she claimed that she was not jealous of the song, and Barrett would know exactly why she posted that video. She later added, 
And for those of you telling me to keep it off social media or (text her call her) I tried and she didn't answer so maybe this will get her attention. [sic]
Lewis and Barrett Go To and Fro
It turns out she wasn't wrong. Barrett took to her Twitter to comment on the issue. She claimed that she'd been through a lot recently and had broken down completely. However, she said that she got up and decided to release all the negativity in her life.
Apparently, she wasn't in a place to entertain people "full of hatred and lies." In another tweet, she announced that she was directing all her attention to music for the time being. 
the future is so bright. and i have to keep reminding myself that instead of letting false judgment destroy me. i'm so hyped for u to hear la di die live on kimmel. what a dream. i'm so blessed and thankful. — ness (@nessabarrett) April 1, 2021
In a subsequent tweet, she wrote that she had to keep reminding herself that the future was bright and not to let false judgment destroy her. She also shared her excitement over performing her song on Jimmy Kimmel Live. 
In response, Lewis took responsibility and said that it was her fault for bringing the drama over to social media and urged fans to stop making edits of Hossler and Barrett. Instead, she politely asked them to let things go.
Unsurprisingly, things didn't drop there. Soon after Lewis's tweet, Barrett called her out and wrote, 
I'm so sorry but love to see your true colors finally show.
Lewis responded by posting a screenshot of Cyndi Lauper's song 'True Colors' on Twitter — an obvious reference. 
Richards Weighed In
As Lewis and Barrett went to and fro on Twitter, Richards decided it was time for him to weigh in on the issue, and he picked the BFFs with Dave Portnoy and Josh Richards podcast to make his statement. 
Richards confirmed what many had already assumed — Lewis and Hossler were no longer a couple. He believed that the relationship reached its threshold when Hossler and Barrett made that song together.
But up until that point, Richards was blissfully unaware of what was brewing between Hossler and Barrett. Richards went as far as to say that Lewis and Hossler did not have a healthy relationship. He added, 
It was obviously already not a trustworthy relationship or it was toxic if your boyfriend can't do a song with their best friend's girl.
Richards Chose Not to Believe Lewis
He also clarified that the morning before the video was posted, Lewis kept trying to get in touch with him, but he wouldn't take her call. Later, he saw the video, and he was pretty upset. 
Only when he saw the video did Richards acknowledge that there was a very remote possibility that he could lose two people he considered family. 
"I would die for them tomorrow. I would die for them now," he said. However, the thought of losing both of them made him really upset. 
He also touched on his relationship with Barrett and claimed the two of them were on a break because she needed some time for herself. They hadn't been in touch for a couple of weeks when the video went public. So, he didn't know what to make of it. 
Eventually, he chose to believe that Lewis was fussing over nothing and making a scene because her relationship was in a pinch. He explained that he was just a bystander in all of this mess. He was just giving the girl he loved the space she needed so that he could have her back in his life. 
Richards Confirmed His Breakup
In the next episode of his podcast, Richards confirmed that he and Barrett had broken up. But, even then, he was adamant that there was no chance of her getting it on with Hossler. 
It wasn't the situation Mads was putting it out there to be. It was just jealousy. That's just like a girl getting broken up with, then being jealous for no reason and then throwing [expletive] online.
Sadly, Richards was proven wrong. Hossler and Barrett were seen going out on a date together. When the paparazzi questioned the couple how long they'd been together, Hossler replied that he didn't know anything about that. 
He also said that the two of them felt like they handled the situation "respectfully and privately." Adding further, he claimed he was the happiest that he had ever been. Barrett agreed with a nod. 
Things Were Out for All to See
It must come as no surprise that Richards was upset about how things turned out. He went ahead and blocked Hossler from all social media platforms. 
Hossler seemed to be willing to spark a conversation, though. He even went live on Instagram to ask Richards to reach out. 
Richard, on the other hand, tweeted that he was going to handle these affairs offline. He also admitted that the last few weeks had been hard on him, and he needed to take some time to think things through. 
Barrett also tweeted to say that she didn't need to pity herself. She claimed to be well aware of the decision she'd made. She also clarified that the people didn't and wouldn't know the whole truth. Her reasons being that the truth hurts, and it shouldn't be online. 
Things between Hossler and Barrett have surely gotten more serious, and the couple even got matching tattoos to show for it. 
Lewis also seems to have moved on. She now flaunts her new beau, Christian Plourde, on her socials. 
If u take anything from the new @BFFsPod it's this
-Jadn & Ness were 0% malicious
-NEVER SHOULDVE BEEN BROUGHT TO PUBLIC
-Assumptions & Accusations need to stop. Lies & hate is sent to people who don't deserve it
- I'm not perfect either
-Let us move on and handle offline pic.twitter.com/cFI8EKD6U5 — Josh (@JoshRichards) April 15, 2021
When all was said and done, Richards announced to his fans that what Hossler and Barrett did was not out of malice. He claimed that the entire fiasco should have never been brought to the public. 
Showing more maturity than his years, he asked fans to stop making assumptions and accusations. He accepted that he was not perfect either and that it was time to move on.