Malu Trevejo Receives Hate after Being Signed to Travis Scott's Cactus Jack Record Label
"I'm so happy dreams come true got signed to @cactusjack," Trevejo writes.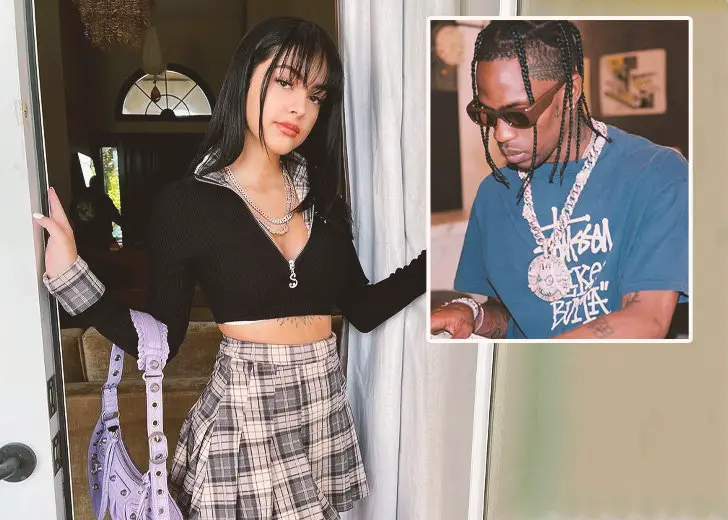 Cuban-born American singer Malu Trevejo is only moving upwards in her career. In the most recent instance, she made it big with Travis Scott's Cactus Jack Records signing.
"Birthday girl I'm so happy dreams come true got signed to @cactusjack and @atlanticrecords," she wrote in her since-deleted Instagram post's caption. "I'm so happyyyyy Libra gang."
Malu Trevejo Received Hate
But immediately after the news broke out, Scott's fans started writing hate comments and posts across all social media platforms. While many questioned her role with Scott and his record label, some implied that they didn't want the TikTok star rapping for Scott's label.
Commenting on the congratulatory post of Rap, an official Instagram handle of RAPTV, one wrote, "What could she possibly do for travis bro."
"They really signed her she literally can't sing or rap," someone added, commenting on Shade & Tea Room's Instagram post. The post also received comments such as "we do not want her," "She's a rapper?," and "What does she do?"
Responds to Hate Comments
Trevejo's post, where she first revealed the news with her fans, received hundreds of hate comments before the singer eventually deleted the post.
That said, she took to her Instagram stories to address the hate — in one of the stories, she said she was not even looking at the comments.
"I already see how the haters finna be like... that's why I ain't even gonna look," she wrote in her stories.
Similarly, she also shared a screenshot of her conversation with a netizen, where they suggested that she doesn't care what people tell her.
To that, she replied, saying, "They already going off on me." "Facts is just so sad how people hate tha much," she added.

Malu Trevejo's Instagram story. (Photo: Instagram)
Announcement on Her Birthday
Trevejo announced the big news of her signing to Scott's Cactus Jack Records on her 19th birthday, and despite the immediate hate for the deal, she made sure she had an eventful party.
The singer, who is now settled in Miami, threw a big party, where the guest list included names like Scott, Snoop Dogg, Rome Flynn, Young M.A, Alabama Luella Barker, BlasianBabyLola, and Josh Levi.
The famed rapper Dogg attended the celebration sporting a burgundy Def Jam Recordings letterman jacket and beanie cap combination with blue tracksuit pants and a matching jacket underneath his coat.
On October 16, Trevejo took to Instagram to claim that it was "The best birthday," while throwing some glamourous snaps and video clips from the birthday night.
In the first video clip, she was spotted sharing a smoke with Dogg while she and Young M.A sang together in the second clip. 
A few swipes away was a snap that showed a few of her friends posing with a hand full of cash with the singer in the background. She was having an intimate moment with her friend.
"What a night to be alive #HBD," CONTENT X commented on the post. Another chimed, "anybody would dream for this, you deserve it."
In early September, Trevejo was the topic of another controversy after FBI officers knocked on her door. Some people had reportedly filed a complaint against her for making death threats to Yolanda Saldívar.