Khaby Lame Is 1 Million Followers Away from Dethroning Charli D'Amelio on TikTok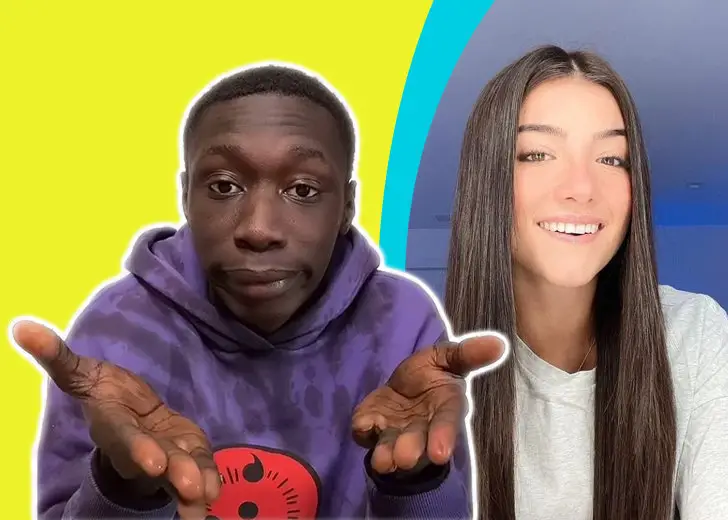 Charli D'Amelio is undoubtedly the most followed content creator on TikTok, with 141.7 million followers. 
Naturally, as the most followed person on the app, she also became the first person to reach 10 billion likes on the platform.
The TikToker skyrocketed to fame with her dance choreography and overtook Loren Gray on March 25, 2020, to become the largest account in the world.
However, according to current figures, the second most followed account holder, Khaby Lame, is not far behind. 
With only one million fewer followers, Lame is on the verge of dethroning the queen of TikTok. He has 140.7 million followers. 
According to Dexerto's recent TikTok video, it won't be long until the Senegalese-born content creator from Italy takes over the app. "I just followed Khaby. I need him to win just because," one user commented. 

Khaby Lame celebrating his 2 million followers. (Source: Instagram)
Another wrote, "I think Khaby is going to take the lead because he was at the capital summer time ball concert," while a third one asked everybody to follow the Lame. 
Khaby Lame's Video Trademark Garnered Massive Followers
Like most famous TikTok stars, Lame did not intend to blow up on the app when he started using it during the pandemic. 
The content creator was bored during the coronavirus outbreak after being laid off from work and was advised by friends and family to find a job. 
However, he started making videos on TikTok instead. A typical Khaby video is wordless and features Lame's satirical reactions to life-hack videos that flood social media platforms.
One of his most popular videos shows a police officer doing a roundhouse kick to open a door. 
The clip then shifts to the TikTok star, who gently opens it using the door handles. 
However, the video's climax is the look of expiration and his now-iconic hand palm gesture showing how obvious the solution is. 
His videos struck a chord with millions resulting in Lame surpassing mega stars Addison Rae and Dwayne "The Rock" Johnson on TikTok. 
"I came up with the idea after seeing these videos circulating and liked the idea of bringing some simplicity to it. The gesture came by chance, but the silence didn't. I thought of a way to reach as many people as possible. And the best way was not to speak," Lame told CNN in an interview.
Khaby Lame on His Goals and Dreams
In another interview with Forbes, the TikToker talked about his dreams and plans for the future. 
He shared he dreamed of moving to America to act and star in movies. 
"My dream is to become a comic actor, recording a movie with my idol, Will Smith. Then who knows, maybe even win an Oscar! I would also love to make our company Iron Corporation the number one agency in the world with my manager Alessandro Riggio," said the TikTok star. 
He added his biggest dream was to win an Oscar, which would be the ultimate honor. 
As for his advice for people who have not taken the full leap yet, he wants them to believe in their dreams. He noted everyone should always follow their dreams because nothing is impossible. 
"If you can believe it, you can achieve it. I did it — why shouldn't you be able to do it, too?" remarked the TikToker.