Is Loren Gray Dating Josh Richards after Kyle DeLoera Break Up?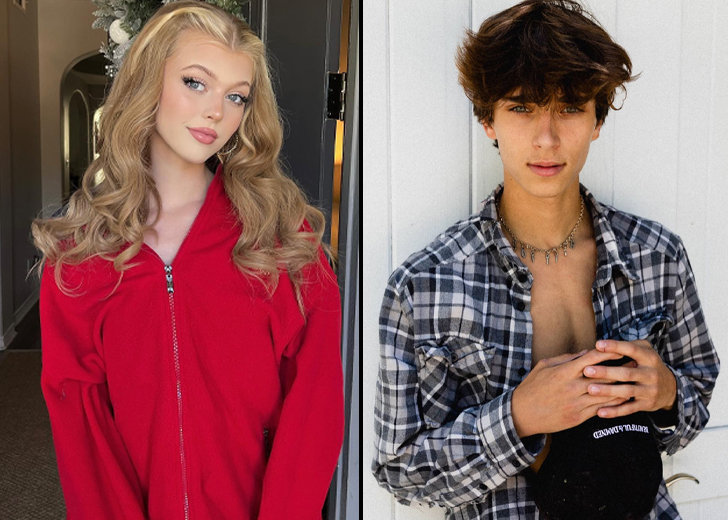 In February, fans began speculating that Loren Gray and her boyfriend Kyle 'DYSN' DeLoera have broken up. 
The rumors started when Gray uploaded a TikTok on Valentine's Day, dancing to 'Major Bag Alert' by Damickey Lillard. 
Loren Gray's Break Up
She said that she was spending the special day single and not having to spend money on anyone but herself.
In the caption, she wrote she was taking herself out to dinner. 
Fans took to the comment section to ask the social media star if she had a break up, but she did not confirm anything. 
Before this TikTok, both Gray and DeLoera had deleted most of their loved-up pictures from their Instagram. 
The original Tiktokroom also reshared her Instagram story with lyrics from Taylor Swift's 'Dear John.'  

Deuxmoi's post on Loren Gray and Josh Richards (Source: Deuxmoi/Instagram)
"I see it all now that you're gone. Don't you think I was too young to be messed with? The girl in the dress cried the whole way home, I should've known," wrote Gray.
It is unconfirmed if Gray was using it to talk about her life or just enjoying the song, but it had her fans worried about her well-being. 
But it looks like the 'Piece of Work' singer has moved on according to the latest rumors. 
Are Loren Gray and Josh Richards Dating?
Hannah Kosh is a popular social media star best known for her "hannahkosh" TikTok account, where she posts commentary videos about popular TikTok stars.
On March 22, Kosh uploaded a TikTok video replying to Deuxmoi about Gray and Josh Richards. 
Deuxmoi had reshared an anonymous tip they received from their followers that claimed Gray and Richards "were all over each other in Vegas the last two days."

Loren Gray and Josh Richards at Las Vegas (Source: AlishaMarie/Instagram)
In Kosh's TikTok video, she replied to a follower's comment who had iterated Deuxmoi's post on the rumored couple. 
Kosh then confirmed the duo were hanging out in Las Vegas because they were spotted together in a group picture. 
Beauty influencer Alisha Marie had uploaded the photo, and it had been geotagged in Las Vegas, Nevada.
The photo looked like they were all at some influencer party, and Richards had his arm around Gray as they posed with other influencers. 
In the comments section of Kosh's TikTok, one user expressed her confusion about who Richards was dating because he was linked to Mads Lewis not too long ago. 
Josh Richards and Mads Lewis Dating Rumors
Besides being linked to Gray, Richards is also rumored to be dating Lewis. 
The duo has been making a lot of cozy-looking TikTok together. In one of the videos, Richards lifted Lewis and carried her in his arms. 
Richard's friend, Bryce Hall, reacted to the video looking confused and wrote in the caption "what happened to TikTok."
In the comment section, his fans said they were just as confused as him, while others were convinced that the duo was dating. 
One user wrote, "Bro, they totally did it it," to which Hall replied, "ayo."
BFFs podcast has also been teasing fans about their relationship status by uploading their TikTok videos on their Instagram page. 
Fortunately, Lewis is coming to their podcast show, and hopefully, she and Richards will address the rumors.