Did Loren Gray and Boyfriend Kyle 'DYSN' DeLoera Break Up?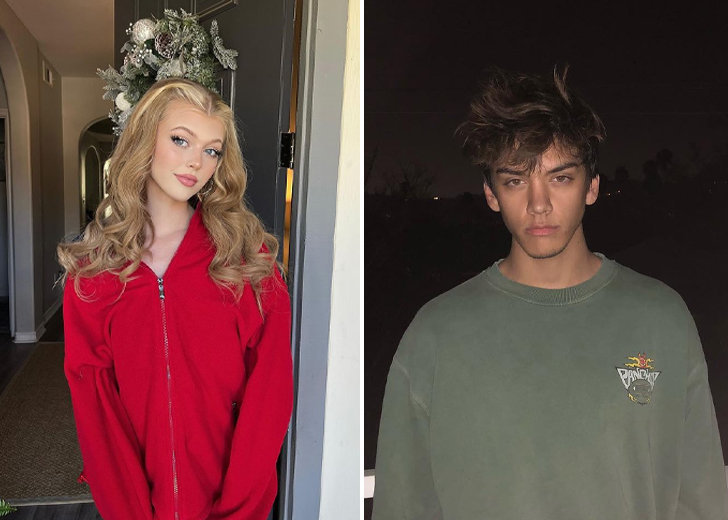 It might be the case that the iconic couple Loren Gray and Kyle 'DYSN' DeLoera have gone through a break up. 
It is reported that the pair started dating in the fall of 2020. The two used to show off their relationship on social media quite often.
But things have not been the same anymore. And while things are still foggy about the situation, here is everything we know about it.
Loren Gray and Kyle DeLoera Break Up Rumors
As everyone was preparing themselves for the day of love, Gray put up a video on her TikTok with a peculiar caption.
In it, she did a quick twirl to 'Major Bag Alert' by Damickey Lillard, and the words on screen expressed that she would be spending Valentine's Day single and spending on no one but herself. 
This, of course, was not a sad TikTok, but rather it had a triumphant feel to it. The caption also said that she would take herself out to dinner. 
And that's not the only thing we have to go off on. Earlier this month, fans of both Gray and DeLoera noticed that they had deleted half of their pictures together.
Followers of Gray, in particular, were concerned for her wellbeing as they drew further conclusions from moody stories she had put up.
Fans of Gray further noted that they had suspected her boyfriend of being a groomer, given their age difference. Gray herself is currently 19, while DeLoera is 26.
Tracing further back into this alleged break up, Gray posted a TikTok last month about how "he" says it might be time to break up, but she already broke up with him in her head three months ago.
So we can assume that she is referring to her boyfriend with the context in mind. Later, towards the end of January, she had posted another TikTok mentioning how all of her exes had been crazy.
So again, we're assuming that DeLoera had been put on this list by this point in time. These being said, DeLoera still has pictures of him and Gray up on his Instagram.

Loren Gray posing for a picture with her boyfriend, Kyle DeLoera. (Source: Instagram)
But, on the other hand, she has seemed to have scrubbed hers clean of him. Sleuthing further into Gray's TikTok, they seem to have been dating until December last year.
So it's a bit more puzzling that she still has other posts with her boyfriend in them, going back as far as 2020. These all make their relationship status quite murky.
Loren Gray and Her Boyfriend's Dating History
Being a TikTok star, Gray's personality has always been candid. However, she is tight-lipped about who she is dating.
Rather than announcing things, she has been the kind to let people unravel the strings. Albeit she hasn't made it too difficult to do so.
She and her boyfriend seem to have started dating in September 2020. This was when they both had begun posting pictures of each other on their respective Instagram accounts.
From images of celebrating birthdays together to sharing intimate hugs, the pair were almost inseparable. Then, in August last year, paparazzi caught Gray holding hands with Tayler Holder.
This was when she came clean and cheekily said that they were holding hands for one of her music videos and that she had a boyfriend who wasn't Holder. 
A few days after this incident, she had posted a video in which she was hugging a guy. While this mystery person's face wasn't visible, his tattoos were. These very tattoos corroborated those of DeLoera.
At this point, it was very clear that the two had been dating. Soon, the pair started posting TikToks and pictures together. 
They were adored by their fans and followers and became the "it couple." But, unfortunately, it seems like everything has come to an end.