'Unmathematical' — Keemstar Openly Mocks Progressive Pronouns on Twitter
"I'm not calling 1 person 2 people," said Keemstar of gender-neutral pronouns.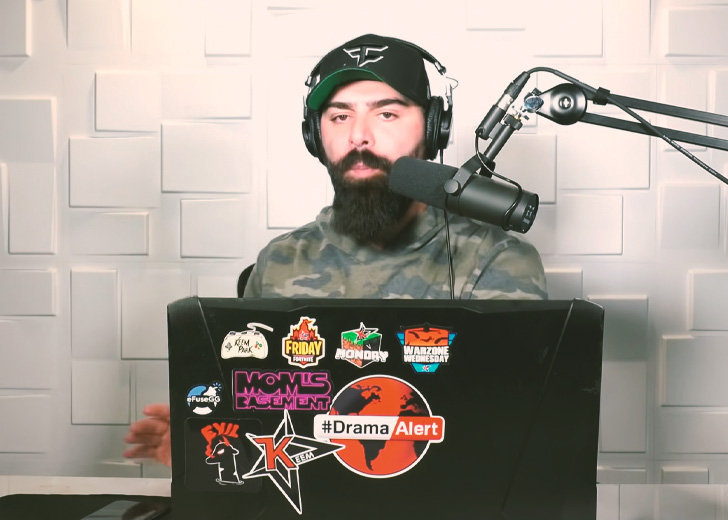 LGBTQ+ and non-binary acceptance have come a long way in recent years thanks to social media activism, inclusion in popular culture, and a few wonderfully crafted pieces of cinema, among other things. 
Still, every once in a while, someone comes along and questions, if not directly mocks, this hard-earned progress. This time around, it was Keemstar who poked the bear. 
Expectedly, netizens did not take his mockery in silence. 
Keemstar Sets Off Twitter with His Take on Progressive Pronouns
On October 10, 2021, the YouTuber took to his Twitter handle and announced that he was not for gender-neutral pronouns "they" and "them." He announced, 
I'm not calling 1 person 2 people.
His argument was that using plural pronouns to refer to individuals was unmathematical. Not long after, he was scorned by Twitteratis the world over. He was soon ratioed on multiple counts. 
They/Them

I'm not calling 1 person 2 people.

That's unmathematical. — KEEM 🍿 (@KEEMSTAR) October 10, 2021
Fans React to Keemstar
One netizen replied to Keemstar's tweet and wrote, "This ratio is unmathematical." Fellow Twitteratis promptly proved the user right. As of this writing, the comment has twice as many likes and almost three times more retweets than the YouTuber's original remark, proving beyond doubt that the original tweet was an unpopular opinion. 
Another user called out the YouTuber for associating maths with gender identities. Yet another questioned how the YouTuber planned to refer to someone if he was unsure of their gender. One after another, netizens flocked in opposition to Keemstar's comment. 
Albeit, there were a few that seemed to resonate with his quip. Check out a few of the replies below:
If you don't know someone's gender, how will you refer to them? — Jay Mocking (@0xMockingJay) October 10, 2021
What's so hard calling somone by the pronouns they want...

They're only pronouns 😅

It's about the respect keem. The respect. — MoXMii says hi :) (@MoXMii1) October 10, 2021
Keemstar Has a History of Trigger Content
All that being said, this is not the first time that Keemstar has been at the center of a social media controversy. In fact, just earlier this month, he was under heavy fire for promoting fat-shaming with his "#StopBeingFat" campaign. 
The DramaAlert host ranked ninth in Insider's list of the ten most disliked influencers earlier this year, thanks to his controversial opinions about almost everything. 
His argument for fat-shaming others was that he was helping them get into shape by pushing them to take action. 
Prior to the whole fat-shaming debacle, Keemstar was getting bad press for dating a girl 19 years younger than him and implying that he was in a relationship with his 20-year-old assistant, amongst other things. 
$500 for Fat-Shaming
When Keemstar is not in a heated argument with other influencers like Ethan Klein or Trisha Paytas, he can be found mocking sensitive issues like mental health and weight loss. Apparently, Keemstar's content strategy revolves tightly around hate-mongering and triggering netizens.
As for the "#StopBeingFat" campaign, he announced that a lucky winner would be chosen 24 hours from the time the tweet was made, and they could stand a chance to win five hundred dollars via a CashApp giveaway, 
All the participants had to do was retweet the YouTuber's video with the hashtag "StopBeingFat." Although he was subjected to heavy backlash for his actions, he secured the sixth spot on Twitter's trending list.