Who Is Josh Richards' New Girlfriend from Viral Kissing Video?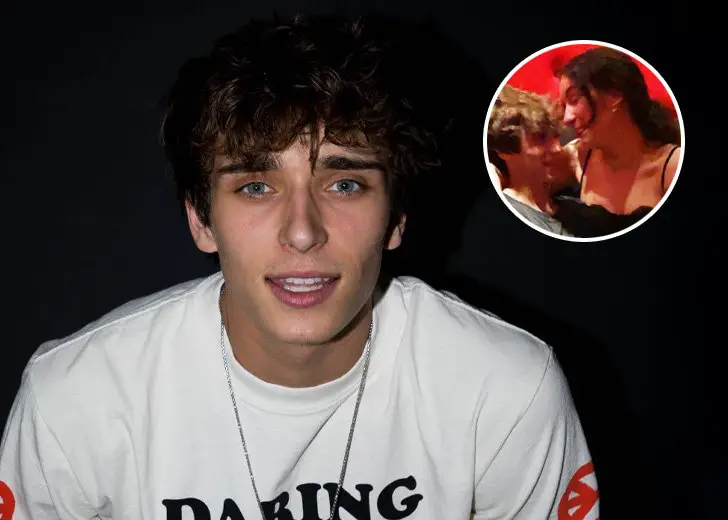 Josh Richards seems to have played everyone on the internet.
The Canadian TikToker was spotted with a mystery girl during a Stages event in Kingston, Canada, in mid-April 2022. This immediately sent waves of rumors about how he might have gotten a new girlfriend.
This, however, was an intentional setup by Richards, who had announced he was going to do a "with a new girl" stunt a or two before he was videotaped smooching the mystery girl.
Josh Richards' PDA with Mystery Girl Goes Viral
On April 15, 2022, a user named Riley Bailey posted a zoomed-in video on TikTok from a Stages event where two people were seen making out in the distance. It was Richards and a mystery-at-the-time girl having some touchy-feely fun behind the DJ desk.
The person who made the video then zoomed out, turned the camera around, with people screaming and cheering for Richards in the background, and announced the then-obvious — Richards was kissing a woman.
This video went viral as soon as it hit the internet, and everyone went nuts, especially everyone in the comment section of the post.
The first question everyone had was — who was the lady? Many were surprised; a fair few were heartbroken.
Some others said that this video would definitely make the next episode of the BFFs Podcast, of which Richards is a host alongside Dave Portnoy.
But only a few knew that this was all a setup by Richards for PR, which he had publicly announced on the podcast's April 13 episode.
Josh Richards Fools (Almost) Everyone
On April 13, BFFs released their 78th episode. In that episode, while talking about his relationships, Richards confidently said that he would get a girlfriend soon.
"I'm gonna get a girlfriend next week for the show," he told Portnoy and the gang. Portnoy and Brianna had very different reactions to the announcement.
"That poor girl," Brianna shot back at him really quickly. Portnoy, however, was all in for it.
"I'm down! Do it for ratings," he said. And evidently, Richards did.
And it isn't like he did not own up to what he did, anyway. Richards made a duet of a compilation video of his announcement and the smooch at the show on TikTok. But he deleted it later.
BFFs weren't having any of that, though. So, they screen-captured the video and re-uploaded it on their TikTok on April 18 with the caption, "Why the delete @joshrichards."
Not everyone was oblivious to what had happened, either. In the comment section of the video that first went viral, someone commented a few days later, saying the mystery girl was their cousin.
And the person tagged another account named evuhlina on TikTok. They weren't lying.
Evuhlina, or Evelyn, that same day posted a selfie video of her and Richards moving to the tunes. It was from the same spot as before, too. She had also commented "Me" on another post, confirming she was the girl Richards was making out with.

A screenshot from Evelyn's video on TikTok where she confirmed she was the mystery girl Josh Richards was with. (Photo: Evuhlina/TikTok)
Going by her Instagram, where she has around 3,000 followers, she splits time between Toronto and Miami.
This isn't the first time Richards has pulled something like this off. Back in June 2021, he did something similar with a woman named Julie, Brianna's friend, and that, too, had gone viral.
He later denied that Julie was his new girlfriend, and it was all just a bit of fun. Fans were happy for him because he had just gotten out of a bad relationship with Nessa Barrett.
Before Barrett, he was linked with  Loren Gray, Mads Lewis, and Ellie Zeller.
As for Evelyn, there's no information on if things between them ended with the fun or if she is actually his new girlfriend. The next BFFs Podcast might say much.