Hailey Bieber's Alleged Racist Tweets Using N-Word Exposed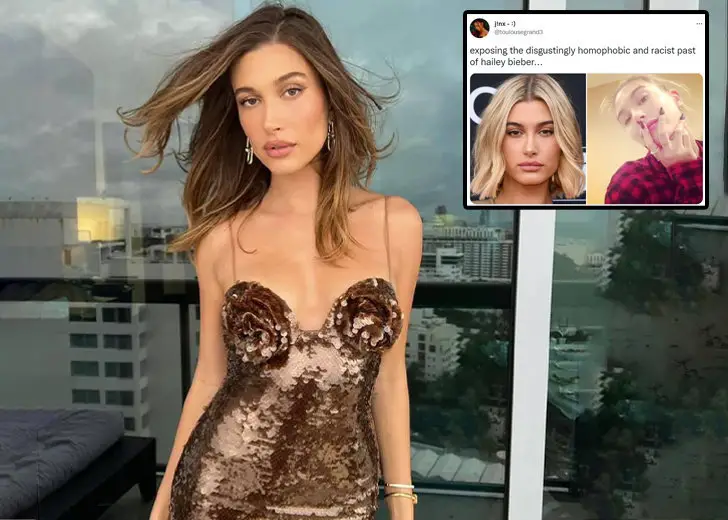 Hailey Baldwin, who goes by Hailey Bieber after marrying pop star Justin Bieber, is currently under fire.
Her racist past has made a comeback, and people are disgusted by her actions. However, this is not the first time her past has been exposed.
Since the past few years, internet sleuths have exposed different tweets that are racist as well as homophobic and xenophobic. Since then, Hailey has been getting massive backlash for her past.
However, she has never properly addressed it or issued an apology. Instead, she left Twitter in 2020, saying she was getting bullied on the platform.
Regardless, many people still have screenshots of Hailey's alleged tweets that have left people horrified.
Hailey Bieber's Racist Past 
Since Hailey no longer has a Twitter, there is no direct access to the original tweets. Regardless, a person by username j!nx - :) with handle, @toulousegrand3 has made a thread on it. 
One of the tweets shows a screenshot of Hailey texting the n-word to someone else on September 19, 2016. Similarly, she also said the n-word on Instagram while commenting on a post.
Similarly, there are several Twitter posts where she has not said the n-word but has said something racist.
For instance, one screenshot showed a tweet where the model wrote, "leaving to Florida white but coming back to NY a different Race."
She ended a tweet with an emoji of a white blonde man alongside a dark-skinned person wearing a turban. Another tweet from 2012 read, "Shut up before I smack you back to your own country!"
Likewise, Hailey dragged Cody Simpson into her mess when she tweeted, "With @CodySimpson and that awkward moment when ur at a Chinese restaurant and your waiter isn't Chinese...." in 2011.
Similarly, there were other xenophobic tweets where Hailey allegedly attacked people of color. She has never publicly apologized or addressed her racist and xenophobic tweets. 
To make matters worse, it was reported that she left a group chat that consisted of her Black stans. She allegedly made the chat to address her past, and the times she said the n-word.
Moreover, she was supposed to talk about the issues related to the Black community with her fans. However, when the fans called her out, she opted to leave the chat rather than apologize.
In a similar fashion, Hailey has spoken up about the cancel culture on her YouTube channel. But while doing so, she never once took accountability for her racist past.
Like Hailey, her husband has also been called out for racism and supporting the model. Once a fan of Selena Gomez (@jaileyisajoke), who did not like Hailey and Justin together, called the couple out. 
@jaileyisajoke wrote that the pop star was not in love with Hailey but married her to get back at Gomez. The account also pointed out that the model was racist.
Justin responded, calling them immature, and said Gomez will always hold a special place in his heart. However, he was "head over heels in love" with his wife and that she was the "BEST THING that has ever happened" to him. 
Hailey Bieber, Her Homophobic Past and Others
@toulousegrand3 also exposed Hailey's homophobic past. They uploaded a screenshot where the model allegedly liked and commented on the post that said Bible is against gay marriages.
However, that post also talks in favor of people choosing who they want to love and marry. So it cannot be directly said that Hailey liked a homophobic post.
but not only is she racist , she is also homophobic..... i don't see many ppl talking about this but there's a screen shot of her liking a homophobic post about how only men and women should marry bc the bible says so pic.twitter.com/qFDnEjFYYa — j!nx - :) (@toulousegrand3) May 5, 2021
The model has also been called out for being sexist. Various screenshots prove that she had liked posts and tweets against Gomez and Taylor Swift. 
Similarly, in 2020, she was exposed for partying amidst the COVID-19 pandemic with friends like Kendall Jenner and the Kardashians.
To date, Hailey has not addressed any of her actions, and neither has she taken accountability for them. If she will or not in the future, only time will tell.