Where Are the Cast of 'Girl Meets World' Now?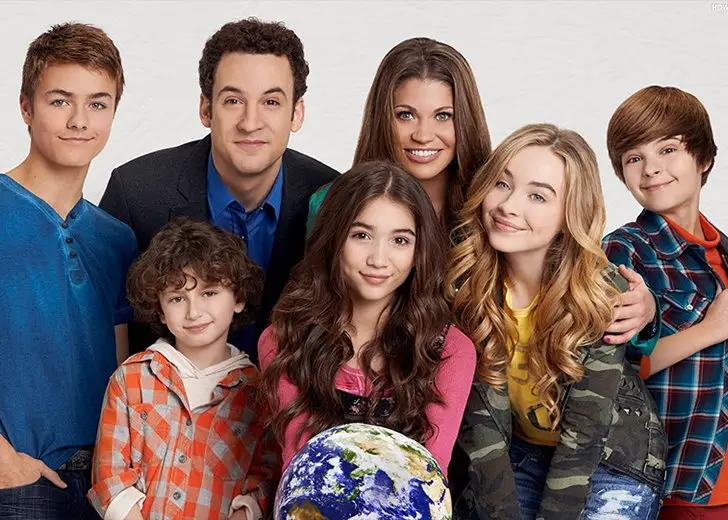 Girl Meets World, a Disney Channel's original comedy series, ran for three seasons from June 27, 2014, to January 20, 2017.
The show was a spin-off to Boy Meets World and developed by Michael Jacobs and April Kelly. 
It revolved around the lead character Riley Matthews who moved to New York with her parents. The city had new opportunities for Riley, which she explored with her best friend, Maya Hart. 
Where Are the Cast of Girl Meets World Now?
The cast of Girl Meets World comprised a group of young stars, all of whom catapulted to fame following the sitcom's premiere.   
They lead a completely different life from their days in the Disney show. Here is everything about the cast of Girl Meets World now.  
Rowan Blanchard
Rowan Blanchard was the protagonist of the show and played the role of Riley. After the series, she went on to have a minor role in Disney's film adaption of A Wrinkle in Time.

Rowan Blanchard posing for a picture at the Miu Miu show in October 2021. (Source: Instagram)
She has also appeared as a guest star on The Goldbergs and Alexandra Cavill in TNT's Snowpiercer. Besides being an actor, Blanchard is also an activist. 
She uses her platform to speak up on the burning issues. She has also been outspoken about her sexuality as a queer person and advocates for the LGBTQ+ community. 
Sabrina Carpenter 
Sabrina Carpenter played the role of Riley's best friend Hart. It's no secret that Carpenter is one of Hollywood's most popular actresses and singers.
She has released a slew of critically acclaimed studio albums like Eyes Wide Open and Evolution.
She was dragged into relationship drama surrounding Joshua Basset, and Olivia Rodrigo in 2021. 

Sabrina Carpenter and Corey Fogelmanis on a hike. (Source: Instagram)
Carpenter has acted in several projects like Tall Girl, The Hate U Give, Clouds, and Work It. Before the COVID-19 pandemic, she appeared in a few performances of the Mean Girls musical on Broadway. 
Corey Fogelmanis
Corey Fogelmanis played the role of Farkle Minkus on the sitcom. After it, he worked on several projects, including Moxie and Octavia Spencer's horror feature, Ma.
He has maintained a close bond with Carpenter, cheering her on all the pursuits of her life. Their friendship even spurred speculations that the two were dating, but it was a rumor. 
While Fogelmanis has appeared in movies and series after the Disney show, he told V Magazine that acting was not his top priority.
It was education, and the actor admittedly was trying to find a balance between them.
Peyton Meyer
Peyton Meyer portrayed Lucas Friar, Riley's love interest. This cast member of the series is now a married man and a father. 
He announced his marriage to musician Taela on October 11, 2021. He is a stepfather to River, Taela's son, and the couple is expecting their first kid as of this time of writing. 

Peyton Meyer and his wife Taela on their wedding day. (Source: Instagram)
Talking about his career, Meyer has appeared on various projects after Girl Meets World. He starred in Netflix's He's All That, where he played the ex-boyfriend of Addison Rae's character.
Danielle Fishel
Danielle Fishel played the role of Topanga, Riley's mom. Like her role on the show, this cast member of Girl Meets World now is a mother of two sons, Adler and Keaton. 
Fishel is happily married to Jensen Karp and lives in Orange County, California.
After the end of the series, she directed other Disney Channel programs like Sydney to the Max and Raven's Home. 
But currently, she is seemingly focused on raising her family and running her hair brand, Be Free.
August Maturo
August Maturo played Riley's younger brother Auggie in Girl Meets World. He then appeared in The Nun, Slapface, The Conners, Boys, and Shepard: The Story of a Jewish Dog.

August Maturo won an award at Grimmfest in October 2021. (Source: Instagram)
Maturo won an award for the Best Actor at Grimmfest for his role in Slapface. Similarly, his movie Boys has been shortlisted for consideration in the Academy Awards, 2022.
Ben Savage 
Ben Savage portrayed Riley's father, Cory. After the show, he did guest appearances on multiple programs, including Criminal Minds, Homeland, Speechless, The Leftovers, and Still The King.
He and Fishel appeared in a Panera Bread commercial in early 2021.
In February 2021, Deadline reported Savage had joined the cast of Girl in the Shed: The Kidnapping of Abby Hernandez.