Joshua Bassett Stayed Lowkey at Spotify Wrapped Party as Olivia Rodrigo Played around Him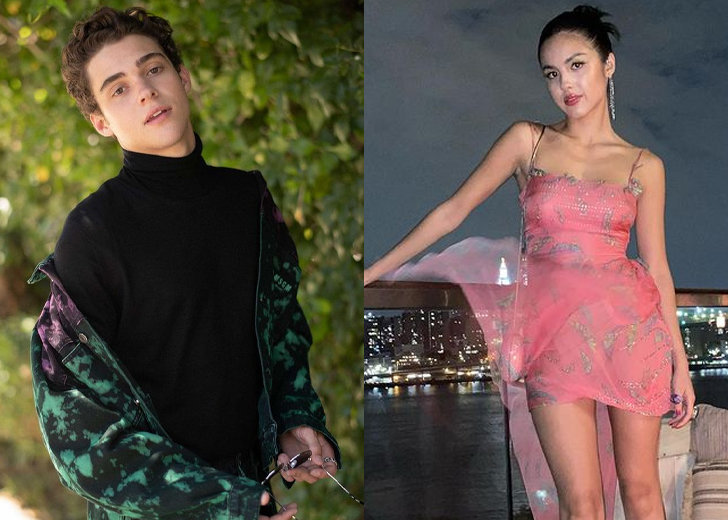 Joshua Bassett seems unable to shake off his apparent ex-girlfriend Olivia Rodrigo, with whom he was dating briefly in 2020. 
The famed actor reportedly stayed on the down-low when attending the Spotify Wrapped party on December 14, 2021, in Los Angeles. 
The event, a celebration of the in-app campaign where Spotify users can view a compilation of their activity over the past year, comprised surprising musical performances. 
Gwen Stefani, DJ duo Robert Abisi and Nick Shanholtz, amused their fans with their energetic performances of iconic hits. 
And the local USC Trojans Marching Band played an instrumental medley of the five most-streamed songs in Spotify in 2021.
That is to say, the group played Rodrigo's two super hit songs, 'drivers license' and 'good 4 u.'
Joshua Bassett Stayed Lowkey amid Olivia Rodrigo Craze
Rodrigo's banners were all over the party, and admittedly so. An anonymous insider reported to Deuxmoi about the craze for Rodrigo's songs during the event. 
The source also dished on Bassett's reaction to the whole scenario. As per the reporter's account, Bassett maintained a low profile during the entire celebration. 
He reportedly kept the hood of his sherpa hoodie up and stayed close with his friends, staying low-key the entire night. 
After highlighting the scenario, the insider assumed Bassett must feel haunted by Rodrigo. "Or he thrives in it," the person opined.

Joshua Bassett reportedly remained private at Spotify Wrapped Party amid Olivia Rodrigo Craze. (Photo: Deuxmoi/Instagram)
Besides Bassett, fellow actors Skylar Astin, Maitreyi Ramakrishnan, Austin North, Austin North, Samantha Logan, Greta Onieogou, Charly Jordan had attended the annual celebration. 
Joshua Bassett and Olivia Rodrigo's Dating Details
Bassett and Rodrigo's dating relationship has been pretty much a fan theory, supported by their songs that apparently sang their real-life experience. 
The two met as co-stars in the set of High School Musical: The Musical: The Series in 2019. They were reportedly dating for a brief period before splitting in 2020. 
Following the split, Bassett reportedly had a short fling with Sabrina Carpenter. Note that the three have never confirmed or denied the dating reports. 
Still, their relationship made headlines when Rodrigo released her hit 'drivers license' on January 8, 2021. 
Netizens were assured the song was their real-life love triangle story. And the speculation intensified when it was found that Rodrigo had replaced 'brunette' with 'blonde' in her lyrics. 
The drama kept on continuing with the new songs the actors released. On January 14, 2021, Bassett dropped his new song 'Lie, Lie, Lie,' and all fans were convinced it was a reply to Rodrigo's side of the story. 
The same happened when Carpenter released her song 'Skin' the same month, and Rodrigo released her second and third singles, 'good 4 u' and 'Deja Vu.' 

Joshua Bassett and Olivia Rodrigo in the set of 'HSM: The Musical: The Series.' (Photo: Instagram)
But when Rodrigo dropped her third single, Bassett clarified that the rumored saltiness wasn't there between them. Instead, he proved he was still on good terms with the songstress. 
He took to Instagram to praise the song, writing, "SUUUUUUPER late on this but I love this song so much." He also urged his fans to better watch out for the album. 
Following that, they even had a duet on the first episode of High School Musical: The Musical: The Series season 2. 
However, in an interview with GQ in June 2021, Bassett broke his silence on his relationship with Rodrigo.
While he didn't delve into details, he disclosed Olivia hadn't spoken to him since her song 'drivers license' came out. 
He also implied he didn't like the scrutiny and drama regarding their personal lives. And he stated they should focus on Rodrigo and Carpenter's great work instead of their relationship with a boy. 
A month before, Bassett had come out as queer through an interview on Clevver News.