Addison Rae's Ex-boyfriend Bryce Hall Defends Her Performance in 'He's All That'
Bryce Hall appreciated Addison Rae in 'He's All That' despite harsh critics.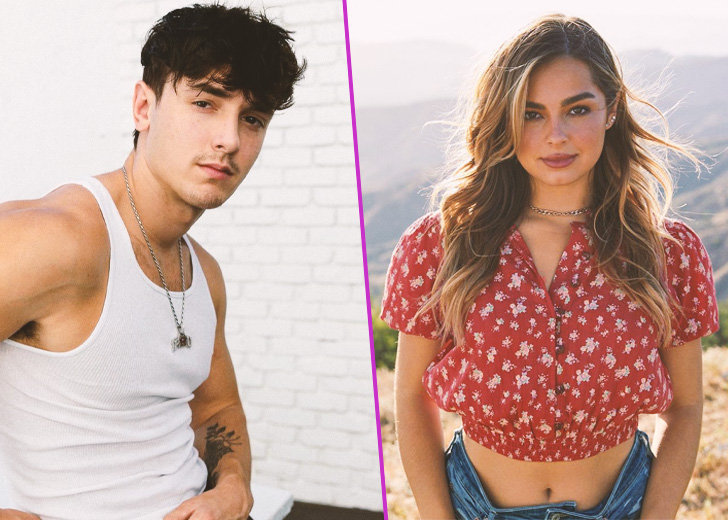 If you use TikTok, then you probably have heard about Addison Rae and Bryce Hall. They are popular TikTokers with a massive fan base. 
Apart from their TikTok videos, Rae and Hall made headlines in 2019 because of the rumors surrounding their relationship. Rae acknowledged her relationship with Hall in September 2020.
They broke up soon but renewed their romance a month later. Their relationship was public since they made adorable TikTok videos together. Unfortunately, the relationship didn't last long. 
Cheating accusations about Hall appeared online in February 2021, and soon, the TikTok stars surprised fans by announcing their split. Although Hall denied the infidelity claims, the two parted ways in March 2021. 
Rae shaded Hall in a lie detector test on August 9, 2021, where she also confirmed that she is no longer friends with her exes. Hall was disappointed with the video, but he remains supportive of Rae and her career. 
Rae's cinematic debut, He's All That, was released on August 27, 2021, and Hall has been nothing but supportive of his ex. 
Bryce Hall's Surprise Cameo
He's All That is a gender-swapped remake of the 1999 movie She's All That. The movie revolves around Rae's character Padgett Sawyer, a popular girl who had a humiliating fallout with her boyfriend. 
To recover from the humiliation and avenge herself, she accepts a challenge to make the school's least popular boy Cameron Kweller a prom king. However, emotions are at stake. 
After the movie was released, Hall took to Twitter to appreciate Rae for her performance. She quote-tweeted Hall's appreciation and hinted that he has a cameo in the movie.
Fans were happy but surprised when they learned about Hall's appearance. But since the movie was shot when Rae and Hall were together, it makes sense that Rae included her boyfriend in her first movie. 
Hall made a surprise cameo in an uncredited role in the movie. He played a friend of Sawyer's ex-boyfriend, Jordan, but had no dialogue. 
He made an appearance to comfort Jordan after a heartbreak during the 'Drop it like F.Scott' party scene. Sawyer also is at the party, but she does not share any screen time with Hall's character. 
Hall's fans were ecstatic to see their hero in the movie despite the movie's poor reviews. Even after the movie's premiere, Hall was commenting on Rae's Instagram posts about the film. 
'He's All That' Did Not Satisfy Critics
While Rae's fans believe she did a fantastic job, the movie did not satisfy the critics. On Rotten Tomatoes, the critics and audiences have mostly left harsh comments about the film. 
As of today, it has received a 32% rating in Tomatometer and a 30% audience score. Similarly, The Washington Post also disapproved of the movie, calling it "He's All That is not all that."
Lastly, Decider also advised their readers to skip the movie. Many other critics share the same sentiments as these reviewers, but be the judge for yourself by watching He's All That on Netflix.