Is Evan Peters Gay? What Is His Height & Net Worth?
Actor Evan Peters is not gay and is known to have dated a number of actresses he's worked with.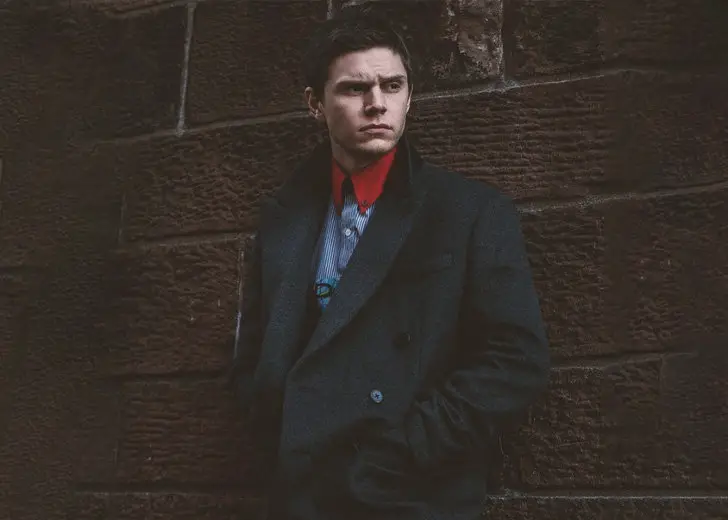 Evan Peters is a well-known name in Hollywood, having dazzled fans with his incredible acting height. He is acclaimed for his portrayals of dark characters in television and movie productions, including a serial killing hotelier, a cult leader, an evil scientist, an emotionless sexual offender who turned into a serial killer, and more complicated characters. 
Thus far in his career, which began in 2004, Peters has acted in various roles. Out of all, he is widely famous for portraying Peter Maximoff/Quicksilver in the X-Men movies and Jeffery Dahmer in the crime series American Horror Story. 
Before being a superfast superhero in the X-Men film franchise, Peters appeared in the 2010 hit superhero comedy Kick-Ass where he was seen playing Todd, the best friend of the title character portrayed by Aaron Taylor-Johnson.
Interestingly, in MCU's Avengers: Age of Ultron, Johnson was later seen as Quiksilver, the character Peters is widely loved for.
Is Evan Peters gay?
Over eight seasons of American Horry Story (2011-2021), Peters portrayed LGBTQ characters like Edward Philippe Mott (American Horror Story/Roanoke), Mr. Gallant and Jeff (American Horror Story/Apocalypse), and Kai Anderson (American Horror Story/Cult), which has made fans wonder about his sexuality in real life.
Peters has played many gay characters in his career thus far. However, he is understood to be of straight orientation.
Evan Peters is pro LGBTIQ+ community
Equally, Peters is also known as a supporter of the LGBTQ+ community.  
The actor talked with GQ about his experience working in Pose and explained how he has "learned a lot from the trans community."
In the American drama series created by Ryan Murphy, Brad Falchuk, and Steven Canals, he played the character Stan Bowes, a white man dating a transgender prostitute behind his wife's back.
The experience of portraying such a role was distinct for the actor, as he acted in a majority transgender and queer set with rich diversity. The set was enriched with people of color, and he was of German descent with white ethnicity.
"This is a whole world and culture that I knew nothing about," Peters shared GQ. "It's been a massive learning experience, and I've grown a lot. I've learned a lot from the trans community," he added.
The actor also sang praises of the LGBTQ community and called them an "incredible[ly] strong" group of people. "They've had to deal with way bigger problems than anything I've ever had to deal with. It just makes me humbled," he said. 
Evan Peters' dating history before Emma Roberts
Peters first started dating British model and singer Pixie Geldof in 2010. The then couple was spotted holding hands and later seen kissing at Coachella in 2010. 
After a split from Geldof, Peters was in a relationship with Alexia Quinn, his co-star in a 2011 play Living at Home. 
It was then reported that Peters was in a relationship with his American Horror Story co-star Alexandra Breckenridge. However, a concrete timeline remains unknown when the two fell for each other.
Are Evan Peters and Emma Roberts married?

Source: Instagram
Peters was later known to be in a love affair with Emma Roberts and shortly after with Halsey. Peters started dating Roberts after the two met on the set of Adult World in 2012. According to Roberts, Peters thought she was weird and didn't respond to her filtration during the movie's filming.
"I actually, on the set, was like, 'Oh yeah, we're totally gonna date.' And I would like flirt with him, which ended up looking like I had something in my eye because I'd be like, 'Hey, what's up?'" she retrospected to Chelsea Lately.
"And he literally didn't speak to me the entire movie. He thought I was so weird," she added.
In his defense, Peters told Vulture that he couldn't break the ice talking to Emma despite having a crush on her. He then decided to speak less after many conversations turned awkward.
Hence, they only started dating after they bonded post-filming. "I relaxed a little bit and she started getting my sense of humor," he recalled.
Police arrested Emma Roberts as Peters was there with a bloody nose
In 2013, the couple broke the internet after it was revealed that Roberts reportedly assaulted him following a heated fight in a hotel in Canada. The police arrested Roberts as they witnessed Peter with a bloody nose and a bite. As reported by US Weekly, Peters didn't press charges and ultimately reconciled. 
Finally, seven months later, Peters proposed to Roberts. After that, the duo went through many on-again-off-again phases in their love life before finally ending their engagement of seven years in 2019. However, it was after this that Peters and Halsey came close. 
Peters and Roberts had a breakup in June 2015 amicably and reconciled in September 2015 before breaking up again after seven months. After that, the pair had a final reconciliation a year later, before their final separation in 2019.
At the time, a source told US Weekly, "Evan has moved out. It wasn't a bad breakup. Garrett and Emma have been friends, but this is new, casual, and just a couple of weeks old."
His dating timeline with Halsey (2019-2020)
Interestingly, Halsey had a crush on Peters since 2012, and in November of the same year, she tweeted, "Petition for Evan Peters to date me."
In addition, several other tweets from Halsey in successive years reflected her love for the actor.
However, after finally dating and accompanying each other on a tour and many public appearances, Halsey and the Quicksilver actor broke up. In March 2020, she deleted all the pictures of Peters from her Instagram account, suggesting the two had ended their relationship.
Is Evan Peters single now? Who is his current girlfriend?
In 2015, Peters said to Cosmopolitan that he favored a patient partner willing to understand his "insecurity" and personality.  
"If I say the wrong thing or do something stupid or fumble or spill s*** on my shirt, she's OK with it. She's cool with that and will give me another chance to say the right thing and get past my nerves and insecurity," Peters said.
"[She] will give me another chance to say the right thing and get past my nerves and insecurity. There are a lot of girls out there who don't really want to do that. But there are a lot of girls out there who do, and those are the ones — the only ones — I can really go for. I need a couple more chances than just the first one," he explained.
What is Evan Peters' Age? 
Born on January 20, 1987, in St. Louis, Missouri, to father Phillip Peters and mother Julie Peters, Evan is 35 years old as of now. He has two siblings: older brother Andrew and older paternal half-sister Michelle. In 2001, he relocated with his family to Grand Blanc, Michigan, and began modeling and taking acting classes.
How did Evan Peters become famous?
At age 15, Peters moved to Los Angelos with his mother to pursue an acting career.
Although he started his career at the age of 17 in 2004 and played in many theater plays, movies, and television roles, Peters had his major breakthrough in 2011 with the role of a teenager Tate Langdon in the first season of American Horror Story.
What is Evan Peters most known for?
In 2022, the 5 feet and 10 inches tall actor garnered rave reviews for his portrayal of the real-life serial killer Jeffery Dahmer, a deranged gay character with uncontrollable sexual fantasies, in the American true crime series Dahmer – Monster: The Jeffrey Dahmer Story, developed by Ian Brennan and Ryan Murphy. Previously, he had played dark characters on American Horror Story.
In 2021, Peters was seen in MCU's TV series WandaVision as Ralph Boner, a fake version of Pietro Maximoff. In December 2022. it was announced that Peters would reprise his role as Quiksilver in the Deadpool sequel Deadpool 3. 
According to Celebritynetworth, his estimated net worth is $4 million.
Peters would take an absence from darker roles
In a recent exclusive Variety interview with gay co-star Ryan Murphy, Peters conveyed his intention to take a break from darker roles. 
"I'm going to take a little break from darker roles and explore the light. It would be interesting to me to play something that is a little closer to home, a little more mundane and to explore the details of those kinds of experiences," he shared.