'WandaVision' Star Elizabeth Olsen's Fans Wait For Her Marriage News
Is Marvel's actress Elizabeth Olsen married?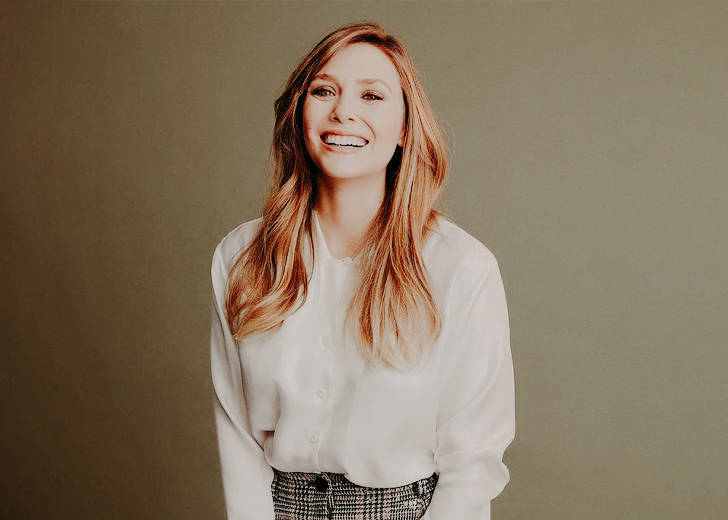 American actress Elizabeth Olsen rose to the limelight with her portrayal of Wanda Maximoff Scarlet Witch in the Marvel Cinematic Universe's franchise movies and shows.
Playing the character, she has appeared in Marvel's superhero films such as Avengers: Age of Ultron (2015), Captain America: Civil War (2016), Avengers: Infinity War (2018), and Avengers: Endgame (2019), and in the miniseries WandaVision (2021).
The actress is also known for her acting in 2011's thriller drama movie Martha Marcy May Marlene, for which she was even nominated for the Critics Choice Movie Award for Best Actress and Independent Spirit Award for Best Female Lead.
Her other notable movies include Silent House (2011), Liberal Arts (2012), Oldboy (2013), Godzilla (2014), I Saw the Light (2015), Ingrid Goes West (2017), and Wind River (2017).
Besides acting, Elizabeth has worked in the entertainment industry as an executive producer and starred in the TV show Sorry for Your Loss (2018–2019). For that, she was nominated for a Critics Choice Television Award.
Elizabeth Olsen's Bio: Age, and Family Details
Hailing from Sherman Oaks, California, Elizabeth was born on February 16, 1989, as Elizabeth Chase Olsen. Her star sign is Aquarius.
The Oldboy star's father, David Olsen, is a real estate developer and mortgage banker, while her mother is Jarnette Jarnie, a personal manager. In 1996, her parents divorced–the actress was only seven years old at that time. Later, her father married McKenzie Olsen.
Elizabeth has two twin sisters, Mary-Kate and Ashley Olsen, an older brother, Trent Olsen, a younger half-sister, Courtney Taylor Olsen, and a younger half-brother, Jake Olsen.
The Olsens have Norwegian and English ancestry.
The Olsen twins are renowned in the showbiz. The child stars are best known for starring in the ABC sitcom Full House, where they shared the role of Michelle Tanner. The two have also starred in several hit films in the '90s and launched their own clothing lines.
Similarly, Trent, a USC grad, has had appeared in a few projects of his younger twin sisters, including You're Invited to Mary-Kate & Ashley's Sleepover Party and the Adventures of Mary-Kate & Ashley series. In 2014, his profile on New York Post suggested that he was working at a production company at the time.
Her younger half-sister Courtney is the daughter of her father and his second wife, McKenzie. Courtney goes by the stage name Taylor Olsen, and according to IMDb, she has appeared in acting projects such as YOLO: The Movie and Malignant Spirits: Sense of Fiction.
The youngest kid on the block, Jake, is also Elizabeth's half-brother, born to David and his second wife, McKenzie. Jake never tried his hands at acting, but he did try his luck in modeling for several years. Speaking on how it likes to be a part of the Olsen family, he shared his experiences with Runway magazine in 2016.
He said that he learned about respect from everyone in his family while adding, "In a family of six kids, you learn it's not always about you."
I love every chaotic moment I have when my family is all together. It's a lot more normal than you would think. We all support each other's dreams.
Early Life and Education 
Olsen had a good upbringing, growing up in a famous family with supportive parents and loving siblings. Although she was born and brought up in the United States, she moved to Russia for her theatre studies after completing her education at New York University's Tisch School of the Arts.
Later, in Russia, she attended the Moscow Art Theatre School for a semester through the MATS program at the Eugene O'Neill Theater Center in 2009.
Is Elizabeth Olsen Getting Married Anytime Soon?
Elizabeth is engaged to her long-time boyfriend Robbie Arnett, a musician. Robbie is a member of cinematic indie quartet Milo Greene, formed in 2009. He is one of three lead vocalists, alongside Marlana Sheetz and Graham Fink.
Elizabeth and Robbie were first linked to being dating in February 2017 after they met while vacationing in Mexico. The same year in March, E! Online confirmed that they were a couple, snapping them together, walking arm-in-arm around New York City.
The two officially made her relationship public when they were attending the Gersh pre-Emmys party together in September of that year.
Following over three years of dating, the power couple got engaged in August 2019. The couple is yet to reveal their marriage plans. 
Who is Elizabeth Olsen's Fiancé Robbie Arnett? 
Robbie is a California native musician born in 1992 and graduated from the University of California, Irvine. While pursuing his university education, he made a few friends who later turned into his bandmates. Together, they formed the group, Milo Greene. In the band, he plays instruments and does the vocals, too. 
The band's debut album 'Milo Greene' was released in 2012, followed by the release of two other projects, 'Control' and 'Adult Contemporary'. The group has also provided music for movies and TV shows, including Fun Size, Arrow, and Supernatural.
Elizabeth Was Previously Engaged, Too
Before meeting Robbie, Elizabeth has had a few experiences of dating men, out of which one was with actor Boyd Holbrook. The two met on the set of their film Very Good Girls in 2012 and eventually started dating.
The duo got engaged in 2014. However, the engagement did not last long with Elizabeth calling it off within less than a year.
Commenting on the separation, Boyd stated that their relationship had ended abruptly. More than that, the actor also lost his best friend on that very day of separation, which made him experience a tougher time.
According to the E! News report, the actor spoke with the Man of the World magazine, revealing, "On the same day that my best friend died, I got a call from my girl to tell me it was over."
Career and Awards
Coming from a family connected to the entertainment industry, Elizabeth started acting from a young age. Her first gig was in the 1994 TV movie How the West Was Fun, where she played the role of Girl in Car as Lizzie Olsen.
Surprisingly, the actress had made up her mind to quit acting during the early days of her career. She came to that decision after she was rejected for the role in 2001's film Spy Kids, where young actors Alexa PenaVega and Daryl Sabara portrayed the leading roles.
She told her dad, "I want to stop acting," who in reply, suggested her to re-think her decision. He said, "Write a list weighing the pros and cons and make your own decision."
Well, Elizabeth did make her way back into movies, not initially, but eventually in 2011, portraying Sarah in the movie Silent House.
What followed afterward was a series of hit movie roles, including a prominent part in the Marvel Cinematic Universe franchise as Wanda Maximoff / Scarlet Witch.
Her success in the industry is also evident through the awards and accolades she has received over the years. To date, she has won 14 awards and received 38 nominations. She won six awards each from Alliance of Women Film Journalists, Chicago Film Critics Association, Florida Film Critics Circle, Ghent International Film Festival, Los Angeles Film Critics Association, and Vancouver Film Critics Circle, just for her role in the 2011 movie Martha Marcy May Marlene.
Elizabeth Olsen's Net Worth
According to Celebrity Net Worth, Elizabeth has a net worth of $11 million. And there are no prizes for guessing that the actress has earned her wealth from the salaries she received from her acting works. 
The success of her movies also played a part in adding to her total net worth. The movie Avengers: Endgame, which she was part of, became the highest-grossing film of all time in 2019, amassing a mammoth $2.798 billion at the box office.
With her healthy bank balance, the actress manages a luxurious lifestyle, owning her own home and traveling to countries such as Spain and Portugal.