Halsey Welcomes Her 'Rainbow Baby' Ender Ridley Aydin with Screenwriter Alev Aydin
Halsey had a miscarriage after becoming pregnant during a tour in 2015.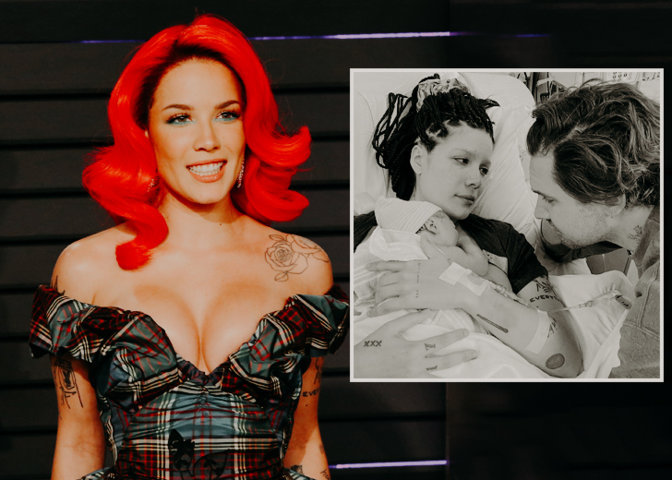 Ashley Nicolette Frangipane, professionally known as Halsey, is a mother now.
On Monday, July 19, 2021, the singer and songwriter announced through an Instagram post that she welcomed her first baby, Ender Ridley Aydin, on July 14 with her boyfriend, Alev Aydin.
"Gratitude. For the most 'rare' and euphoric birth. Powered by love...Ender Ridley Aydin...7/14/2021," Halsey, 26, wrote in the caption.
The post comprised two black-and-white photos, the first one featuring the singer, her screenwriter beau, and their baby.
In the candid snap, Aydin adorably looked at the little one as she gazed at him while lying in the hospital bed. The second snap saw Halsey breastfeeding their rainbow baby.
Just in case you didn't know, a baby born after a miscarriage is commonly referred to as a rainbow baby.
Her post received over 100 thousand comments from friends, family, and fans, congratulating them.
Dr. Thaïs Aliabadi, a board-certified physician and Halsey's family doctor, showed her love for the couple and the baby, writing,
Love you all so much. @iamhalsey you are a true angel and I'm so lucky to have crossed paths with you in life. Your kindness, love, generosity and class is truly one of a kind. I love you so much. Welcome to the best chapter of your life.
The 37-year-old baby daddy also sneaked into the comments section and wrote, "Our family," with three red heart emojis.
Aydin shared the couple's picture of them hugging each other, on Instagram the same day.
Her Pregnancy Announcement
The 'Without Me' singer previously shocked fans when she announced her pregnancy via an Instagram post in January 2021. She also revealed her partner Aydin by tagging him in the post.
Following that, there have been several engagement rumors, as well as, the anticipation of the talented singer getting married to her low-key beau.
However, Halsey, who is openly bi, reportedly sees marriage as "just a title," according to an Us Weekly source. The source further revealed,
Marriage is not the sole focus whatsoever. At the end of the day, what matters most is that the baby is healthy and that she has a loving relationship with the father of her baby, and right now, she for sure loves and adores Alev. They are very much in love.
She Had a Miscarriage Once
Surprisingly, this was not Halsey's first experience of pregnancy, as she had become pregnant during a tour in 2015.
During a conversation with Rolling Stone's contributing editor Alex Morris in July 2015, she revealed the truth and added that she soon had a miscarriage, for which she blamed herself.
"I think that the reason it happened is just the lifestyle I was living. I wasn't drinking. I wasn't doing drugs. I was [expletive] overworked," she said.
Halsey also shared she performed the same day she had a miscarriage, wearing adult diapers. She claimed it was the angriest performance she had done in her whole life.