Halsey Has Subtly Updated Pronouns as 'She/They' on Social Media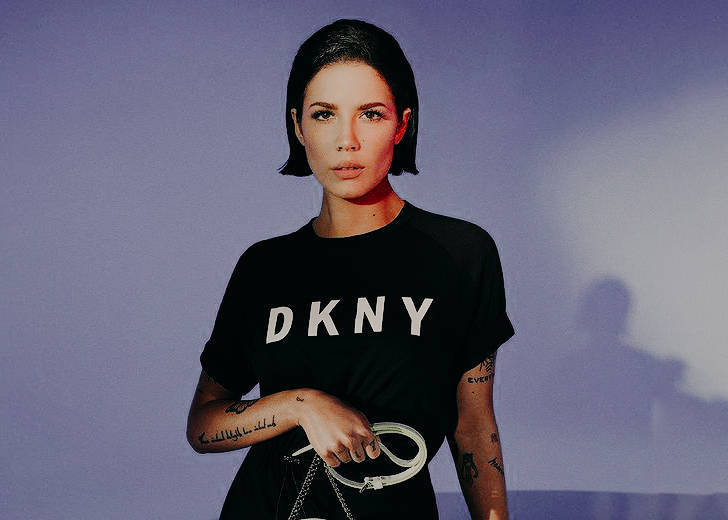 As simple of an act as it may be, American singer-songwriter Halsey's recent change of pronouns to 'she/them' has to potential to positively affect those struggling with their gender identity in the LGBTQI+ community.
What Does 'She/They' Mean Exactly?
Pronouns are alternative words used to describe a particular noun. For instance, if you are referred to by name at first, a pronoun will be used after that for convenience's sake. 
That being said, pronouns get tricky when one considers the complexity of identities it is associated with. Just because someone looks a certain way does not mean that they identify themselves that way.
Therefore, simply tagging a pronoun based on an assumption is never a good idea. It is always civil to ask for the pronouns and refer to the person with what they prefer.
So is Halsey gay? While she is openly bisexual, Halsey identifying as 'she/they' means that she not only sees herself as a woman, but a non-binary individual as well. 
A non-binary person is someone who does not feel that they fit in the binary of male or female gender identity.
Halsey's Subtle Yet Rippling Act Of Self-Identity 
The Grammy-nominated singer-songwriter casually updated her Instagram and Twitter bio over the weekend of mid-March 2021 with the preferred pronouns.
When fans realized she had formally, albeit quietly, identified herself as 'she/they,' they were quick to express their love and support. 
Similarly, Halsey replied to her millions of admiring fans on Instagram stories with a simple "thank u 💓."

Halsey's Instagram story. (Source: Halsey's Instagram)
The overwhelming feedback she has received, in a way, is a testament to how the LGBTQI+ community wants such support. Twitter user @nienke commented that Halsey's updated pronouns empowered them with confidence to open up about their own pronouns to their parents. 
halsey changing their pronouns made me confident enough to open up about my pronouns to my parents 🥺 i'm so proud of her i love them so much pls — nienke (@habitbIud) March 14, 2021
Another user, @newamericana929 perhaps summed up the emotions of the people pretty well. They tweeted:
btw halsey changing their pronouns just reminds me of how deeply connected i feel to her and how much she means to me, not just making me feel valid but also wishing her only the best. — Hannah🌈// proud of Ash era💕 (@newamericana929) March 14, 2021
This is precisely why this minor shift has had such a rippling effect on the LGBTQI+ community - Halsey has given confidence to her fans.
Halsey's History And Drive For The LGBTQI+ Community
At the 2018 GLAAD Media Awards, Halsey was awarded the title of Outstanding Music Artist. In her acceptance video message, she used the platform to talk about how she has been working hard to represent the LGBTQI+ community better.  
She further continued saying how she has spent a lot of her life simply trying to validate who she was, trying to prove that her emotions are not just a "phase," adding that her feelings are "not part of some confusion that's going to change or could be manipulated." This is also when she expressed her intentions of employing more female pronouns in her music.
Her fight has been in practice as well. BuzzFeed touched upon Halsey's portrayal of her sexuality concerning her star status in 2016.
In response, the star had tweeted, "Sorry, I'm not gay enough for you." She added the article was not only ignorant of the lifelong identity struggle she had faced but also it gives into bi-erasure, the suppression of bisexual narrative in the wider field of LGBTQI+.
In a 2015 feature by Billboard, Halsey talked about how she is half-black/half-white, openly bisexual, and ­struggles with bipolar disorder, which made her an "unconventional child" who grew up to be an "inconvenient woman." 
Now, as the initiator of the uber-inclusive make-up line About Face Beauty, she has become a full-fledged inspiration for not only the LGBTQI+ community — but the world-at-large.
Are Halsey and Boyfriend Alev Aydin Married?
Halsey is heavily pregnant with her first child with her boyfriend Alev Aydin. She first announced her pregnancy in January with a few maternity snaps on Instagram. 
The 'Without Me' hitmaker has been making headlines after the celebrity gossip page DeuxMoi shared a submission from a fan who claimed Halsey got married to Aydin in 2020. 

A netizen claims Halsey and her boyfriend Alev Ayden got married in 2020. (Source: Instagram/deuxmoi)
In February, a source reportedly told Us Weekly that the couple had talked about getting married. They claimed the couple was focusing on Halsey's pregnancy before taking their relationship to the next level. 
The couple was first spotted together in March 2019 when they attended a Los Angeles Lakers game. Later, Aydin shared a photo of them together calling the experience "cool."