Erica Sullivan Is Going to Use Her Olympics Clout to Impress Her Crush
Erica Sullivan has had a crush on the same girl for three years.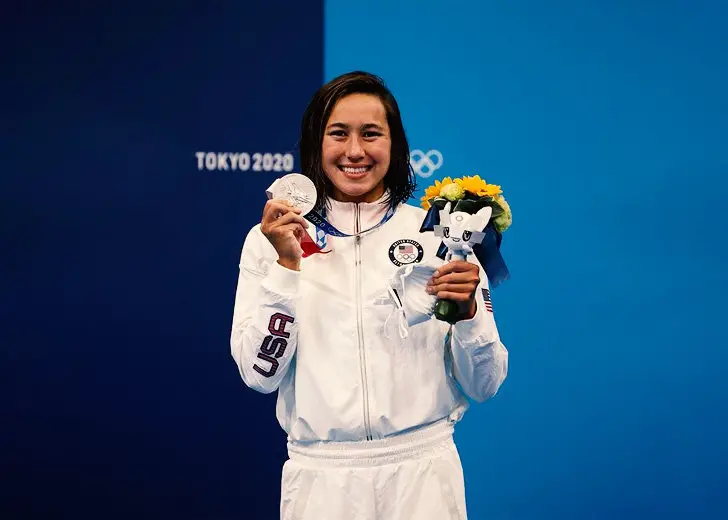 American swimmer Erica Sullivan made her Olympics debut in the recently concluded Tokyo Olympics 2020.
Her debut in the biggest international sporting event saw her secure second place in the 1500-meter freestyle at the 2020 US Olympic Swimming Trials, qualifying her for the 2020 Olympic Games.
She also took home her first Olympics medal — a silver.
Since the achievement, the 21-year-old has been in the spotlight, with many showing an interest in learning about her sporting journey and personal life.
Hoping to Impress Her Crush
On the personal front, Sullivan, who recognizes herself as gay/queer, is reportedly single but wants to try her luck now with her longtime crush.
In a conversation with Vulture in July 2021, the pro swimmer disclosed she had a crush on the same girl for three years, before adding, "The yearning gets you every time."
In addition, the Nevada native stated people frequently asked her if she was single, to which she would answer she was still the same gay girl.
After dropping a hint about her love life, Sullivan didn't go further into revealing additional details about her crush or her past relationships, keeping her fans still in darkness.
Obsessed with Camila Cabello
Besides her undisclosed crush, the Olympic medalist has been obsessed with the 'Señorita' singer, Camila Cabello, who, to her surprise, followed her on Instagram after she won her silver.
The creator and cast members of The Wilds, Megan Rapinoe, Tobin Heath, and Christen Press, also reached out to congratulate her.
In an interview with People, Sullivan revealed that she regularly DMed Cabello before with texts like, "Girl, please notice me." Even after her rise to fame and the singer posting Sullivan's viral press conference on her Instagram story, Cabello was not responding to her DMs.
"Girl, that is literally me. I am on your story, just respond," she added, disclosing the message she sent after the recent events. And when the Cuban-American singer finally responded to her, Sullivan sent her a tweet that she had sent to the singer in the past.
She explained the details, saying,
In 2016, she saw the Olympic swim team and she tweeted saying, 'The Olympic swim team though.' And I quote tweeted it in 2016 saying, 'I guess I'll become an Olympian now.' And five years later after I made the Olympic team, I quote tweeted it and said, 'Hey Camila Cabello, I know this is five years too late, but I'm still single.'
Sullivan later credited Cabello for actually being the one to fuel her journey to becoming an Olympian.
Supported the LGBTQ Community
After her second-place finish in the 2020 Olympics, the swimmer also became a grant recipient of Procter & Gamble's Athletes for Good Fund. The firm provides funds to Olympians so that they can donate to the charity or cause of their choice.
During the stated interview with People, Sullivan revealed that P&G provided her an opportunity to pick a charity of her choosing, and she chose to donate some money to the LGBTQ+ Center of Southern Nevada.
The Olympian also hopes her participation in the Olympics and different social welfares inspire young queer individuals to come out easily and join the sport.