#Preath — Fans Really Want Tobin Heath and Christen Press to Get Together
#Preath is hot on Twitter after fans began linking Christen Press with Tobin Heath.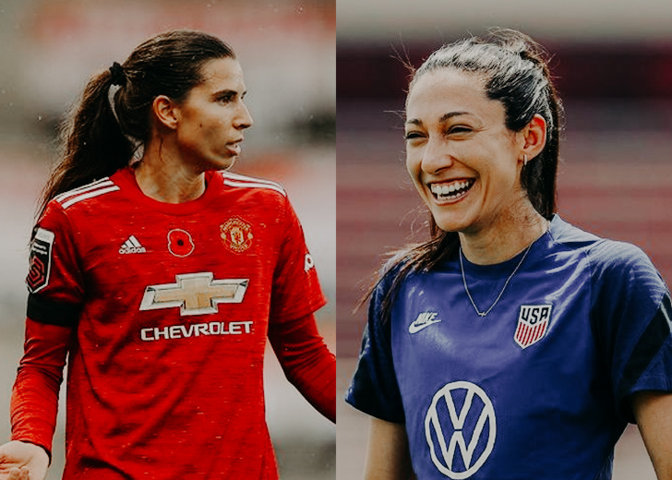 Christen Press has been receiving a lot of attention from soccer fans and Tokyo Olympics viewers after she helped the US women's soccer team secure the bronze medal on day 13 of the mega event. But she isn't the only one being included in the spotlight at the moment.
Fans are linking fellow US women's soccer team member Tobin Heath with Press, resulting in the hashtag #preath that's hot on Twitter. Preath comes after taking Press and Heath's names and combining them into one.
And as the name suggests, people have been enthusiastically pairing the two together romantically.
Are They Dating?
Press and Heath are close to each other and have been posting pictures together for quite some time. Back on December 25, 2020, Press posted a picture of the two celebrating Christmas together and fans have been revisiting the post even now, eight months later.
However, that's not the only post where the two can be spotted together. Press recently uploaded a picture of her and Heath photographed on the Olympics' five interlinked ring symbols.
She also thanked her fans for all the love and support during their run in the Tokyo Olympics.
None of the two have ever talked about being gay or dating each other, so there's nothing that points towards them being girlfriends. It also makes sense for them to be together a lot, as both of them were on the Manchester United team.
Time In Manchester United
Tobin Heath and Christen Press joined Manchester United in September 2020 and helped their team secure a fourth-place finish in the Women's Super League. They exited the club on June 24, 2021. 
During their time with the team, Press played in 17 games and scored 4 goals while Heath played in 11 games and scored the same amount. 
Heath couldn't make as many appearances on the field as she had to deal with an ankle injury sustained during training before Manchester United's clash against Chelsea on January 17, 2021. She once again suffered a setback during her recovery when she injured her knee.
Olympics Run And Career
Despite her injuries, Heath made it on time to play in the Tokyo Olympics. She was also one of the only two players on the US team to have made her fourth appearance at an Olympic. The other player is Carli Lloyd who dons jersey number 10.
Throughout her career, Heath has made 177 appearances and scored 35 goals. She also has 41 assists to her name and has won the World Cup twice. 
Similar to Heath, Press has also won two World Cups. She is also the 2010 Hermann Trophy winner and the all-time-leading goal-scorer at Stanford with 71 goals.
She also became the 2013 leading goal-scorer of the Swedish league, just a year after joining the league.
Over the course of her professional career, Press has made 155 appearances with 63 goals and 43 assists to her name.