Carissa Moore Won't Get to Go to the Tokyo Olympics with Her Husband
The pandemic rules forbid Carissa Moore to take her husband to the Olympics.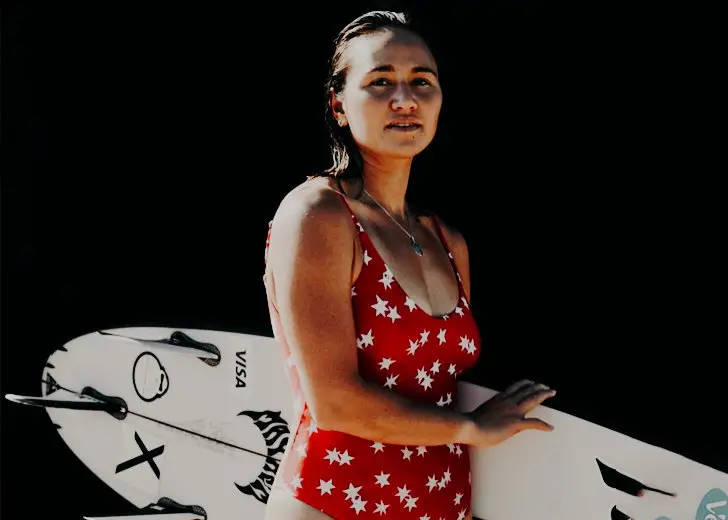 Carissa Moore is one of the astounding members of the U.S. surfing team. She is set to compete in the landmark inaugural surfing competition at the Tokyo Olympics 
Her husband, Luke Untermann, has always accompanied her during her competitions. However, he won't be joining her in the monumental Tokyo games because of the super-strict COVID-19 rules.
All the teams are required by regulation to bring a compact skeleton crew. 
Moore Married Luke Untermann in 2017
The professional surfer and her partner are high school sweethearts. The pair fortified their loving bond by tying the knot on December 16, 2017, in an island-themed wedding in the backyard of a friend's Oahu estate. 
Their minimalistic wedding decoration comprised a wooden arch embellished with flowers. A bare-footed Moore adorning a high-necked plain wedding gown exchanged vows with Untermann under the arch.
Her World Surf League teammate officiated at the wedding. And 300 guests — including fellow surfers Bethany Hamilton, Coco Ho, Stephanie Gilmore, and Kelia Termini — witnessed the ceremony. 
In a sweet gesture, Untermann shared his dream of having many kids and pledged to shower Moore with love for a lifetime.
In her turn, the Hawaii native addressed the baby plans, saying she was unsure if she could provide him with many. Then she promised she would be the best wife and the best mother, regardless of the kids' number. 
Since the wedding, Moore and her husband have been living their best lives, filled with support and love for one another. They have even adopted two cute pooches. 
On their third anniversary, the Olympic hopeful reflected on their affection for one another. Moore posted a picture with her husband under her wedding arch and gushed how meeting him was the greatest thing that happened to her. 
Moore Travels with Her Husband
It doesn't matter if it's an international or national competition, Untermann accompanies Moore in most of her matches. And Moore wouldn't want it any other way. Rather, she is beyond grateful to have a husband who supports her and spends time with her selflessly.
During an interview with E! Online, she even shared that she would never travel without her husband.
But she had to compromise for the Tokyo Olympics because of a demanding situation. The 28-year-old and her team will head out for the game on July 15, 2021, and battle to win the gold.
This will be one of the rare times when Moore won't have her husband physically by her side during a match, though his support will be with her.
Just in May 2021, the talented surfer and her husband had returned from a three-month-long surfing competition in Australia. She took to Instagram to share her experience of the tournament on May 25, 2021.
Posting a laughter-filled picture with Untermann, Moore detailed that the trip, as a member of the World Surfing League, was memorable. She also added that she was more in love with her husband and quipped that their team felt stronger.