What Exactly Happened To Sunisa Lee's Father?
A tragedy befell Sunisa Lee's father John Lee in 2019.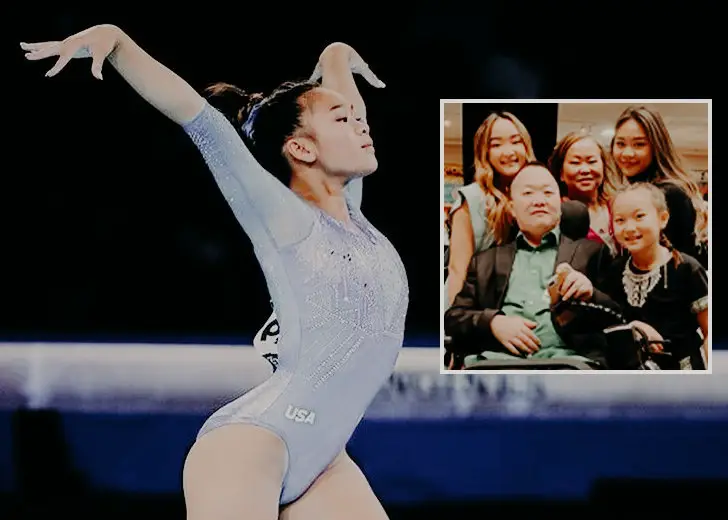 Sunisa Lee, also known as Suni Lee, demonstrated stellar balance when securing a spot on the United States women's national gymnastics team.
She governed her physicality against gravity and her mind that worried deeply for her injured father, her biggest supporter. 
A Game of Gravity
Lee trained as a gymnast from the young age of five, dreaming of partaking in the Olympics.
She increased her practice with the nearing of the Tokyo Olympics, hoping to qualify in the U.S. national gymnastics championship.
The 18-year-old trained seven hours a day and six days a week at Midwest Gymnastics in Little Canada while balancing her junior year studies at South St. Paul High School.
Little did she know, the greatest challenge in her career was yet to come.
On August 4, 2019, just days before the national championship, her Navy veteran father John Lee fell off a ladder. He was helping a friend trim a tree when he slipped off, losing to gravity. 
When he woke up, he was at Regions Hospital in St. Paul with a broken right wrist and fractured ribs. Worst of all, he had a spinal cord injury that paralyzed him from the chest down.
The unforeseen accident dented Lee's years-long mental preparation. Suddenly, the gymnast was balancing the pressure of the completion, her high school education, and the grief from her father's injury.
She even looked after her young siblings — she has five brothers and sisters altogether — to let her mother, Yeev Thoj, tend her father. 
In the emergency's wake, Lee's coach considered pulling Lee from the nationals. However, her father insisted her to go after her dream. He assured her he would be fine and encouraged her to compete. 
As a result, the young athlete journeyed to Kansas City and battled against gravity that crippled her father, securing a historic second position.
She only lost in the overall to the four-time Olympic gold-medalist Simone Biles. She had earned gold in her favorite uneven bars event.
Meanwhile, her father watched her game from the intensive care unit of the hospital. Later, he shifted to the Minneapolis VA Medical Center.   
Lee's Father Is Her Biggest Supporter
Lee regards her father as her biggest supporter, and rightly so. John has always been her cheerleader, and the father-daughter duo admittedly has the closest bond out of everyone in my family.
happy birthday dad! thank you for always being my number 1 supporter & my bestfriend. i love you so much, you are the reason i do it all. ❤ï¸Â pic.twitter.com/YlqEPdreJq — Sunisa lee (@sunisalee_) April 12, 2020
Even when unable to attend her game, John conveyed his best wishes and support to his daughter through the phone.
He video chatted with her hours before she competed at the world championships in Stuttgart, Germany, in October 2019. And showing his resilience and willpower, he moved to his home to watch the game in comfort.
Lee impressively finished second after Biles won the gold.
After three years, John attended Lee's game in person in his wheelchair. He went to the U.S. gymnastics championships in June 2021 to boost his daughter's confidence. 
He is determined to go to Tokyo to witness his daughter on the world stage. Lee would be the first Hmong-American on the U.S. Olympic gymnastics team.