City Girls and Nicki Minaj's Beef Explained — Is There Still Hope for a Collab?
Will Nicki Minaj ever collaborate with City Girls?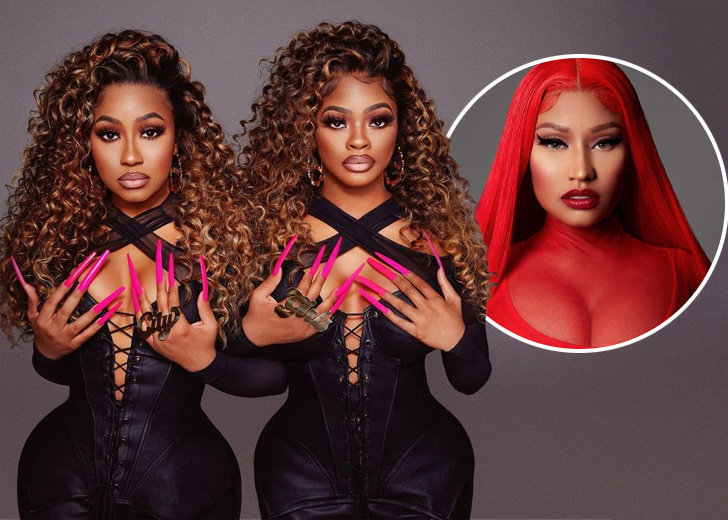 Nicki Minaj, who is often regarded as the 'Queen of Rap,' has many feuds with people in the music industry. Her rifts with Remy Ma, Lil Kim, Mariah Carey, Miley Cyrus, and Cardi B, among others, are highly publicized. 
Similarly, she recently shaded Jessie J when the latter showed appreciation to Minaj for joining her and Ariana Grande for 'Bang Bang.' However, many of Minaj's feuds have not been brought to light since she prefers to keep mum on most topics. 
JT and Yung Miami, aka City Girls, went undercover online and addressed questions from fans during a recent interview with GQ as part of their Actually Me series.
When a TikTok user inquired about a possible City Girls and Minaj collab, JT expressed her desire to work with the Queen of Rap. However, this was confusing to fans because of the controversy between the duo and Minaj. 
The Feud between Nicki Minaj and City Girls 
The beef between Minaj and City Girls was brought to light when Yung Miami pointed out that Minaj had blocked her on Instagram. On May 16, 2021, she took to Twitter to ask Minaj to unblock her. 
She then made a series of tweets, saying that she was not desperate or obsessed with Minaj. Yung Miami pointed out that she had done nothing to Minaj, which is why she wanted the legendary rapper to unblock her. 
Since Minaj has not publicly spoken up about this issue, it is not clear why she blocked Yung Miami in the first place.
But fans did some snooping and found out some plausible reasons for it. And it has everything to do with Cardi B. 
City Girls between Cardi B vs. Nicki Minaj Beef
Cardi B and Minaj had a nasty fight during an after-party hosted by Harper's Bazaar amidst New York Fashion Week 2018. The 'Bodak Yellow' singer attempted to attack Minaj by throwing a shoe at her. 
Cardi B later claimed that Minaj had previously liked comments on social media that questioned her ability to care for her newborn daughter. However, in a broadcast of Queen Radio, Minaj disputed the allegations and termed the brawl "humiliating."
Since then, the two rappers have stayed away from each other. The altercation between these two rappers has extended to their fanbase and any other celebrities who preferred one over the other. 
Therefore, one reason Minaj blocked Yung Miami could be when the latter publicly showed her support of Cardi B. During the height of Cardi B and Minaj's feud, Yung Miami declared she was "Team Cardi" in an interview with The Breakfast Club. 
She further said that she did not want to talk about a possible collaboration with Minaj. The interview took place around the same time as the release of City Girls' collab with Cardi B for 'Twerk.'
Similarly, in 2019, an old video of JT resurfaced where she dissed both Minaj and Cardi B. The video was a part of an old Facebook live but had gone viral as "diss from jail."
Yung Miami addressed the diss track and clarified that those were from before they were famous. Neither Minaj nor Cardi B commented on the resurfaced video. 
City Girls had hinted that they wanted to collaborate with Minaj before their GQ interview. However, many fans saw their wish as a shade towards Cardi B.
Then, the girls defended themselves, saying they meant no shade to any rappers and were allowed to have favorites.
However, while they have clarified everything from their side, Minaj has addressed nothing to date. Therefore, only time will tell if the Queen of Rap will collaborate with City Girls or not.