Bryce Hall Exposes Tayler Holder's Sexual Assault Allegations in BFFs Live Show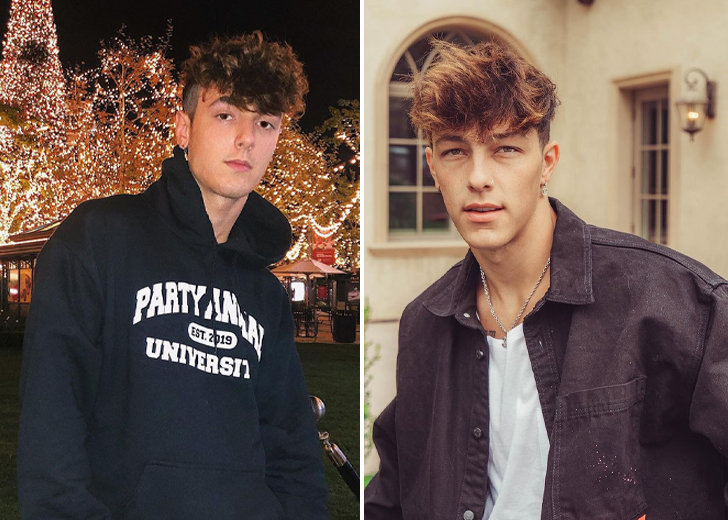 The Tayler Holder drama is getting worse and more confusing day by day. 
Many sexual assault allegations are going on, and Holder is getting exposed here and there. But people are afraid to talk about him because of the cease and desist letters. 
It started at the beginning of February 2022, when most of his close friends and followers unfollowed him. They did not reveal why they chose to unfollow, but said it was serious.
Initially, people thought it was a PR stunt from Holder's side to promote his new single.
But after Holder's friends and acquaintances assured it was not a PR stunt, but rather something sinister, people started getting curious.
Tayler Holder and Sexual Assault Allegations 
Holder went to the BFFs with Dave Portnoy and Josh Richards podcast to discuss the controversy on February 1, 2022.
Holder's PR team set the interview, but the TikToker said he would handle things offline.

Tayler Holder taking a selfie. (Source: Instagram)
That was when Portnoy asked if the mass unfollow was because of the sexual assault allegations. Holder did not address it properly and did not deny it either.
A day or two later, Holder once again made headlines for sending cease and desist letters to over 50 influencers.
Keemstar, the host of DramaAlert, confirmed that sexual assault and misconduct allegations were true.
He also said that there were accusations of rape, and minors were also involved in the scandal. However, Keemstar did not name the source of his information.
However, it seems like the sexual assault allegations are true after all. Many influencers who got the cease and desist letters are now afraid to talk about Holder.
But Bryce Hall is not one of them. He is one of the receivers, but it has not stopped him from exposing Holder and talking about his drama.
Trusted Source tells #DramaAlert Tayler Holder will be facing serious allegations from multiple Alleged victims. #DramaAlert is still working to gather all the details. Normally would not even tweet this much at this stage. But Taylor confirmed allegations were made on BFFs. pic.twitter.com/i6Z7WlcfBb — KEEM 🍿 (@KEEMSTAR) February 2, 2022
Bryce Hall Exposed Tayler Holder
On February 7, 2021, Hall went to the first live episode of the BFFs podcast. He talked about many things, out of which the most prominent was the Holder situation. 
He clarified that the sexual assault and misconduct allegations were true, but they were hidden from the internet.
However, Portnoy mentioning those accusations in the interview with Holder brought it online.
Hall also noted that Holder getting unfollowed was not a PR stunt, and cease and desist letters were unnecessary. He said so because nobody was talking about Holder and his activities. 
Hall said, "there is a physical reason why people stopped associating with him whether it is true or not." Similarly, even if things are not out in the open at the moment, they "will come out eventually."
Regardless, Hall confirmed it was the allegations that made people unfollow him. The BFFs hosts and Hall agreed that Holder's interview from February 1, 2022, made the latter look "guilty" and "so bad."
This is not the first time Hall exposed Holder. Before going on the BFFs podcast, he did a Q/A video on his YouTube channel titled 'the truth about everything.'
About five minutes into the video, Hall answered what was going on with Holder, asked by one of his followers.
He said the cease and desist letter would not allow him to talk much about the drama.
But confirmed that there were "allegations going around revolving Tayler." He said that was why he did not want to associate with Holder.
He also pointed out that he was not close with Holder and had not talked since their infamous boxing match. But regardless of it all, he "1000%" does not want to be linked with Holder.
To date, it is not clear what the sexual assault allegations are and why exactly the cease and desist letters were sent.
Therefore, it seems like we need to wait a little more to know what is going on.