Bryce Hall Chooses Addison Rae as the Ex He Would Go Back To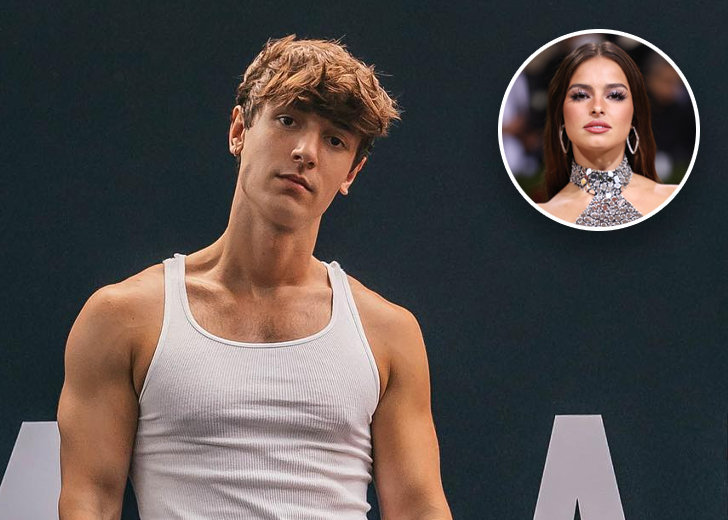 On June 28, 2022, Brazilian presenter Mattheus Mazzafera uploaded an interview with TikTok sensation Bryce Hall on his YouTube channel. 
Hall had been invited to Mazzafera's bite-sized talk show, Hottel Mazzafera, to talk about himself and his life. The TikToker answered 15 questions regarding various topics, including his love life and his career as a content creator and boxer. 
Bryce Hall Choose His Former Girlfriend Addison Rae
But the fourth and fifth questions had fans so intrigued that The original Tiktokroom reposted the clip on Instagram, which has over 88,000 views. 
For the fourth question, Mazzafera asked Hall what was the greatest thing he had done for love. The influencer replied he had spent a lot of money buying gifts for all his former girlfriends. 
The TikToker shared that the most expensive gift he had bought was for his ex, Addison Rae, a chain costing over $100,000 that he purchased from Drake's jeweler. 

Bryce Hall talking about his former girlfriend, Addison Rae, with Mattheus Mazzafera. (Source: YouTube)
After that, Mazzafera asked him if he could reunite with one of his ex-girlfriends, who would it be. Hall replied he would "100%" choose Rae because all his other former girlfriends "sucked."
The host teased Hall, saying he probably still had feelings for her, but the TikTok star replied she was cool but dating someone. 
Fans seemed to agree with him, saying Rae was beautiful and had a good personality. 
Bryce Hall and Addison Rae's Relationship 
Hall and Rae were first rumored to be dating towards the end of 2019. 
They often made TikToks together, looking rather cozy, leading fans to suspect something was happening.
But they denied they were dating and continued hanging out. In February 2020, Rae told Entertainment Tonight that they were better off as friends as they had very different lifestyles. 
After that, the duo continued hanging out, confusing fans and leading the former flames to confirm they were both single. 
And then, in September 2020, Hall appeared on Jeff Wittek's YouTube show, Jeff's Barbershop, and clarified he was the one who broke up with Rae but revealed nothing else. 
A few months later, in November, Rae released a video on her YouTube channel called "THE TRUTH ABOUT US," where she confirmed they had reunited. 
Fans shipping the duo were overjoyed at the news, but it was short-lived.
Soon cheating rumors surfaced, and the duo unfollowed each other and put out cryptic tweets confirming their breakup. 
Bryce Hall Says He Is Moving On
On May 16, 2021, Rae shared a smooch onstage with her He's All That costar Tanner Buchanan for the Best Kiss at the MTV Movie and TV Awards. 
This prompted Hall to post the cryptic tweet, "sucks, but moving on," which everyone assumed was a response to the kiss. 
That being said, Hall continued to support his former girlfriend even after the break up. After He's All That was released, he took to Twitter to express his appreciation for Rae's performance. 
"congrats on the movie @whoisaddison 'twas a great performance," Hall tweeted. Rae thanked him in her reply and asked fans to catch Hall's cameo in the movie.