Tanner Buchanan and Girlfriend Lizzie Went through Difficulties in Their Dating Life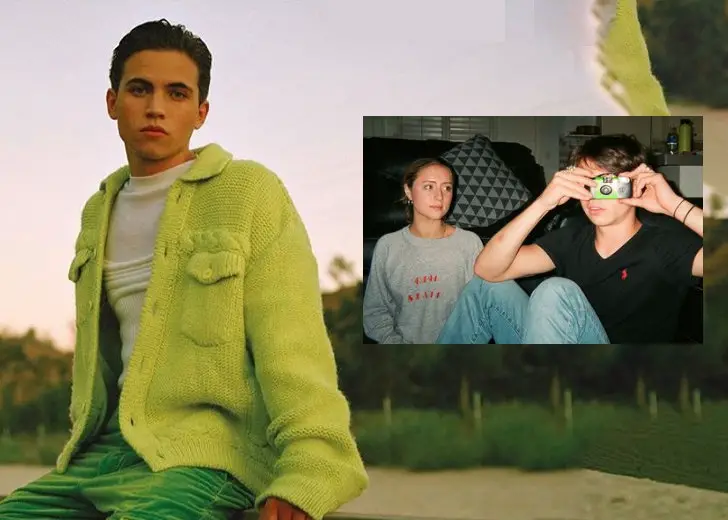 Tanner Buchanan, who recently played a lover in Netflix's romantic comedy He's All That, is a real-life lover, too.
And like the film, his real-life relationship with his girlfriend, Lizze Broadway, has also gone through a fair share of difficulties.
First things first, Buchanan has been in an on-and-off relationship with Broadway. 
They met each other when they were 9-years-old, and they have known each other for around 13 years.
Tanner Buchanan and His Girlfriend's Teenage Love Story
During their appearance on the August 16 episode of Anna Faris' Unqualified podcast, the couple revealed that they met through a mutual friend.
"He looked 10 years younger than I did, when we were the same age," Broadway revealed.
Buchanan's girlfriend then recalled seeing the actor in a class and felt that her initial impression of him was totally wrong.
The second time, she thought he was grown up and looked fine.
The two soon became very close to each other and subsequently started dating.
They Had a Bad Breakup In-Between
When asked the Chance actor if he had any "worst heartbreak" so far, he revealed that he had it when he was around 17 or 18 years old.
Buchanan shared he continuously cried every night for about a month following the breakup.
"And I don't mean just cry, I mean like bawl until I tired myself out and made myself go to sleep and just had a bunch of breakdowns," he added.
He later revealed that the one with whom he had broken up was none other than his current girlfriend, Broadway.
Buchanan shared that Broadway had broken up with him at the time, saying, "I will admit, it was my fault. I was actually kind of being a [expletive] during that time." "[so she] had every right to [break up with me]."
"That was definitely a reality check for me...I felt like I'd truly lost everything. And I don't ever want to act that way or be that person again. It was a very big learning experience," the actor explained.
Getting Back Together
Speaking on the same podcast, Broadway recalled Buchanan giving her "an ultimatum," and since she was "too afraid" to lose him at the time, she went back to him.
Buchanan told her that he could not talk to her anymore if they didn't get back together. "Being so young, you don't know anything. You just instinctively know that 'I can't lose this person,'" she added.
The couple also admitted that spending the quarantine together made their relationship stronger than ever.
Buchanan implied that they got a lot of time to fix issues in their relationship.
At the same time, Broadway noted that her boyfriend took care of her for four months during the quarantine period.
"I was really sick. I don't know what was wrong with me, I was having all these stomach issues....and this guy took care of me on my deathbed, it felt like," she revealed.
Now that Buchanan and Broadway are together, they feel "communication" is a significant factor in a relationship and are not looking to do anything silly to ruin the beautiful chemistry between them.