Bryce Hall in Shock after a Drunk Driver Wrecked His Car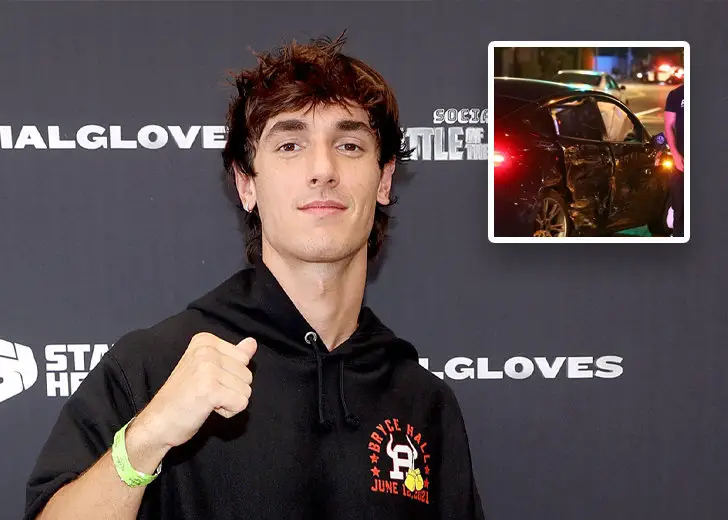 On June 13, 2022, Bryce Hall narrowly escaped with his life after an alleged drunk driver crashed into his Tesla, wrecking the vehicle.
Hall and his friends were in West Hollywood when the car accident happened. 
He tweeted that he and his close friends in the car had gotten hit by a drunk driver at 40+ mph who ran a red light. 
Fortunately, everyone was unharmed, besides having physical pain from the impact. 
"Im genuinely so grateful that everyone is okay and amazed everyone only left with minor injuries," said the TikToker. 
Bryce Hall Gets into Car Accident Caused by a Drunk Driver
The Daily Stardust, an entertainment news outlet, was at the scene and interviewed Hall and one of his friends. 
Hall shared he was shocked and that his legs were still shaking. However, he was also upset that he wasn't getting the answers he wanted.
The driver responsible for the car accident blew more than double the legal limit and was arrested for DUI and taken to the local police station. 
According to TMZ, cops said the TikTok star's Tesla had its airbags deployed and got towed away.
His fans left their good wishes in the comments section of Hall's tweet, writing they were glad everyone was ok. 

Bryce Hall updates his Instagram followers on his condition after the car accident. (Source: Bryce Hall/Instagram)
"People are so reckless thank god you are ok and everyone else. The car doesn't matter what matters is you are safe that is what is important," one user wrote. 
Some people even wrote that his friend, Cooper Noriega, who had recently passed, saved him. 
Bryce Hall Talks about Only Taking 'Ws'
A few hours after the car accident, Hall got on Instagram and updated his fans about his condition. 
He said he had a headache, his back was hurting, and he could not fully move his neck to the left. 
In the following video, the TikToker seemed to be at a clinic getting his back massaged. 

Bryce Hall talking to a cop after the car accident. (Source: Bryce Hall/Twitter)
The TikToker also did not have a car and took to Twitter, noting if he was going to be "one of those Uber everywhere type of guys."
People in the comments section offered to drive him and become his personal driver.
Later, he tweeted he was "only taking W's this year." For the unversed, "W' is a TikTok slang for wins. Hall later clarified that the W he was referring to was the lawsuit he would win after he sued the drunk driver. 
He also shared a viral photo of a cop talking to him during the incident and joked that the cop was admiring his mustache and that others should as well.