5 Best Foreign Movies On Netflix
Overcome the subtitle barrier, amigos.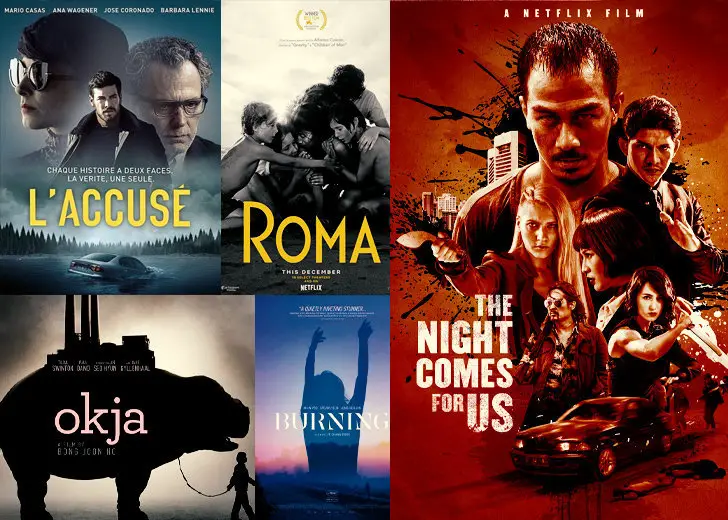 The 2020 Academy Awards were different for a couple of reasons. The first was the fact that it was the second consecutive year where the awards were hostless after Kevin Hart's 2019 Oscar-hosting controversy.
More notably, the Academy Awards were different in 2020 was because of Parasite's win in the Best Picture category.
With this win, the South Korean film created history — it became the first movie not in English to win the prestigious award in Oscars' 92-year history.
Another thing the movie's win did was pique interest in the American and English-native movie audience for foreign films, at least more so than before.
Bong Joon-ho, the director of this phenomenal movie, quipped during his acceptance speech at the 2020 Golden Globes that if you only put in enough effort to pay attention to the block of quotes that appear at the bottom of the screen while watching movies in a non-native language, you will find a lot more interesting movies to watch.
"Once you overcome the one-inch tall barrier of subtitles, you will be introduced to so many more amazing films." — Bong Joon-ho #GoldenGlobes — Netflix (@netflix) January 6, 2020
And while having to watch movies with subtitles because of a language barrier is a different cognitive experience than watching a movie where you can immediately understand the lingo the characters are speaking, we should challenge our brain to do so.
Not just because it is fun to push our limits, but also because there are a lot of movies that deserve our attention, movies that are not in English.
So, if you have a Netflix subscription and a knack for watching movies, here are our picks for the five best foreign movies on Netflix that you can — and should — watch.
5. The Invisible Guest (Spain)
If you have watched The Flight Attendant on HBO, then The Invisible Guest is not that different, at least in the story's premise. It is a Spanish mystery thriller from 2016, written and directed by Oriol Paulo.
At first look, the plot is simple enough — it is a story about a man named Adrian Doria, portrayed by Mario Casas. After a series of unfortunate incidents, Doria wakes up one day next to the dead body of his lover, Laura Vidal, played by Barbara Lennie.
He gets accused of her murder, and upon arrest and getting out on bail, he hires a famous defense attorney. Within three hours, they have to come up with a strong-enough defense.
But it's not how the plot initially looks that's the hook — it's the twists in the plot. The movie is an exciting journey to the end, even though the viewers might have already figured out how the movie ends within half an hour of Goodman's introduction. 
As The Hollywood Reporter notes, "Guest's destination may be too clearly signaled, but getting there makes for an exciting ride."
The movie, which has inspired many remakes in other languages, such as Badla (2019) in Bollywood, starring the legendary Amitabh Bachchan and Il testimone invisibile (2018) in Italy, is definitely a good watch.
You can watch The Invisible Guest here.
4. The Night Comes For Us (Indonesia)
The Night Comes For Us is a bad-guy-turned-good-guy film. The Indonesian action thriller, released in 2018, revolves around a crime gang member Ito, played by Joe Taslim, whom you might know from movies such as 2021's Mortal Kombat and Fast & Furious 6 from 2013.
Ito is one of the six elite enforcers of a crime syndicate, and after killing an entire village because a few villagers stole some drugs from the Triad, he and a few other enforcers discover the last survivor of the massacre.
But, in an unexpected turn of events, the last survivor, a little girl named Reina, generates sympathy in him and makes him realize his evils. So, Ito kills off everyone from the gang present there and sets out to save the little girl and himself as he's become a traitor after betraying the gang.
The story takes quite a few turns - old romance re-emerges, old acquaintances show up, they even begin bonding. But the twist in the story emerges when a mysterious character named The Operator is introduced.
The Night Comes For Us is a gore fest right from the get-go. Directed by Timo Tjahjanto, it is one of the best action movies to come out of Indonesia and definitely worth your time and attention if you're into action movies with plenty of blood.
You can watch The Night Comes For Us here.
3. Okja (South Korea)
Okja is another creation of Bong Joon-ho. The movie sets out with a simple premise — a girl is best friends with a "super pig."
But it takes a turn for the fantastic, similar to how the movie's reception at its first premiere at the 2017 Cannes was.
The animal liberation-focused adventure drama puts a little girl Mija, portrayed by Ahn Seo-hyun, at the center of the story along with her super pig, Okja. Okja, unbeknownst to Mija, is the property of the Mirando Corporation, a company run by Lucy Mirando, played by Tilda Swinton.
The corporation declares Okja to be the winner of a "super pig" competition and takes her from Mija.
She is devastated. And thus begins her journey to save Okja. Somewhere during the journey, Mija decides to use Okja to reveal Mirando Corporation's animal mistreatment.
However, the plan backfires due to betrayal, and both the best friends land in a precarious position where they have to save each other. 
The story manages to deliver a serious message with a combination of dry humor, shock, and horror — a message about how we get the food we do. Bong Joon-ho didn't set out to convert everyone into a vegan with the film, but he did want people to consider the animal they're eating.
You can watch Okja here.
2. Roma (Mexico)
Roma is a project that attempts and succeeds at showing how romanticizing and capturing the life of an average person on film. The movie is a semi-autobiographical take by Alfonso Cuarón, an Academy Award-winning director, on his upbringing in Colonia Roma, Mexico.
The black-and-white drama is about Cleo, a housemaid, and her mundane life in Colonia Roma. However, things start to shift when she realizes that she might be pregnant with her boyfriend Fermin's baby.
Roma is, as Variety noted, Cuarón's "ultimate personal testament." He brought to life the life experiences his maid shared with him during childhood and how his worldview was shaped through those stories and his own realizations later in life.
Cuarón's mastery of visual language oozes through the scenes, which he captured himself, with close-up shots and use of one of his trademark techniques — the handheld moving camera. It is a captivating watch, and one of the best movies from one of the greatest directors around.
You can watch Roma here.
1. Burning (South Korea)
Burning is a South Korean psychological thriller that encapsulates a love triangle between two men and a woman. Based on two short stories, both named 'Barn Burning,' by Haruki Murakami and William Faulkner, it was the first film by director Lee Chang-dong after an eight-year hiatus.
The story begins with Lee Jong-su, a young novelist who's living life doing odd jobs in Paju, South Korea. He meets his childhood classmate Shin Hae-mi during one of his delivery jobs, and they immediately get close.
Hae-mi tells Jong-su she's leaving on a trip to Africa soon and needs him to feed her cat. Before leaving, their relationship gets intimate. 
The story then continues to zig and zag, culminating in an eerie yet oddly appropriate finale.
Hailed multiple times as one of the best movies of the 21st century, the sense of unease, inconclusive narrative, and Steven Yeun's amazing performance in the movie makes it a must-watch for anyone wanting to get on with the trend of foreign cinema.
You can watch Burning here.
There has never been a better time to delve into foreign language movies than now, when all of us are cooped in our own homes at many places, waiting to see when the world opens back up.
These are just a few in a vast library of Netflix movies out there waiting for your attention and appreciation.