Know Natalie Halcro's Baby Daddy, Husband Queries, Plastic Surgery Rumors Plus Before & After Looks
Natalie Halcro was dating Aygemang Clay before her daughter's birth.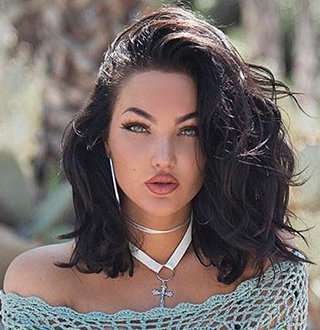 Quick Information
Date of Birth

Feb 02, 1988

Age

35 Years, 8 Months

Nationality Canadian
Birth Place

Langley, Canada

Profession

Actress

Relationship Status

Single(2021)

Ex-Boyfriend

Shaun Phillips, Aygemang Clay,

Net Worth

Not Disclosed

Ethnicity/Race

White

Father

Jim Halcro

Sister/s

Stephanie Halcro

Brother/s

Joel Halcro

Height/ How Tall?

5 Feet 8 Inches

Hair

Long

Hair Color

Black

Eye Color

Hazel

Children/Kids

1

Daughter/s

Dove
Canadian reality star and fashion entrepreneur Natalie Halcro, @nataliehalcro, is best known as one of the Kardashian circle and a reality star of E!'s WAGS (2015 to 2017) and Relatively Nat & Liv (alongside her cousin Olivia Pierson).
Halcro is often seen alongside the Kardashian sisters, Kim and Khloe Kardashian, as they celebrate life, business, and beauty together.
And she regards the Kardashians as an inspiration for what they have achieved and seeks business suggestions from the famous sisters, especially Kim. 
When she appeared in the reality series focused on Los Angeles-based females partners of famous athletes, she was in a dating relationship with  NFL player, Shaun Philips. 
After the end of the show, the Langley native collaborated with her cousin, Olivia Pierson (@oliviapierson), in their adventure for business in the fashion & beauty world while also showcasing their conventional personal life and family.
The cousins founded their own fashion clothing line called Nat & Liv and also a swimwear line called June Joy, @junejoyswim.  
Their website describes the swimwear brand as,
We've created a swimwear brand for you to feel confident, voluptuous, and powerful. We feel strongly that you should be supported as possible without sacrificing feeling sexy on your beach day.

The June Joy brand name comes from our middle names, Natalie June and Olivia Joy. We loved the sound of them paired together and we sure feel joy during June and through all the summer months!
In February 2023, Halcro's bff, The Skims founder Kim Kardashian, organized an epic pink-theme pajama party and a luxurious spa day for Halcro
The occasion was Halcro's birthday and no boys was allowed to the lavish events. 
In this article, we delve into the personal life of Natalie Halcro from her marital, dating, and children status to her net worth and plastic surgery rumors. 
Is Natalie Halcro married to her Baby Daddy?
No, Halcro doesn't have a husband and hasn't been married to her baby daddy, whose identity she has kept private to this day. 
But here's a short coverage of who the baby's fighter might be, according to fans. 
Fans began speculating about who Natalie Halcro's baby dad was after she gave birth to daughter Dove on 4 February 2020.
At the time, she announced the joyful news on her Instagram account but refrained from revealing her partner's name.
In the picture post, she was seen holding her newborn in the hospital. The caption wrote, 
Welcome to the world Baby Girl. My heart is so full (dove symbol) DOVE 02|04|2020
The post saw congratulatory replies from her high-profile pals including Lisa Pippen, Kim Kardashian, Kylie Jenner, Khloe Kardashian, and Christina Milan.
After the post,  there began rumors her baby daddy was her last boyfriend, Aygemang Clay.
And the rumors were rooted in the pair's past chemistry when they were dating before the pregnancy announcement. 
Clay appeared on Halcro's show Relatively Nat and Liv in its second episode in 2019.
He joined the family vacation on Whistle, where Halcro shared with her family members that she had reconciled with him after a six-month gap.
The pair admittedly had an on-and-odd relationship but yet a strong connection. Halcro explained that she and her partner had an "amazing chemistry."
The chemistry, however, didn't last long as the pair had their priorities set in the following episode.
Clay had gone to Florida, and Halcro had decided to focus on her clothing line and career. 
Since then, the 35-year-old former WAGS star has never mentioned anything about Clay while also staying tight-lipped about her daughter's dad.
Who is Natalie Halcro's Rumored Baby Daddy Aygemang Clay?
Clay is an entrepreneur, stage and television actor, and model with 54k plus followers on Instagram (@aygemang).  
He is the founder of Top of the Line Tickets and Entertainment. 
According to The Sun, Clay has worked with brands such as Under Armor, Superdry, and Nike and is a University of Florida alumni. 
But wait, there's still one person who fans have speculated to be her baby daddy.
In 2019, NBA player Andre Drummond was also speculated to be her baby daddy after she was allegedly spotted courtside at a Piston Game, according to Fansided.
Similarly, her cousin Olivia uploaded a photo in which she could be seen posing in a group with Drummond's arm around her waist (scroll to the second picture). 
However, until and unless she unveils the secret, her baby's father will remain a mystery. 
Halcro's Baby Daughter is 3 Years Old 
Halcro's daughter Dove turned one on 4 February 2021. The television celebrity took to Instagram to wish her baby girl and share that her life changed after Dove's birth.
The loving mother threw an extravagant fairytale birthday party for Dove in 2023. 
The party hosted close friends and family, including the Kardashians and their kids.
Halcro's first child Dove was born during the first phase of the COVID-19 pandemic on 4 February 2020.
To support the new mother, Halcro's mom Rhonda came from Canada and stayed with them for nine entire months. She cared for the mother-daughter duo, both mentally and physically. 
As a public figure, Halcro has had chronicled her motherhood on her Instagram, sharing super adorable pictures with her mini-me and giving everyone else a baby fever. 
She had first disclosed her pregnancy back in November 2020. Posting a picture of her baby pod, she revealed she was already 29 weeks pregnant. She also said it was one of the reasons to be thankful in 2020.
Halcro's Plastic Surgery Rumors 
Another gossip that keeps the rumor mill busy is Halcro's plastic surgery speculations.
Since rising to fame from her stints at WAGS as the girlfriend of NFL linebacker Shaun Phillips, followers have witnessed a massive change in Halcro's facial structures.
The evolution of her appearance has many believe that Halcro has done plastic surgery. But she has not gone under the knife to date. 
That being said, she has done Coolsculpting through Beverly Hills plastic surgeon Dr. Garo Kassabian and embraced some jawline fillers.
Coolsculpting is a process where fat cells from the waist, abdomen, hips, neck, or thighs can be frozen and killed using controlled temperature. 
Halcro was accompanied by her cousin and best friend Olivia Pierson for the treatment and the before and after result was remarkable. 
Besides special techniques, the Langley native's beauty results from her makeup techniques and skills. The fashion blogger would have opted to be a makeup artist if she was not a model.
What is Natalie Halcro's Net Worth?
According to The Sun, Halcro has an estimated net worth of $18 million, as of October 2022. 
How old is Natalie Halcro?
Born on 2 February 1998, in Langley, Canada, Natalie June Halcro is 35 years old, as of May 2023. 
Halcro started modeling when she was 12 and signed a deal with NEXT as a professional model. 
And now, she boasts an illustrious profile as a model who has walked on the ramp in France, Milan, Cape Town, London, and many other prime fashion hubs. 
She has had branding deals with the likes of Kohls, Salon Gafix, Macy's, Levi's, and Nike.