Floyd Mayweather vs Logan Paul  — How It Affected Floyd Mayweather's Net Worth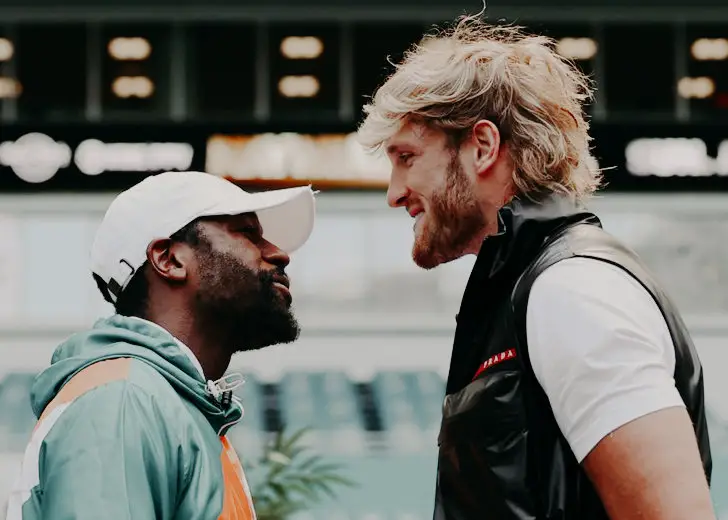 Former professional boxer Floyd Mayweather is one such boxer who has never been defeated.
Throughout his career, he has competed 50 times and has won every single one of them. He started his career in 1996 and retired once in 2007 and then in 2015.
He came out of retirement in 2017, only to make a stunning comeback where he defeated Conor McGregor with a total knockout on the 10th Round. 
With his 50th win on Floyd Mayweather vs Conor McGregor, the great boxer of all time announced it would be his last match.
However, he entertained his fans with another game in 2018 — Mayweather vs. Nasukawa. 
Then Mayweather made yet another comeback. This time, it was a game with YouTuber-turned-boxer Logan Paul.

Floyd Mayweather vs Logan Paul ticket. (Photo: Instagram)
Floyd Mayweather vs Logan Paul game happened at Hard Rock Stadium in Miami Gardens, Florida on June 6, 2021. 
Floyd Mayweather vs Logan Paul
The rumors about the Floyd Mayweather vs Logan Paul game were going on since September 2020.
In December 2020, Paul announced the match was going to happen via his YouTube Channel. 
The announcement took the internet by storm since the match was between two highly unlikely personalities.
Mayweather is a professional boxer who has a legacy of never losing, whereas Paul had only fought twice with a fellow YouTuber KSI in August 2018 and November 2019. 
Paul's 2018 match was a white-collar amateur boxing match that ended in a draw. The 2019 rematch was a professional boxing match where Paul lost, making his record 0-1. 
On top of all that, there was an age difference of 18 years between the two personalities. Mayweather was 44 while Paul was only 26 years old.
Similarly, the physical difference between Mayweather and Paul was also astonishing. 
Mayweather stands 5-foot-8 tall and weighs 147lbs, whereas Paul is 6-foot-2 and weighs 199lbs.
Paul has an additional reach of 4 inches, with 76 inches altogether, and the undefeated boxer has a reach of 72 inches. 
While fans had been debating who would win the match, both Paul and Mayweather completed the match with no official winner. They exhibited the bout till eight rounds and a wild clash.
And both of them made heaps of money. The profits and salary they earned from the fight undoubtedly increased their net worth by millions. 
Floyd Mayweather vs. Logan Paul live as well as pay-per-view (PPV) on Showtime for $49.99. 
SportingFree reported Mayweather was guaranteed $10 million in base salary.
As for PPV, he would receive 50 percent of the shares. The Athletic reported Mayweather had already bagged $30 million before the fight even happened.
Similarly, after the fight, he was expected to earn $100 million. Mayweather's net worth was bound to see an exponential rise after June 6, 2020.
Floyd Mayweather's Net Worth
Mayweather is known to earn millions after his fights, which have helped him accumulate a net worth of nine figures and be one of the richest boxers.
As reported by Celebrity Net Worth, the renowned boxing champion had an estimated net worth of $450 million and total career earnings of $1.1 billion in 2020.
In May 2021, Mayweather revealed he had already crossed the $1.1 billion mark, with his lifetime earning being well over $1.2 billion.  
In his legendary 2017 match with McGregor, he made a whopping $300 million. The match had been considered the highest-grossing PPV boxing event in history.
The event had managed to generate at least 5 million PPV purchases with $700 million in total. 
Previously, his match with Manny Pacquiao earned him a revenue of $250 million back in 2015. He had also appeared on the WWE's WrestleMania XXIV in 2008 and got paid $20 million.
No doubt, the boxing legend has made billion dollars from his fights and other endeavors.
His net worth is enriched with the average money of $10 million he gets each year from endorsements.
He owns a promotional company called Mayweather Promotions and an apparel company, The Money Team (TMT). 
Bigger the paycheck, the bigger the spending. Mayweather lives a very luxurious life, owning many real estates and properties.
In 2018, he bought an 11-bedroom custom-built house in Las Vegas for $10 million, where he currently lives.
He also has a $25.5 million house in Beverly Hills, which has a candy shop, 12-seat movie theater, and a 300-bottle wine room. 
Mayweather's net worth value is clear from his car collections, including dozens of high-end cars.
His collection includes a Bugatti Veyron Grand Sport, Ferrari 458 Italia, 599 GTB Fiorano, and Bentley Mulsanne, among others. He spent $4.8 million on the super rare Koenigsegg CCXR Trevita. 
The 45-year-old has an impressive jewelry collection with over 40 extremely high-end watches. He even owns two private jets worth $90 million in total.