Manny Pacquiao vs Errol Spence Jr. — What It Means for Pacquiao's Legacy?
"He is young, undefeated, and a world champion. He also wants to knock my head off. That is all the motivation I need," PacMan added.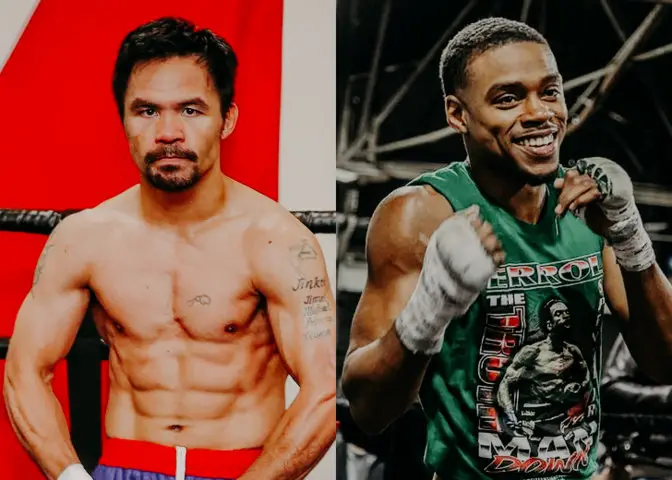 Manny Pacquiao has had 71 fights, titles in eight divisions, and a legacy to brag about. Still, he believes that beating Errol Spence Jr. could be the highlight of his career. 
For his next fight, the Filipino icon will take on the unbeaten Spence for his welterweight titles in a headlining, Manny Pacquiao vs Errol Spence Jr. match on August 21, 2021, in Vegas. 
A Quest to Be Amongst the All-time Greatest
In an exclusive interview, Pacquiao opened up to The Sun about his glory days and broke down what victory in the upcoming bout meant to him. 
He explained that beating the 31-year-old would be a very special moment for him for obvious reasons. What's more, securing a victory there could elevate the 42-year-old into the discussion of being among the all-time greatest athletes in the sport. 
The Filipino boxer was also well aware that he would have to endure a lot of hard work to make all that a reality.
The last time fans saw Pacquiao swinging in the ring was two years ago when he fought Keith Thurman, 32, in July 2019. Back then, Thurman had promised to beat the Filipino into retirement. Instead, he lost his WBA belt and his unbeaten record. 
A Knack for Challenging the Best
Much like Thurman, Spence boasts an undefeated record and will defend his WBC and IBF titles when he takes on Pacquiao in the ring about a month from now.
The boxer, who has a 27-fight undefeated streak, has also claimed that he would be the one to knock Pacquiao off the sport. 
While the PacMan is looking to secure his name as one of the all-time best, his American pound-for-pound opponent is looking to become the man who beat the ring legend.
Even so, PacMan seemed hopeful as he claimed he sourced his inspiration from his loyal followers, and as daunting as the match sounds, he was pretty confident when he said it would be easy because of his love and passion for boxing.
Appreciation for the Opponent 
The 42-year-old fighter also explained that he wanted to put up a good performance for his fans, which was also one of the factors that motivated him to train as hard as he could. He added, 
To be at your best takes hard work. I want to win and show everyone I can still compete at the highest level.
Although confident in his own boxing skills, Pacquiao did not hold back appreciation for his opponent. He claimed that Spence was not just one of the best welterweights but also one of the best fighters out there. 
"He is young, undefeated, and a world champion. He also wants to knock my head off. That is all the motivation I need," PacMan added. 
However, his Hall of Fame trainer Roach, who has cornered Pacquiao against the greatest fighters over two decades, believed otherwise.
He claimed that Pacquiao had fought quite a few good fighters in his career, some better than Spence, however, Pacquiao was not 42 at the time.