Carla Facciolo Age 51 Bio: Net Worth Now, Husband Fraud Sparks Divorce?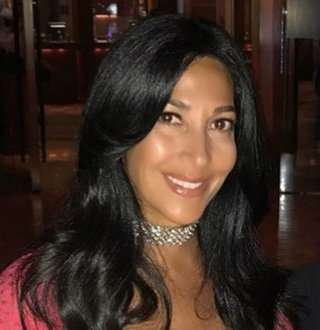 Sometimes the more you try to escape your fate the more it comes back to haunt you. Similarly, American reality star and mob wife, Carla Ficciolo, tried to escape from her crime family with a husband, but her fate turned the very husband into a criminal.
The New York City native came to fame with VH1's reality drama about women in mob families and their everyday struggles, Mob Wives.
Mob Wives: Watch Carla Ficciollo and her relationship with the other women in the mob families in hit series Mob Wives (Published on 21 January 2016)
You Might Like: Vanessa Ferlito Age 37 Biography: Single Mom's Gay Rumors To Romance
In the Mob Wives, Carla was known for her anger and her feuds with her fellow stars.
Carla Ficciolo's Bio (Age)
On 14 January 1967, Carla was born in Brooklyn, New York to a mobster father, Louis Facciolo, who worked for Gambino Crime Family.
Apart from her father, her uncle, Bruno Ficciolo, was also a mobster working for Lucchese Crime Family. After being suspected of being an informant, Bruno was murdered by corrupt NYPD officers working for the mob.
Carla Ficciola Gained Career Height & Immense Net Worth For Being Mob Wife
Carla rose to fame with VH1's reality show about women in the mob families, Mob Wives. She was one of the original casts of the show, alongside Renee Graziano and Drita D'Avanzo.
From the show and the net worth she got from her husband, Carla has been able to build her own net worth up to the staggering $ 1.5 million.
Trying To Escape From Mob Life, Carla Went On To Marry Mobster Husband
Daughter of the mobster, Carla also married a mobster, Joey Ferragamo. When first married, Carla was trying to escape the mob life as Joe was a stockbroker.
But then, Joe was convicted for a stock fraud and had to serve 88 months in prison; the husband, who was supposed to be her escape from crime, turned out to be criminal himself.
More VH1 Celebrity: Masika Kalysha Bio: Fetty Wap Talks To Daughter, Parents | Explicit Details
Carla has since divorced from her husband and was once believed to be dating a Puerto Rican guy. However, there hasn't been more information than that about her love life since then.
Love For Her Children Is Carla's Escape From Crime
With Joey Ferragamo, Carla has two children, twins Joseph and Carmen. While her husband was serving his time in prison, Carla raised her children alone and came to support them like nobody, a fact shown by her frequent Instagram photos.
Carmen and Joseph also appeared with their mother in Mob Wives when they were very young.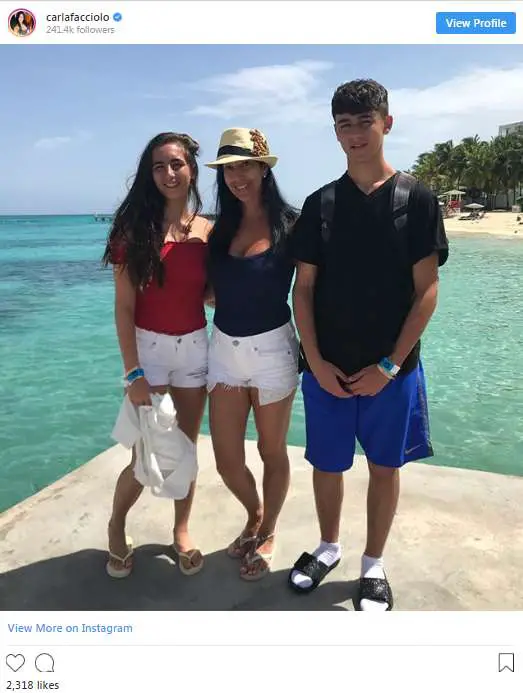 Vacation With Children: Carla Ficciollo and her children, Carmen and Joseph, strengthening their bond on vacation to Jamaica (Photo: Carla Facciolo 's Instagram)
Carla's two children are currently in high school and have turned into a handsome young man and a beautiful young woman and also taller than their mother who stands at an average height for an American woman.
Keep Reading: Candace Bailey After Divorce With Husband; Married Again, Ecstatic In Family Affair
At the age of 51, her two children and her love for them is her ultimate escape from the crime that she always wanted. What she couldn't find with her husband, Carla did with her children.
---