Is Dawn Staley in Gay Relationship? Know If She Is Single, Dating a Partner or Married To Husband or Wife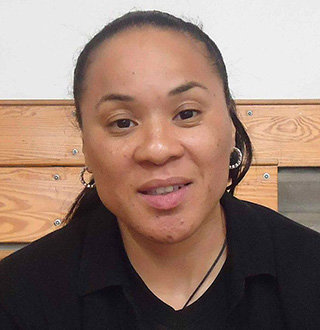 Quick Information
Date of Birth

May 04, 1970

Age

53 Years, 4 Months

Nationality American
Birth Place

Philadelphia, Pennsylvania, United States

Birth Name

Dawn Michelle Staley

Profession

Basketball Player

Career

1996-present

Relationship Status

Single

Salary

$300 Thousand

Net Worth

$1 Million

Ethnicity/Race

Mixed

Father

Clarence Staley

Mother

Estelle Staley

Siblings

4

College

University of Virginia

Height/ How Tall?

5'6"

Weight

61 kg (135 lbs)

Hair Color

Black

Eye Color

Dark Brown

Awards

Best Female College Basketball Player ESPY Award (1993)

Sister/s

Tracey Staley Underwood

Official Site

http://dawnstaley.com/
An epitome of women's empowerment, South Carolina Gamecocks head coach Dawn Staley has her groundbreaking achievements to speak about her unflinching career in the realm of basketball. 
As a player of the United States women's national team, the Philadelphia native led her team to win three Olympic gold medals (1996, 2000, and 2004). 
In her WNBA career from 1999 to 2006, the 5-feet-6 inches tall point guard was named an All-Star in her third season for the now-defunct Charlotte Sting, averaging 9.3 points, 5.6 assists, and 1.6 steals per game. She had a shot accuracy of 38.1%, including 37.1% from 3-point range. 
She would then play for the team for four more seasons, earning All-Star thrice, averaging 8.0 points, 5.1 assists, and 1.4 steals per game. This time, she had a shot accuracy of 39.8% of her shots, including 38.7% from the long-distance range.
In 2013, Staley was inducted into the Basketball Hall of Fame. Her last team in the WNBA was Houston Comets, which she joined in 2006.
And since the time she transitioned to being a coach in 2000 still as a WNBA player, Staley has won numerous coaching awards and top tournaments, including 2 times NCAA Division I Tournament champion (2017 and 2022) and 5 times NCAA Regional—Final Four (2015, 2017, 2021, 2022, and 2023) for South Carolina.
Not only that, she led the USA national women's basketball team to Olympic Gold in the 2020 Tokyo Olympics. 
In fact, she completed the head coach stint of the national team with an unbelievable 45-0 record from 2017 to 2021. 
Also Read: Kim Mulkey Wedding, Ex-Husband, Divorce, Engaged, Salary, & LSU
Later in April 2022, Staley led her team, South Carolina Gamecocks, to grab their second national title, the 2022 NCAA Women's Basketball Tournament National Championship, with a staggering season record of 35-2. 
She was even awarded the Naismith Award as the best coach in the same year.
In 2023, she defended her team, South Carolina Gamecocks, after a 77-73 loss to Iowa in the Final Four.
She was not happy that the team had been characterized as playing rough defensively. She also emphasized that she was merely adopting her style of play.
After the game, she expressed to reporters, 
We're not bar fighters. We're not thugs. We're not monkeys. We're not street fighters. I do think that that's sometimes brought into the game, and it hurts. 
She also bashed the press against her team and called out a "national writer" for ill-publicity: 
Some of the people in the media, when you're gathering in public, you're saying things about our team, and you're being heard, and it's being brought back to me. And these are the people that write nationally for our sport. So you can not like our team and you can not like me. But when you say things that you probably should be saying in your home on the phone or texting out in public and you're being heard, and you are a national writer for our sport – it just confirms what we already know. So watch what you say when you're in public and you're talking about my team in particular.
Back in 2020, she made history as the only person to have won  the famous Naismith award as a player and a coach. 
That year, she was awarded the award for taking Gamecocks to no. 1 in national consensus and helping the team win the both tournament championship and SEC regular season. 
As of 2023, Staley has an estimated net worth of $8 million. According to Sports Illustrated, she was awarded a historic 7-year $22.4 million deal, making her the highest-paid black head coach in the country.
The contract awarded her an average annual base salary of $3 million over the seasons. 
Hence, it is no wonder that fans would be eager to know about Dawn Staley obscure sexuality and dating life given her popularity.
But, unlike her illustrious, busy career, her dating life seems silent — mostly her relationship status and stance on getting married.
The American basketball coach has always kept her personal life close to her heart, never speaking of her partners and letting fans question her sexuality. 
Read the full story.
Is Dawn Staley Gay?
While Staley has never been vocal about her relationship status and her partner, she has let her fans speculate about her relationship and sexuality.
Many of her fans suspect she is a lesbian, thanks to her unapologetic, bold nature, her support for the LGBTIQ+ community and the alleged dating rumors speculating coach 
And the speculation has been there for a long time. Back in 2014, a Twitterati named Zaria wrote, "I think Dawn Staley is gay."
Then in March 2021, another Twitter user presumed her to be lesbian, albeit clarifying that she didn't know her actual sexuality. She tweeted, "Dawn Staley a diff type of old fine.. gay self.. ion even know if she gay, but she looks like it."
Dawn Staley a diff type of old fine.. gay self.. ion even know if she gay, but she look like it — 👑 (@JericaJames11) March 23, 2021
Interestingly, the lesbian assumptions didn't spur out of nowhere. Staley has been long linked to fellow South Carolina Gamecock's associate head coach, Lisa Boyer.
The three-time Olympic gold medalist added fuel to the dating rumors by referring to herself and Boyer as a married couple in a now-deleted tweet. She even thanked Boyer for sacrificing her career and supporting her dreams.
She tweeted in 2018, 
Boyer!! We are that old married couple who started young and will grow old together. You put the ride and die in the RIDE and DIE! Proud of you Boyer. Thanks for sacrificing your career to help to me serve our teams, program, university and state. What a ride?!.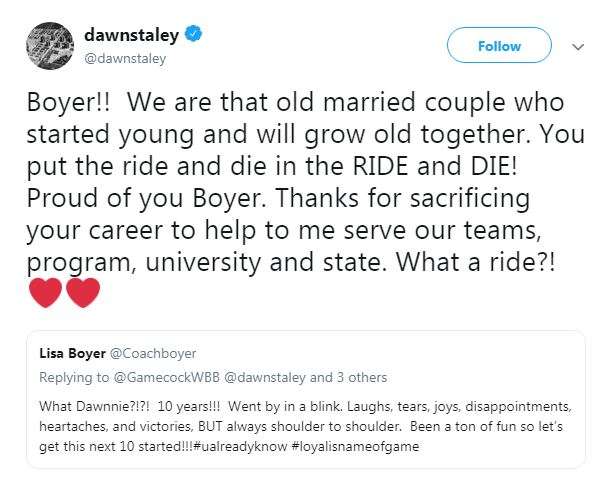 Dawn Staley appreciated her partner, Lisa Boyer's support through a tweet on 7 May 2018 (Photo: Dawn Staley's Twitter)
To her joyous post, Boyer commented, 
@GamecockWBB @dawnstaley @GamecocksOnline @UofSC @CityofColumbia What Dawnnie?!?! 10 years!!! Went by in a blink. Laughs, tears, joys, disappointments, heartaches, and victories, BUT always shoulder to shoulder. Been a ton of fun so let's get this next 10 started!!! (ualreadyknow) (loyalisnameofgame)
Besides the tweets, there is no other evidence to prove that Staley dated Lisa Boyer. Neither of them has confirmed their relationship nor referred to each other as partners.
READ ALSO: Meet Genevieve Gorder's Husband To Be! Married & Divorced; She's Not Rushing Now
Her Parents' Death
Staley was born to father Clarence Staley and mother Estelle Staley on May 4, 1970.
Her parents moved to South Carolina from North Philadelphia in the 1950s during their teenage and married.
They welcomed five kids in their family: three boys and two girls: Lawrence Staley, Anthony Staley, Eric Staley, Tracey Staley Underwood, and Dawn Staley;
Sadly, Staley, the youngest of her siblings, lost her father in 2006 because of an illness. At the time, her mother, who made her focus on her education while playing basketball, had already had Alzheimer's.
To look after her mother, Staley moved to South Carolina. After thriving for years, her mother passed away at 74 in August 2017. 
Staley pleaded Help for Sister's Cancer
Staley asked for good wishes from her fans for her sister's early recovery from leukemia in May 2020. 
The head coach of the University of South Carolina tweeted that her older sister, Tracey Staley Underwood, had been diagnosed with leukemia, a type of blood cancer. She then requested her supporters to send cards and letters directed to Tracey to lift her spirits. 
Read More : Is Dawn Staley Related to Duce Staley? Here's What You Must Know
After the plea, her sister recovered with the help of five chemotherapies and a bone marrow transplant in August 2020. Their brother, Lawrence, donated the needed stem cells as a 10/10 match for the donation. 
DON'T MISS: Lisa Salters Without Husband At Age 52! Surprising Fact, Gay/Lesbian Or Straight?