Kim Mulkey Had a Rough Wedding and an Even Rougher Marriage
Kim Mulkey's dad didn't walk her down the aisle.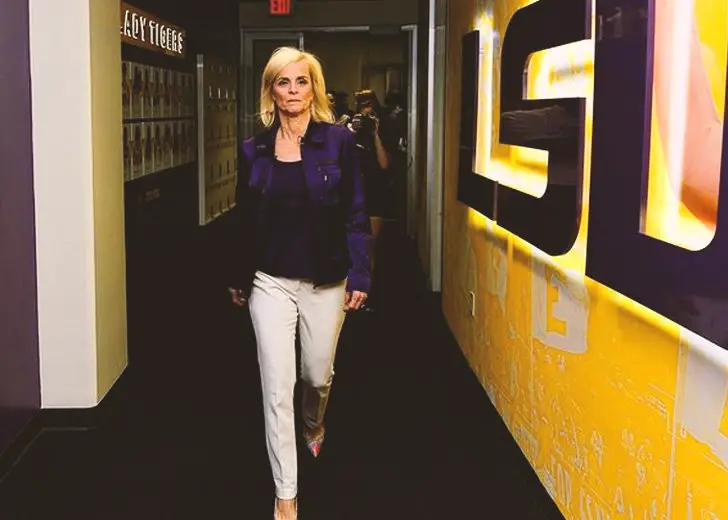 Walking down the aisle with one's father is a super-special moment that every woman dreams of, and it wasn't any different for the legendary women's basketball coach, Kim Mulkey.
She wanted her ex-marine dad, Leslie Mulkey, to be beside her as she tied the knot with her then-boyfriend, Randy Robertson, in 1987.
But the wedding did not happen the way she orchestrated it all because her parents were no longer together. Mulkey's father had married a new woman, and there was a disagreement about where the new wife would sit during the ceremony. 
As a result, her father didn't attend the wedding, even after Robertson sent him a letter as a last plea, making Mulkey walked down the aisle alone.
Kim Mulkey's Marriage to Randy Robertson
Mulkey's marriage to her husband Robertson sailed well initially. Three years after the wedding, they welcomed their first child, daughter Mackenzie Fuller. 
The married duo gave birth to their second child, a son named Kramer Robertson, in 1994.
At first, the basketball player was overwhelmed with the responsibility of parenting. She was laser-focused on her career and did not know how she would continue working as a mother. 
But she adapted to the responsibility one step at a time, nursing her kids before, between, and after games and traveling places with them.
The 59-year-old was super focused on balancing motherhood and work. However, the California native didn't notice her marriage withering away. 
In January 2006, she was shocked and shattered when her husband of 19 years stated he was moving out of their home. In the light of the marriage issues, she and Robertson reached out to a marriage counselor in Dallas.
Mulkey was hellbent on making their marriage work. She even thought of giving up coaching and her professional endeavors.
But nothing worked, and the pair divorced in 2006. "The divorce is the most devastating thing to happen in my life," Mulkey told The Dallas Morning News in March 2012., and understandably so. 
The person with whom she welcomed two children and vowed to be together forever suddenly became a stranger. They stopped talking to one another and moved on.
Kim Mulkey's Daughter Is Married 
Mulkey's children, both son and daughter, have both grown up
Her daughter Mackenzie, who turned 29 on September 16, 2020, is married to Clay Fuller, a professional football wide receiver.
The couple got engaged in August 2014, after Fuller proposed to her with a halo diamond engagement ring in a stadium. They finally tied the knot in July 2015. 
On October 12, 2018, the married pair welcomed their first child, son Kannon Reid. 
Like her daughter, Mulkey's son has also grown; Kramer is a professional baseball infielder in the St. Louis Cardinals organization. The 26-year-old played college baseball for the LSU Tigers while studying at Louisiana State University.