Kim Mulkey Wedding, Ex-Husband, Divorce, Engaged, Salary, & LSU
Kim Mulkey's dad didn't walk her down the aisle.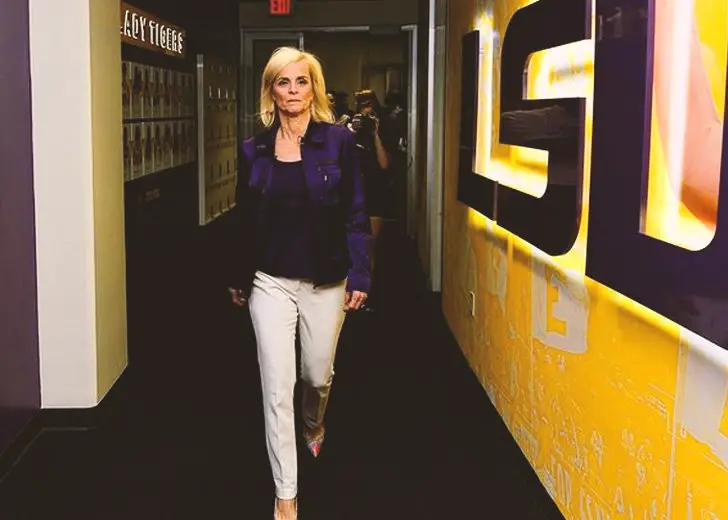 On 2 April 2023, star coach Kim Mulkey led her team LSU Tigers of Louisiana State University to their first national championship with the title of NCAA National Championship. She joined the role in April 2021 after stints as the head coach at Baylor for 21 seasons in which she had won NCCA Championship thrice (2005, 2012, and 2019).  
During the game and after the comfortable victory of 102-85 by LSU, social media went buzzing with the posts from many, especially Iowa Hawkeyes fans who alleged that LSU won the match because of officials' unfair calls and Mulkey's tantrums-filled antics.
Many even managed to call the game rigged and worst officiated for not giving a technical foul to Mulkey despite her walking over the court multiple times and once even colliding with one of the game's referees. Many also got baffled that the way she got engaged with the officials throughout the match went unnoticed. 
In Mulkey's defense, after the first quarter, she had warned her opposition that her team would play aggressively just like them. She was frustrated that several of her starters were marked with fouls by the end of the first quarter for just playing aggressively just as her opponent.
All in all, with the victory Mulkey added the championship to her illustrious career accomplishments, which include multiple NCCA Championships and multiple Big 12 championships. If you don't know, she became the first player in NCAA Women's history to have triumphed a national championship as a player, assistant coach, and head coach in 2005. 
In this article, we cover the Santa Ana natives' personal life, including her early young life, her marriage and children, and her dating and marital status now. Also, we touch upon the subject of her net worth and salary. 
How old is Kim Mulkey?
Kim Mulkey is 60 years old as of now. She was born on 17 May 1962 in Santa Ana, California. As a young self-growing up, Muley was both talented academically and athletic wise.  She was her high school valedictorian and scored a perfect 4.0 GPA. Not only that, she is credited with leading the Hammond High School basketball team to state championships four times in a row. 
What are Kim Muleky's Salary and Net Worth?
Muley is one of the highest-paid women's college basketball coaches in the country. She currently ranks third below Dawn Staley and Geno Auriemma. Her current annual salary is $2.6 million plus, according to Front Office Sports.  As per KWTX, Muley;s has a contract with LSU till 2028-2029 season which states her annual base salary as $400,000. The magazine noted that the supplemental pay inflates the amount to $2.5 million, a condition applied from the 2021-2022 season, and the amount would increase every year to the final amount of $3.3 million by the end of her contract. 
The magazine also reported that she used to earn $2.27 a year at Baylor. 
And as of now, Mulkey's estimated net worth lies in the range of $10 million and $15 million dollars. 
Is Kim Mulkey's engaged?
In recent years, there have been rumors that Mulkey got engaged to a mystery man. However, one of her interviews in 2022 confirmed that she was in fact single and all devoted to her career and children. Speaking to The Advocate, she said, "I have not been on a date since my divorce. I've had the opportunity, but my focus has been on those two children. I'm not lonely. I don't need a man to support me. Relationships are work. I'm happy. I'm content."
She also revealed that she was ready to give up her coaching career to save her marriage with her husband Randy Robertson, but things didn't work out.
Mulkey got married to her Boyfriend Robertson in 1987
Walking down the aisle with one's father is a super-special moment that every woman dreams of, and it wasn't any different for the legendary women's basketball coach, Kim Mulkey.
She wanted her ex-marine dad, Leslie Mulkey, to be beside her as she tied the knot with her then-boyfriend, Randy Robertson, in 1987.
But the wedding did not happen the way she orchestrated it all because her parents were no longer together. Mulkey's father had married a new woman, and there was a disagreement about where the new wife would sit during the ceremony. 
As a result, her father didn't attend the wedding, even after Robertson sent him a letter as a last plea, making Mulkey walk down the aisle alone.
Kim Mulkey's Marriage to Randy Robertson
Mulkey's marriage to her husband Robertson sailed well initially. Three years after the wedding, they welcomed their first child, daughter Mackenzie Fuller. 
The married duo gave birth to their second child, a son named Kramer Robertson, in 1994.
At first, the basketball player was overwhelmed with the responsibility of parenting. She was laser-focused on her career and did not know how she would continue working as a mother. 
But she adapted to the responsibility one step at a time, nursing her kids before, between, and after games and traveling places with them.
The 60-year-old was super focused on balancing motherhood and work. However, the California native didn't notice her marriage withering away. 
In January 2006, she was shocked and shattered when her husband of 19 years stated he was moving out of their home. In light of the marriage issues, she and Robertson reached out to a marriage counselor in Dallas.
Mulkey was hellbent on making their marriage work. She even thought of giving up coaching and her professional endeavors.
But nothing worked, and the pair divorced in 2006. "The divorce is the most devastating thing to happen in my life," Mulkey told The Dallas Morning News in March 2012., and understandably so. 
The person with whom she welcomed two children and vowed to be together forever suddenly became a stranger. They stopped talking to one another and moved on.
Kim Mulkey's Daughter is Married 
Mulkey's children, both son and daughter, have both grown up
Her daughter Mackenzie, who turned 29 on September 16, 2020, is married to Clay Fuller, a professional football wide receiver.
The couple got engaged in August 2014, after Fuller proposed to her with a halo diamond engagement ring in a stadium. They finally tied the knot in July 2015. 
On October 12, 2018, the married pair welcomed their first child, son Kannon Reid. 
Like her daughter, Mulkey's son has also grown; Kramer is a professional baseball infielder in the St. Louis Cardinals organization. The 28-year-old played college baseball for the LSU Tigers while studying at Louisiana State University.