Is Dawn Staley Related to Duce Staley? Here's What You Must Know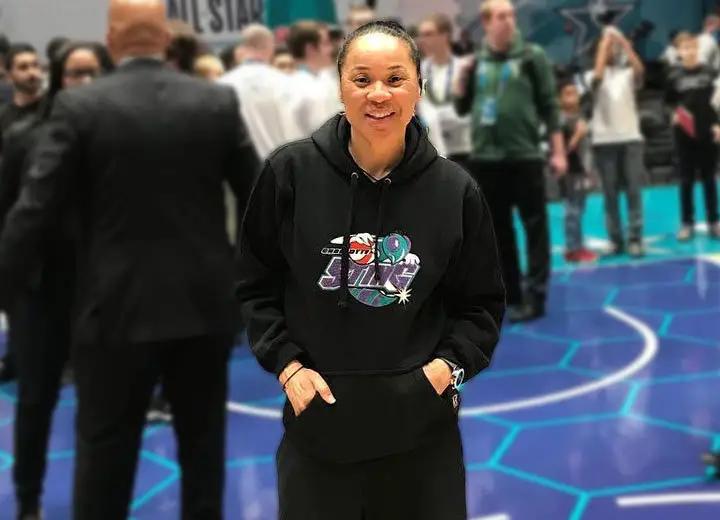 Dawn Staley and Duce Staley have indistinguishable similarities. They have the same second name with alike facial features and winning personalities.
They are both athletes — champions in their respective fields of WNBA and NFL, with their careers transforming from being players to coaches.
After playing for the National Women's Basketball team, Dawn became the 2020 Olympic gold medalist head coach for Team USA. Meanwhile, Duce went from playing for NFL to coaching the Eagles. He has been Assistant Head Coach for over ten years now.
Thanks to the commonalities, netizens attentively question their relationship. Some are misguided to believe that Duce is Dawn's younger brother, and some even wonder if they have other blood relationships. 
Is Dawn Staley Related to Duce Staley?
Dawn and Duce's names make people presume they are siblings or cousins. But in reality, they are not related. They do not have blood relationships. Thanks to which, their fans can't help but post tweets regarding the fact. "Duce Staley and @dawnstaley aren't related? But they have so much in common!" a fan expressed on Twitter. 
And some others even asked them to get DNA tests to see if they have ancestral relations.
Despite fans' curiosity, the athletes have chosen not to address the topic. Regardless, they have acknowledged each other's accomplishments on social media.
Dawn thinks highly of Duce and often addresses him as "my ole boy" and "Eagles' man."
In 2016, sports journalist Jonathan Reynolds tweeted that Dawn's top candidate for Eagles' new head coach was Duce.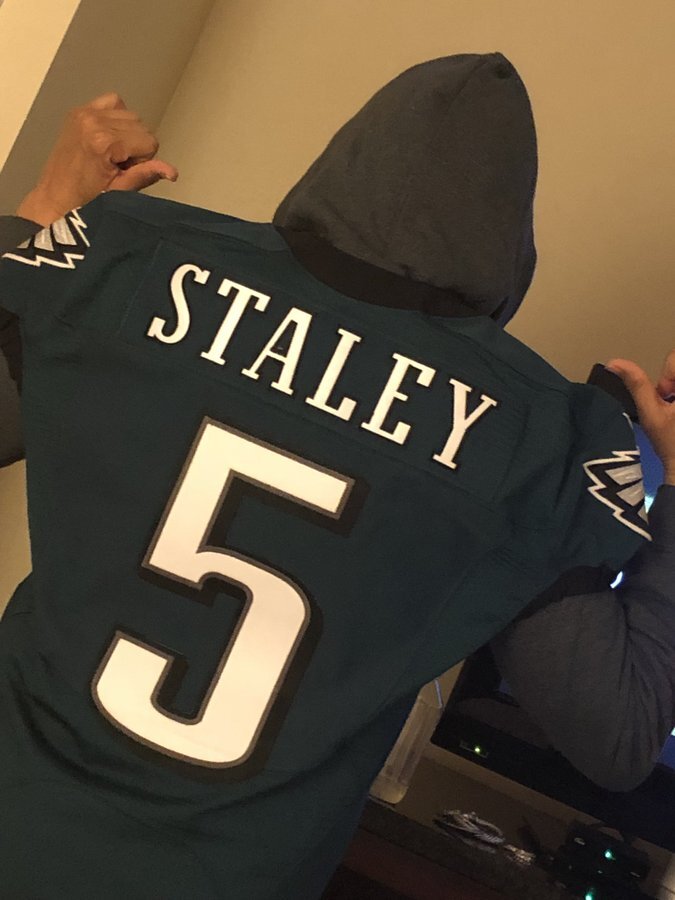 Dawn supporting Duce Staley for the 2018 Super Bowl. (Photo: Dawn Staley/Twitter)
Then in 2018, Dawn supported Duce for Super Bowl, posting a picture of her wearing a Jersey that had Staley printed on it. "This is for my boy @DuceStaley the @Eagles running backs coach! And also a gamecock! Let's goooo @Eagles!!! #FlyEaglesFly," she tweeted.
Touched by that, Duce sent Eagle's Super Bowl Championship merch to Dawn. "my guy Super Bowl champ @Eagles own @DuceStaley just sent this to me.......I am beyond grateful," she thanked him and said they should do it next year too.
Dawn Staley and Duce Staley's Mom are Friends
Although the duo is not blood-related, Dawn and Duce's mothers and family are on friendly terms.
Duce's mom, Tina, sent Dawn a thoughtful Christmas present in 2017. Dawn, being grateful and happy, thanked her for the gift via Twitter and supported Duce for the upcoming Super Bowl.
"Huge S/O to Duce Staley's mom Tina for the Xmas gift. I'm ready for next season when my @Eagles make their way to the SUPERBOWL," Dawn tweeted, flaunting Eagle's t-shirt, trousers, and gifted shoes.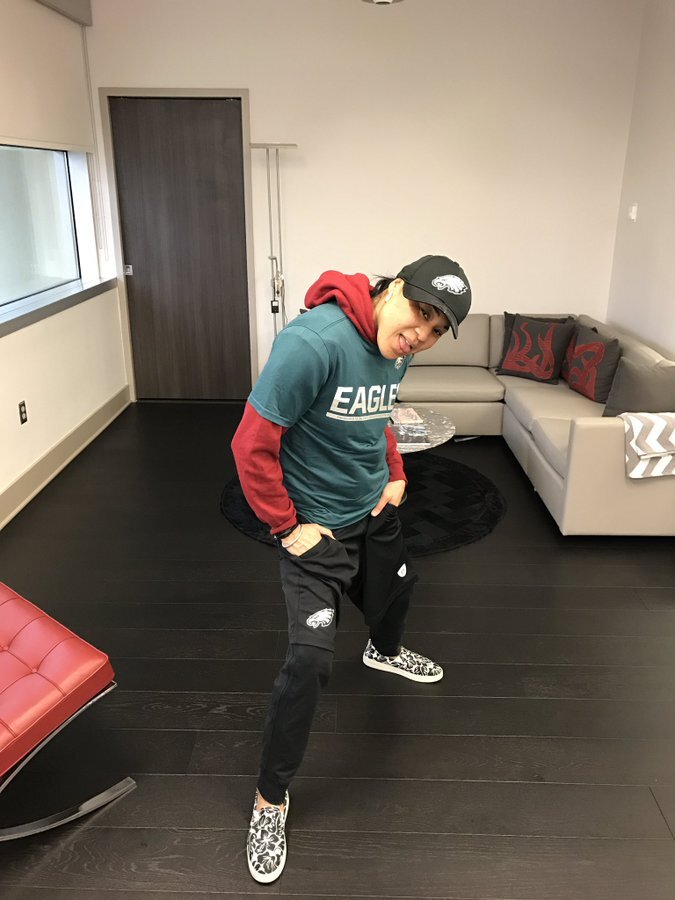 Dawn wearing shoes gifted by Duce Staley's mother. (Photo: Dawn Staley/Twitter)
Their family and friendly relations turned out to be emotionally supportive in 2018.
Dawn sent a grateful tweet saying that Duce and his mother had given love and supported her family timely. "you and your mom have shown so much love to my mom and I....I hope you feel the love in return from me," Dawn said to Duce and his mother on Twitter.