Teala Dunn Green-Eyed Boyfriend! DC Actress Parents, Ethnicity, Personal Life In Nut Shell
After failing to have a serious relationship with her four previous boyfriends, her fifth one is undoubtedly different from them...After dating for just a month, She called it quits with her actor boyfriend...She boasts a healthy net worth of $500 thousand...she posted a throwback picture of her parents of mixed ethnicity...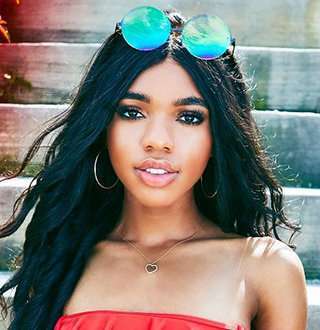 Five seems to be a lucky number for YouTuber Teala Dunn. After failing to have a serious relationship with her four previous boyfriends, her fifth one is undoubtedly different from them.
Teala Dunn, an American actress, and the face behind popular Youtube Channel TTLYTEALA, she boasts more than 1 million subscribers in her channel. Apart from Youtube, she has also portrayed the role of Lindsey Kingston in the series Are We There Yet?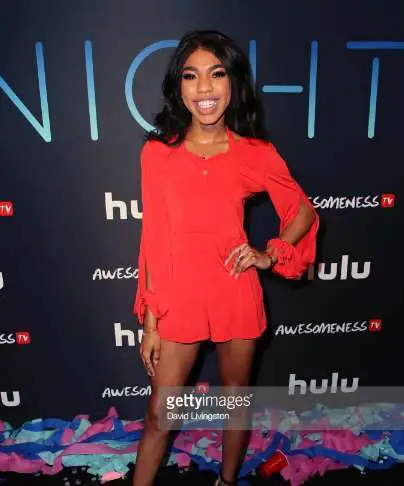 Actress and YouTuber Teala Dunn attend the premiere of AwesomenessTV's new show 'All Night' at Awesomeness HQ on 10 May 2018 in Los Angeles, California. (Photo: gettyimages.com)
She began her career at the year 2002 with her TV debut on an episode of Law & Order: SVU.
Read Also: Jenna Marbles Dating Boyfriend To Get Married! Perfect Romance Reflects
Teala's Career: From Mainstream Movies To Youtube
Her first appearance on the silver screen was on 2005 film Transamerica. Her other notable works include the role of Juanita on the Nickelodeon show The Naked Brothers Band, Kesley on The Thundermans and as the voice of Turtle Truck on Wonder Pets.
She played opposite to Elle Fanning and Patricia Clarkson in the movie Phoebe in Wonderland in 2008 and as the voice of a bunny in Disneys's Enchanted. Along with that, she has also made appearances in various television series like Wonder Pets(2006-09), Queens Supreme(2007), Shake It Up! (2012), The Crazy Ones(2013), Dog With a Blog(2013-15) and many more. She appeared on Marshmello's music video, "Happier" alongside Jordyn Jones in 2018.
Her YouTube career began in 2009 and had since established herself as one of the leading YouTubers like Alissa Violet. She posts regular videos about contemporary issues and has been accumulating positive reviews ever since. She has garnered more than 90 million views in her channel and boasts a considerable subscriber list of more than 1 million. 
Teala has recently launched her sunglasses line in collaboration with the brand NEM Fashion Store in September 2018. She has created two pairs of aviators in the stunning colors of rose gold and midnight blue.
Teala's Bio: Parents, Net Worth, Ethnicity
Teala has been able to achieve a lot of success at a relatively young age of 21. That success has been reflected in her earnings and net worth too. She boasts a healthy net worth of $500 thousand and with her receiving rave reviews for her acting skills that figure is sure to grow in the coming days. 
Teala Dunn was born on 8 December 1996 on New Jersey, United States and possess Afro-American ethnicity which is also shared by fellow YouTuber Alex Aiono. Teala is accompanied by her older sister who is in the navy force. The Youtuber turned actress is close to her supportive family and takes every opportunity to mentions them on her social media sites. 
On 26 February 2017, she posted a throwback picture of her parents and mentioned that they had been married for 26 years now.
Similarly, a year earlier, she had posted a thank you message for her father for supporting her on the occasion of father's day.
Not just that, in 2015, she posted a picture with her mother wishing her a happy mother's day. She shares the close bond with her mother and regards as her best friend. Teals prefer macaroni and cheese prepared by her mother in Thanksgiving & Christmas.
She Had Disloyal Boyfriends In The Past
While she has enjoyed smooth family relations, her love life has been a bit complicated. Over the years, Teala has dated different guys and is not shy to mention them on her social media.
Teala was reportedly in a relationship with American actor William Brent in 2014. After dating for just a month, She called it quits with her actor boyfriend.
The following year, she started dating model Noah Teicher. The relationship took an ugly turn after he posted a picture of him with another girl on snapchat. Teala accused him of cheating, and things did not go right between them leading to a breakup.
She was linked with Nolan Zarlin in 2016 after they were spotted hanging out and flirting on social media. However, as it had been the case with her previous boyfriend, Nolan posted a picture of him kissing another girl leading to the end of their relationship.
Teala started dating model Alex Valley from November 2016. She was very open about her relationship with her latest boyfriend and posted regular snaps of them. Despite having electric chemistry between them, their love also could not last. In January 2017, she broke up with Alex as well and even hinted that he cheated on him on one of her videos.
As of present, she has a new bae who she introduced via her Youtube Channel.
Similar: Gemma Ward Moving On With Boyfriend Turned Partner After Heath Ledger Dating Ends Abruptly
Previous Dating Experiences Made Her Wiser
Teala sparked rumors of a new romance when she was found seen together with a green-eyed hunk at the Sinful Colors Launch Party in April 2018.
Barely a week later, Teala posted a vlog about her new boyfriend and identified him as Australian model Luke Toniolo in April 2018.
She also dropped another bombshell when he announced that they had been secretly dating for five months now. Teala stated in her vlog,
I've been talking to this guy for a really long time; we've been dating, talking for five months now
Her new boyfriend is an Australian model similar to Gemma Ward with a pair of deep green eyes and looks to die for. When he flew into Los Angeles, Teala surprised him with the VIP Coachella tickets.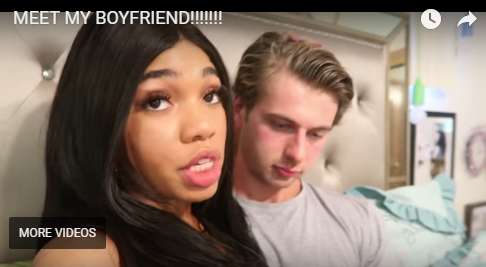 YouTuber Teala Dunn announces model Luke Toniolo as her new boyfriend on her vlog on April 2018 (Photo: YouTube)
Teala wanted her latest relationship to be the right one, and that was the reason she kept her love life private. She did not want her fans to know about this early because she was afraid it would end up like her previous relationships. In the same vlog she stated:
I've been keeping it on the DL [because] I learned my lesson with my past relationship
You Don't Want To Miss: Tristan Tales 23 Makes Girlfriend Vlog & Its Cutest! Siblings, Family, Net Worth & More On YouTuber
However, after revealing about Luke, the couple has been vocal about their relationship and flaunts their intimate relationship on Instagram. What's more, he has also featured in many of her vlogs of late. 
At present, the pair seems to be enjoying each other's company. And Luke appears to be the real deal for Teala as she has not courted controversy with her latest boyfriend. 
Teala, who frequently holds interaction with her fans and followers has recently opened up about her relationship status in October 2018. In a Q/A session with fans, she stated that she is not dating anyone as her ex-boyfriend is in college and living his best life. She further stated that she is enjoying her life as it is an inappropriate time to make a boyfriend.
Is Teala Dunn Pregnant? 
Back in 2018, rumors started circulating that Teala might be pregnant as fans began noticing a little bit of gain in her weight. However, she had not given those rumors any attention, but as she started getting a lot of pregnancy-related comments under her every Instagram pictures, she decided to speak up about the topic.
The 21-year-old social star and influencer released a brand new vlog back in July of 2018, where she claps back at haters who speculated that she was pregnant. She said on the video that hating someone else's body and commenting negative stuff on her posts is not acceptable. Furthermore, she added that there was nothing wrong if she decided to gain or lose her weight because it's her body and her body weight is none of any other people's concern.
Teala also addressed that she was not pregnant and those negative comments hurt her feelings, and she stopped eating for some days as well. She added that people commenting and bullying about her nose being too big and her boobs being too small was disgusting and she said on the video that she does not care what others think of her. 
Quick Facts about YouTube Rising star Teala Dunn:
Teala Dunn weighs about 49 kilograms or 108 LBS.

With an average height of f ft 2 inches(159cm), Teala's eye color is Dark Brown.

She currently lives in Los Angeles and drives a BMW car.

Atheist by nature, Teala belongs to American Nationality.

Like many, Teala is addicted to Starbucks and considers it her go to drink.