Who Was Lisa Nichols' Husband? Son Engaged, Life At Age 52 | All Revealed
Lisa has mentioned so many times about her relationship with her former husband. In her motivational speeches and interviews...As the son of someone who has motivated numerous souls, Jelani, understands...the American businesswoman has an estimated net worth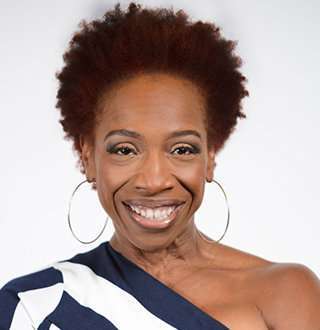 Quick Information
Date of Birth

May 18, 1966

Age

56 Years, 8 Months

Nationality American
Profession

Motivational speaker

Relationship Status

Single

Divorce/Split

Yes (Once)

Dating/Affair

N/A

Net Worth

$5 Million

Ethnicity/Race

African-American

Religion

Christianity

Hair

Long

Hair Color

Black

Eye Color

Black

Lesbian

No

Son/s

Jelani
American motivational speaker Lisa Nichols wasn't always the successful woman she is now. Having hit her version of rock-bottom with the broken relationship with her husband, she overcome many struggles throughout her life.
Born on 18 May 1966, Lisa Shantan Nichols was raised in South-Central LA, in a neighborhood swarmed with gang-violence. She is the recipient of the Humanitarian Award from South Africa and is a founding member of a social organization, Transformational Leadership Council.
Here are some enthralling wikis on Lisa Nichols' struggles, career, age, net worth, son, and her abusive husband.
1. Lisa Nichols ' Journey From Random Jobs To CEO
After going through all the hard works, Lisa, now, is the CEO of one of the top training and development companies in the world, Motivating the Masses. Moreover, she is the founder and CEO of a teen empowerment group, Motivating The Teen Spirit since 1990.
The New York Times best-selling author has penned six books and a known motivational speaker. She published a book, Abundance Now: Amplify Your Life & Achieve Prosperity Today, in 2015. She also motivates her followers in writing something good to read.
Lisa regularly teaches a class to be a powerful communicator in order to speak with authenticity, confidence, and conviction. Similarly, she is set to run the motivating class with a motto of "speak and write" at Orlando in November 2018.
However, Lisa had started her career with a very low position at random jobs; she pursued the position that helped her learn and develop herself. She then started traveling for her employer and volunteered for assignments that weren't touched by anyone.
She later worked at the LA Unified School district every day for 9 hours, leaving her son at daycare.
2. What is Lisa Nichols' Net Worth In 2018? 
Being a very successful woman in her career, Lisa has earned a lot of money, but it wasn't the same 20 years ago when she was working for small jobs.
When working at the LA Unified School District, every time she got paid, Lisa would bring a check and mail it to the Wells Fargo Bank. She mailed a check to herself every two weeks, and after three and a half years, she went to the bank to find that there was $62,500 in her account - it was a turning point for her.
Lisa derives the income from her YouTube channel, which has amassed more than 122k subscribers. The channel comprises of the motivating videos for the viewers, which earns the estimated yearly income up to $10k.
Moreover, she also makes the remarkable amount of money running various personality upliftment classes. 
As of today, the American businesswoman plus entrepreneur has an estimated net worth of $5 Million, and that says something about how far Lisa has come in her life.
3. Giving Back To Community
American motivational speaker Lisa Nichols is definitely not a heedless lady who would figure out her experiences all for herself.
She is openhearted and giving back to the community which helped her tremendous rise in such a short period of time.
You May Also Like: Attorney Faith Jenkins Age 40 Is Married! Furtive Husband, Salary, Net Worth & Essential Details
As of which she is teaching a class on how to be a powerful communicator and speak with authenticity, confidence, and conviction, even if you never thought of yourself as a "natural."
The LA-native shared more information about the classes from her twitter on 21 August 2018.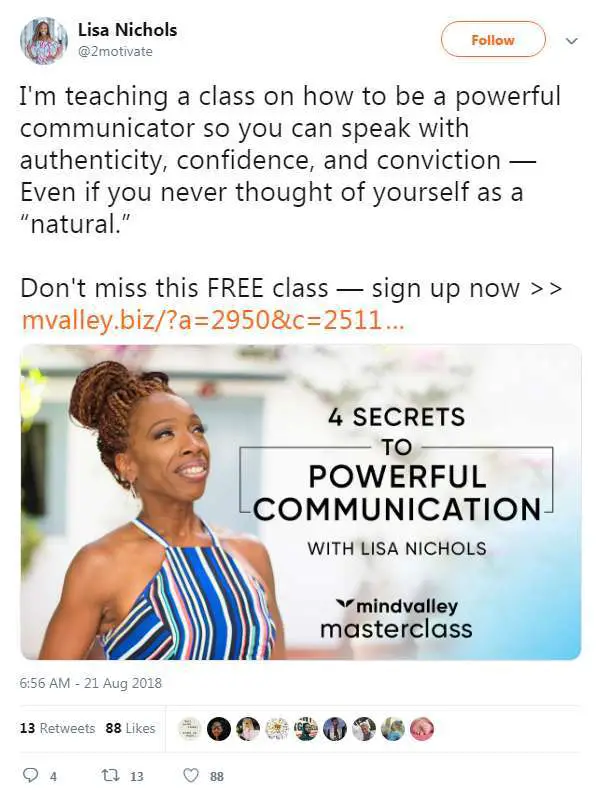 4 Secrets: Lisa Nichols unravels four secrets to powerful communication (Published on 21 August 2018)
Read Also: Brianna Keilar & Husband In Post Pregnant Bliss! Big-Eyes Son Steals Hearts
Moreover, she also made a radical declaration and invited the willing ones to join her on  Nov 2-4 in Orlando for Speakandwrite2018 workshop which went very fruitful for everyone.
4. Who Was Lisa Nichols' Abusive Husband?
Lisa has indeed mentioned many times about her relationship with her former husband. In her motivational speeches and interviews, she has revealed about the suffering phase she went through when she was married to an abusive husband.
The founder of Motivating the Masses faced a tough time when she was married to the person; she was abused physically and mentally. In a speech in Goalcast, she said,
In my perceiving worst relationship, where my husband picked me up and threw me three feet across the room and choked me until I passed out... 
Thankfully, the 'husband' was thrown in Los Angeles County Jail for domestic violence and hasn't involved himself in Lisa's life today. 
Though Lisa is open about her horrible past with her former husband, she is hesitant to reveal his identity.
5. Lisa Nichols' Looked After Son Jelani As Single Mother 
When Lisa gave birth to her son, Jelani, she was at her lowest, financially and spiritually.
Eight months after her son was born, his father went to prison. She was so broke that she couldn't get diapers for her son and had to wrap him in a towel for two days.
Being a single mother, her primary source of motivation was her longing to transform her son's life and save him from the horrible circumstance.
After working many jobs and learning new things, Lisa changed her and her son's lives through hard work and dedication to growing her knowledge.
You Don't Want To Miss: Meredith Vieira Feels Cheated With Husband! Talks On Married Life In Interviews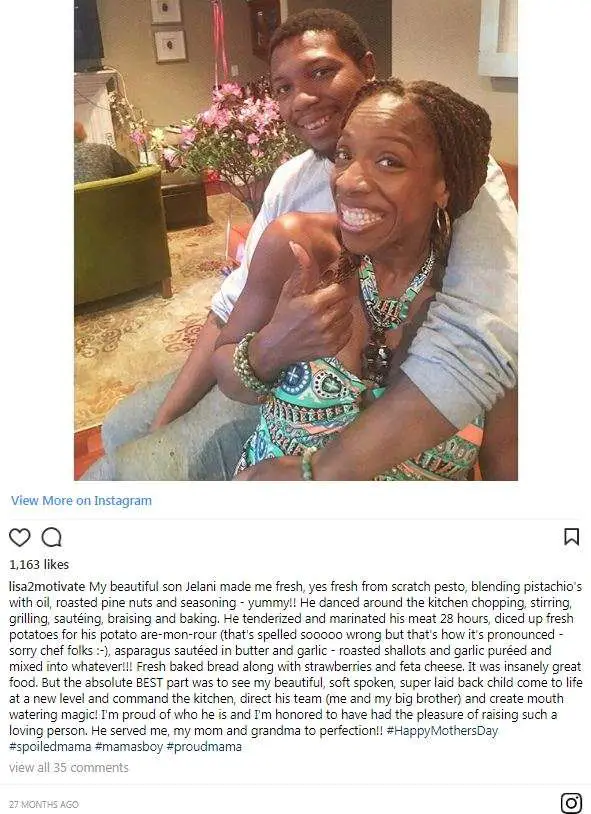 Mother's Day: Lisa posts picture on Instagram with her son, Jelani, on 10 May 2016. (Photo: Lisa's Instagram)
Today, Lisa is a more than a happy woman who has remained strong despite the abusive past from her husband. She's a proud mother who loves to talk about her son, who's grown to become a wonderful person.
Lisa Nichols' Son Stood By His Girlfriend Turned Fiancee's Cancer Battle
As the son of someone who has motivated numerous souls, Jelani, understands the meaning of love, respect, and empathy. It was hard for him to learn that his father abused his mother in their marriage. He, thus, has always tried to be a man his mother would admire.  
You Don't Want To Miss: Bryant Gumbel On Weight Loss: Was It Cancer or Just Sickness? Health Update
He, once again, made his mother proud when he stood by his girlfriend, Maya, who was suffering from cancer. The duo was successful in battling the dangerous disease and step up their relationship with an emotional engagement.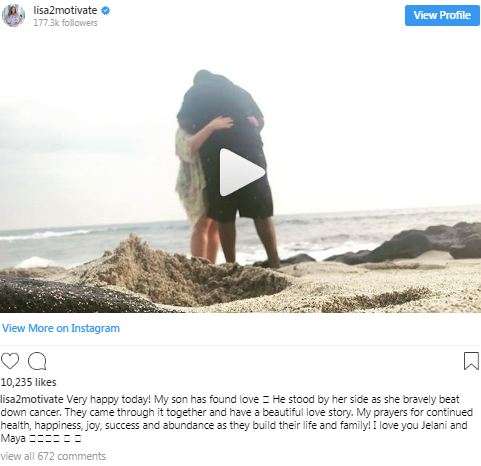 Engaged Post Cancer: Lisa Nichols' son Jelani proposes his girlfriend Maya after they fight her cancer and win (Video: Lisa Nichols' Instagram)
Maya and Jelani love story has taught Lisa and us that there is a great triumph in love! Amen!