Jessica Kirson and Her Wife Are Embracing Parenthood With Four Lovely Daughters
Kirson is very happy in her conjugal life with her wife, Danielle Sweeney, and their adorable daughters.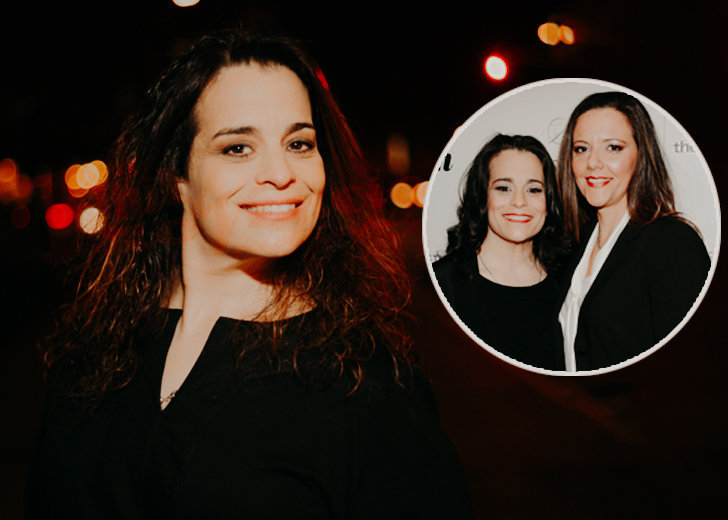 The supremely talented and hilariously relatable standup comedian Jessica Kirson has been open about her orientation from the very beginning. Kirson is leading a happy life with her wife, Danielle Sweeney, and their four adorable daughters.
Jessica Kirson and Danielle Sweeney are Raising Four Daughters
The comedian and her lover, who tied the knot in September 2014, have been living together for six years and are proud parents to four beautiful daughters. The eldest daughter is Zoe, 14,  followed by Bella, 5, and one-year-old twins.
Once in a while, Kirson shares pictures and videos of her daughters on her Instagram account. In November 2020, she shared a hilarious video of her and Zoe singing.
Similarly, Kirson also uploaded a cute challenge on May 20, 2020, with her second daughter Bella where she had to wait to eat the Oreo cookies until her mommy came back. 
The video also featured her twin daughters in the background sitting on their dining tables and playing with a water bottle. 
Little Bella Has Rare Heart Disease
Even though the comedian knows how to find light moments in challenging times, she is very protective when it comes to her kids. Her five-year-old daughter Bella has severe congenital heart disease and has undergone several surgeries, and might need more to be fully cured.
 She has a major problem. Do you know what I also realize lately? People cannot handle when someone's not ok. They'll be like, 'But she's ok right?' and I'm like, 'No, she has a very damaged heart and it's not ok.' I mean, she's ok right now but she needs more surgery and she might need more than one or two. Her doctor is very good, thank God. 
In an interview with The Interrobang, Kirson shared that a family member going through a sickness puts everything into perspective and has made her embrace the gift of life even more. That's the reason she is very playful and silly around her girls. 
I'm so playful! I'm too playful! I get them riled up constantly. I love having girls and being silly with them because a lot of times girls aren't taught to be silly.
Jessica Kirson's Wife Danielle Sweeney Likes to Lay Low
Being a celebrity's better half means having to be in the spotlight all the time. However, not everyone likes to be the center of attention.
Maybe that's why Sweeney rarely makes a public appearance with her partner Kirson and never gets involved in her wife's social media.
Even her Instagram account has just two posts uploaded almost four years back. Everyone has a right to privacy, and we completely respect the fact.
While Kirson is one of the most notable women comedians worldwide, her better half is in a completely different profession.
Sweeney is a St. John's Master's Graduate in Vocational Rehabilitation and is currently serving as a mental health counselor in New York.