Jessica Kirson and Her Wife's Family Life With Four Lovely Daughters
Kirson is very happy in her conjugal life with her wife, Danielle Sweeney, and their adorable daughters.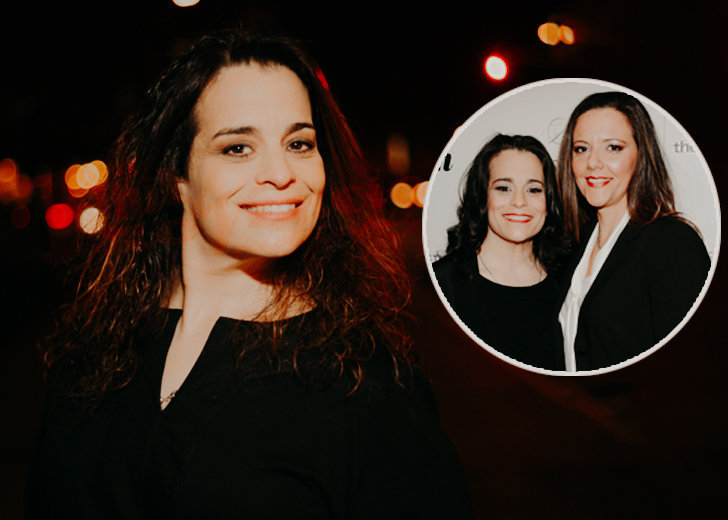 The supremely talented and hilariously relatable American actress and stand-up comedian Jessica Kirson has been open about her orientation from the very beginning. Kirson is leading a happy life with her wife, Danielle Sweeney.
This article will focus on the South Orange native's relationship with her wife and answer the frequently asked question, "Does Jessica Kirson have children?"
Who is Jessica Kirson? 
Jessica Kirson, who stands at 5 feet and 7 inches, is well known for her distinctive humor, combining irony, wit, and sarcasm. She has been a popular stand-up comedian for over 20 years, a rare feat enjoyed by only a handful of female comics in the male-dominated industry.
Kirson has appeared on many TV shows, including Crashing, Fresh Faces, Awesomely Bad,  Last Comic Standing, Premium Blend, The Tonight Show With Jimmy Fallon, Kevin Can Wait, and The Tonight Show with Jay Leno.
She also produced FX's Hysterical, a documentary focusing on female stand-up scenes featuring comedians such as  Chelsea Handler, Fortune Feimester, Margaret Cho, Nikki Glazer, and others. In addition, she worked as a producer and writer in the Robert De Niro movie The Comedian. 
Her comedic material typically centers on her observations of everyday life, family, and relationships. In addition, Jessica has garnered praise for her versatility as a performer, utilizing a range of accents, voices, and impressions to give her comedy depth and variety.
The creator of the comedy special Talking To Myself  (produced by Bill Burr) and prank call album The Call Girls was born on November 14, 1969, to trial attorney Harold Irwin "Hal" Braff and psychotherapist mother, Elaine Braff. 
My father passed away on April 20th, 2020. It has been very difficult on my family and I. He made me laugh harder than anyone ever has, more than anyone ever will. He gave me my sense of humor. He taught me to be strong. He was tough on me. He was complex. Very loving at times, pic.twitter.com/Vm1hzLGLXD — Jessica Kirson (@JessicaKirson) June 20, 2021
Kirson was brought up in a household in New Jersey that included her three step-brothers, Scrubs star  Zachary Israel Braff, author Joshua Braff, and writer/producer Adam Braff. 
She is also known for her podcasts Disguring Hawk and Relatively Sane. Her film debut came in 2014 with School Dance by Nick Cannon.
What is Jessica Kirson's sexuality?
Kirson is a vocal gay and has identified with both terms "gay" and lesbian" in her interviews. Above all, she is determined to live up to her comic character, even if it means poking fun inwards. 
"If I talk about my experience as a lesbian, or I talk about my experience as a Jew, and then someone gets offended, it's not even a lesbian or a Jew. That's the crazy part. Jewish people love when I make fun of being Jewish. Gay people think it's hilarious when I talk about my community," she shared to Forbes and contrastingly added, "It's normally a straight, young white girl who's very liberal who gets upset."
During the in-depth interview, she also gave a lengthy explanation when asked how she had embraced her sexuality and, at the same time, her authenticity. In her own words,  
Because I make it a very small part of who I am. Because it is a very small part of who I am. I am a woman. I'm Jewish. I'm from New Jersey.

I'm the daughter of a therapist. I'm the daughter of a crazy guy who was a Trump supporter. I have a sister. I've stepsiblings. I've half siblings. I'm a lefty. I was an athlete. There are so many things about me. I never made the main thing that I'm a lesbian.

It's a part of who I am. I have a sitcom deal with NBC Peacock. They want us to make a pilot and write a script about my life. I have four daughters from two different women. I have two baby mamas. I deal with divorce. I deal with co-parenting. I live in a house in the suburbs. If you read the script about my sitcom, it doesn't even faze you that we're gay. It's literally just a part of the sitcom. That's what I wanted.

Because I feel like you get so labeled "you're gay"—and it's just a part of who I am. And I'm proud. I will do everything I can to support gay people and help people who are coming out.  We should be seen as just a part of society. We're not different.
Who is Jessica Kirson's Wife, Daniel Sweeney?
Jessica Kirson has been married to her wife, Danielle Sweeney, a mental health counselor, since 2014. They strengthened their relationship by dating for some time before tying the knot in September 2014. They have lived together for more than eight years
While Kirson is one of the most notable women comedians worldwide, her better half is in a completely different profession.
Sweeney is a St. John's Master's Graduate in Vocational Rehabilitation and currently serves as a mental health counselor in New York.
Being a celebrity's better half means having to be in the spotlight all the time. However, not everyone likes to be the center of attention.
Maybe that's why Sweeney rarely makes a public appearance with her partner Kirson and never gets involved in her wife's social media.
Even her Instagram account (now deactivated or deleted) had just two posts uploaded years back.
How many kids does Jessica Kirson have?
It is unknown how many kids Jessica Kirson and her wife, Daniel Sweeney, have together. 
Kirson herself has been divorced and has four daughters from "two baby mamas." However, the name of her ex-wife remains unrevealed as of now. 
As per her interview with Spokesman (article dated March 4, 2021), she was anticipating a yet-to-be-named sitcom about her life, which was also set to feature her daughter Zoe as her on-screen daughter. 
The article reported that the eldest daughter Zoe was 14 years old, Bella was five, and her twins were 21 months old.
"Much of my material is personal, but it's never been so much about my children since I've never been around them so much thanks to all that we've gone through," she shared to Spokesman, adding, "Thank God I only have one teenager, or I would be doing crystal meth now. So when people see me now, they'll hear about my kids and my mom, but I think that's good since the crowd gets to know you, and it comes from a unique place."
Once in a while, Kirson shares pictures and videos of her daughters on her Instagram account. In November 2020, she shared a hilarious video of her and Zoe singing.
Similarly, Kirson also uploaded a cute challenge on May 20, 2020, with her second daughter Bella where she had to wait to eat the Oreo cookies until her mommy came back. 
The video also featured her twin daughters in the background sitting on their dining tables and playing with a water bottle. 
Little Bella has rare heart disease
Even though the comedian knows how to find light moments in challenging times, she is very protective regarding her kids. Her five-year-old daughter Bella has severe congenital heart disease, has undergone several surgeries, and might need more to recover fully.
 She has a major problem. Do you know what I also realize lately? People cannot handle when someone's not ok. They'll be like, 'But she's ok right?' and I'm like, 'No, she has a very damaged heart and it's not ok.' I mean, she's ok right now but she needs more surgery and she might need more than one or two. Her doctor is very good, thank God. 
In an interview with The Interrobang, Kirson shared that a family member going through a sickness puts everything into perspective and has made her embrace the gift of life even more. That's the reason she is very playful and silly around her girls. 
I'm so playful! I'm too playful! I get them riled up constantly. I love having girls and being silly with them because a lot of times girls aren't taught to be silly.