Is Florence Pugh Married to Boyfriend Zach Braff? — a Look at Their Relationship Timeline
If rumors doing the rounds online are anything to go by, actors Florence Pugh and Zach Braff might have secretly tied the knot, despite being criticized for their 20-year age difference.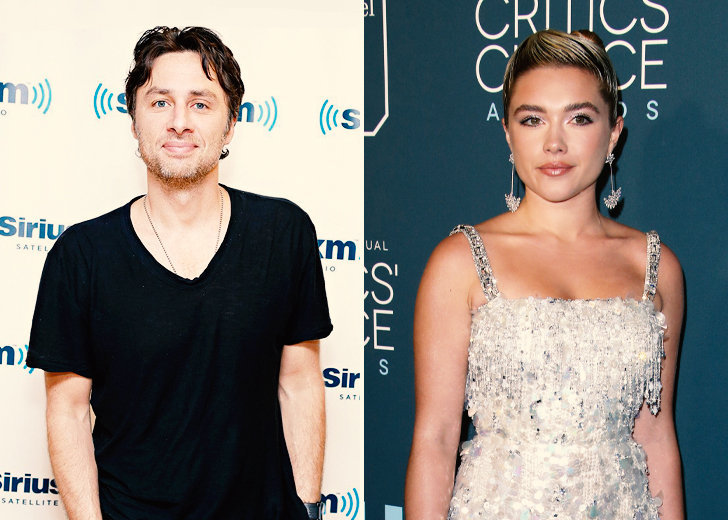 The rumor mill has been churning out speculations surrounding actress Florence Pugh's relationship with boyfriend Zach Braff, suggesting the pair has already tied the knot.
Last year proved to be a big one for Pugh, who earned an Oscar nomination for her role in Little Women and Midsommar. Being a relatively new face in the Hollywood circuit, details about her relationship with the Scrubs star are still few and far between.

Pugh has reportedly been dating Braff throughout 2019, despite trolls criticizing the 21-year age gap between the couple. During an appearance on the Sue Perkins: An Hour or So With… podcast last year, the English actress clapped back at the trolls, defending her relationship with Braff, 
Criticism Surrounding Pugh And Braff's Relationship
Pugh revealed at the time that she didn't fancy dating someone her age because it has never worked out for her. In an interview with Elle, she reiterated that people who watch her work have no right to tell her what she should be doing in her private life.
Pugh understands that as an actress, a major portion of her life is exposed to the public. However, that shouldn't pertain to who she wants to date.
Describing it as a strange side of being famous, Pugh said it is odd that people are allowed to tear apart someone's relationship even when they haven't gone public with it.
Taking to her Instagram account last year, the Little Women star slammed the trolls and defended her relationship with Braff in a nearly four-minute-long clip. Their relationship has been subject to strong criticism since Pugh is 24, while Braff is 45.
The actress reminded the critics creating a toxic vibe on her Instagram page about the ongoing coronavirus pandemic, stressing it was not the right time to focus on her dating life because there are greater things to worry about.
Noting how people need to be together at this time of crisis, she said she was upset that people are more focused on bullying her for no reason.
Did Pugh And Braff Have A Secret Wedding?  
Braff recently sparked marriage speculations after he was spotted walking with Pugh, sporting a brand new accessory — the actor was recently photographed in L.A. with a ring on his left hand while walking their dog Billie.
According to Vanity Fair, Braff and Pugh may have already tied the knot while during quarantine, if the actor's new ring is anything to go by. Braff sported gray pants, blue henley, and wore a black face mask while walking alongside Pugh, who wore white sneakers, black shorts, a lilac T-shirt, and a striped face mask.
The actor is spotted wearing the new piece of jewelry just two months after he posted a sweet message to his Instagram account in honor of his girlfriend's on her 25th birthday.
Speculations that the two actors got married in January began when a friend referred to Pugh as "FPB" in a message. Fans quickly guessed it was an abbreviation for Florence Pugh-Braff. The caption was later edited to say "FP."
The pair have been friends since August 2018 when Pugh was cast alongside Braff in a short film called In The Time It Takes to Get There, which was released in 2019.