Zoe LaVerne Confirms Husband Dawson Day Is Not Cheating on Her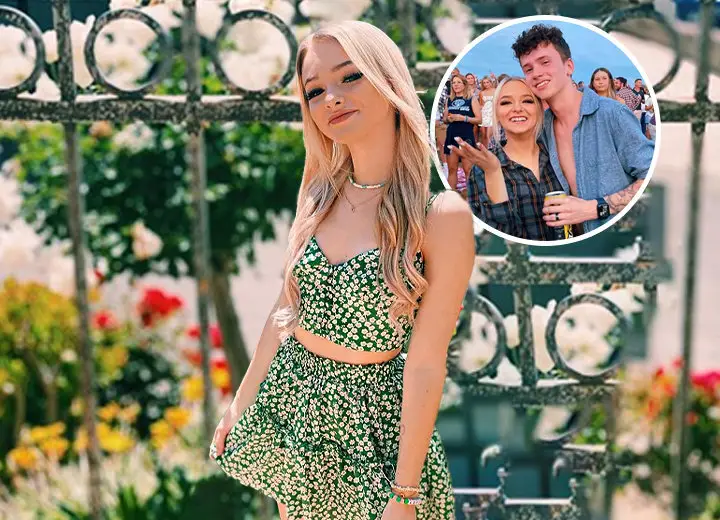 Is there trouble in paradise for Zoe LaVerne and her husband, Dawson Day?
A TikTok account by the name "dawsongoneparty" has gone viral for sharing screenshots of text messages from Day, suggesting he is cheating on LaVerne.
Day was seen messaging the user and asking her for her Snapchat. He also sent her his pictures and asked for hers as well. 
Based on the messages, it didn't look like a friendly conversation and appeared more like he was sexting her. It also looked like Day had sent the user a photo of him and LaVerne during their intimate moments, confusing the user. 
He told the user he missed her and wished it was her instead of his wife. The user then asked him why he and his wife were being intimate when he told her their relationship was already over. 

Viral Video of Zoe LaVerne's husband, Dawson Day, cheating on her with a random girl. (Source: Instagram)
But Day denied they reunited and replied LaVerne was "coming onto [him]."
"She's still giving you [expletive] head and you want that to be me? What is wrong with you and did you think that was going to turn me or something?" asked the user. 
Zoe LaVerne Confirmed Her Husband Is Not Cheating
The videos of these messages have been reshared all over social media, and in the comment section, many people have tagged the internet personality as well. 
But LaVerne was not having any of it and responded to the video on Instagram stories. 
She stated her husband was not cheating on her and that she did not understand the point of people making fake screen recordings to ruin a "HAPPY married couple."
The TikToker then said she was tired of the toxicity of social media and people trying to cause issues all the time. 
"It's pathetic. Social media is nothing but toxic and honest everyone is so over it. Quit trying to cause issues all the time. Does anyone else have anything better to do than edit recordings and even a fake Instagram DM," said LaVerne. 
She then asked people to grow up and move on. 
Despite LaVerne's claims, netizens were still not convinced that the recordings were fake. 
On The original Tiktokroom's reshares, they questioned her why a person randomly, out of nowhere, would take time to create a fake recording. 
Zoe Laverne's Marriage with Dawson Day
LaVerne and her husband tied the knot legally on October 5, 2022, and announced it to their followers a few days later on Instagram. 
She also noted they planned on having a bigger celebration this June/July. 
Day had proposed to LaVerne in May 2021 during their gender reveal party. 
Many people thought they were moving too fast, but LaVerne said she had known Day for three years. And then, on October 3, 2021, the internet personality announced that she had welcomed her daughter, Emersyn. 
In a now-deleted Instagram post, LaVerne had included a paywall for fans to receive exclusive pictures of her baby. 
Unfortunately, the TikToker was criticized for profiting off of her daughter, so she deleted the post and said she would donate all the money she had received to a local charity. 
The new parents moved on from the incident by getting a tattoo in honor of their daughter. 
They shared glimpses of their new life, and it looked like everything was going well with them. But the recent videos seem to suggest otherwise.