Trisha Paytas and Moses Hacmon's Tammy Faye TikTok Blasted by Moses' Ex
Another day, another drama for Trisha Paytas and Moses Hack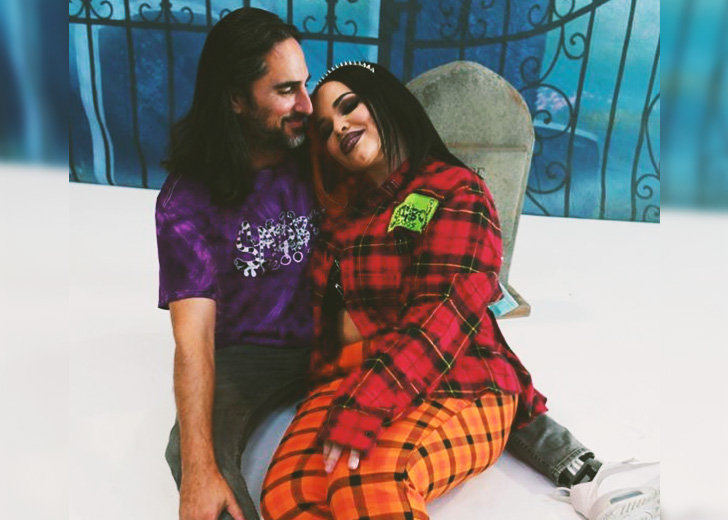 Trigger Warning: Stealthing, rape, and molestation. Reach out to National Sexual Assault Hotline (1-800-656-4673), Victim Connect Live Chat (victimconnet.org), and National Teen Dating Abuse Helpline (1-866-331-9474) if you are ever or have been taken advantage of.
Trisha Paytas and Moses Hacmon can't seem to escape the ghost of their past. A few months ago, Hacmon's ex, Daphney (@ms.mercury on Instagram), accused him of stealthing and rape. 
Hacmon has denied the allegations in a statement on Twitter and provided text messages between the two as proof of his innocence. But, unfortunately, it was not well received. 
In a message leaked by Paytas, it was revealed that Hacmon's sister and brother-in-law, Hila Klien and Ethan Klein, believe Daphney and not him.
Repeatedly, Daphney has urged to sue and arrest Hacmon, but to date, nothing has happened. Stealthing has officially been recognized as a civil offense in California, but no action has been taken against Hacmon. 
Regardless, it has not stopped Daphney from throwing a few jabs at the couple. On October 20, 2021, she uploaded a recent TikTok from Paytas to her Instagram stories and made snide comments about it. 
Trisha Paytas and Moses Hacmon X Tammy Faye and Jim Bakker
Paytas enjoys cosplaying and dressing up as various people. And when they do, they upload pictures, videos, and TikTok in the cosplay. 
This time, the pair dressed up like Tammy Faye and Jim Bakker, the infamous televangelists. Paytas and Hacmon danced to the sound 'holy spirit, activate' and captioned the video as "Thankful even in darkness because His plans is greater than yours."
Many drama Instagram pages reposted the TikTok to their feed and bashed the couple for dressing up as televangelists. Daphney did the same and commented on Hacmon's dress-up. 
In the Instagram Stories, she said, "At least my rapist dresses the part." Daphney made this statement comparing Hacmon to Bakker, who was also accused of rape. 
While Bakker and Faye were huge televangelists and had made a massive empire, various scandals brought it down. 
One such controversy was rape. In 1987, The Charlotte Observer exposed Bakker for having an intimate relationship with a church secretary from New York named Jessica Hahn. 
Bakker and Hahn were involved together over six years before the expose. However, the latter confessed in December 1980 that their intimate relationship was an assault. 
She described her encounter to John Wigger, the author of PTL: The Rise and Fall of Jim and Tammy Faye Bakker's Evangelical Empire. When she recounted her experience to Wigger, he claimed that it "sounds very much like rape."
Hahn told Wigger that she was not comfortable talking about the affair as rape, but confirmed that she did not believe it was consensual. She was 21 at the time and was paid $200,000 to buy her silence. 
Bakker denies the allegations to date. In his book I Was Wrong, he said that his affair with Hahn was consensual. 
While Hacmon was being jabbed by Daphney and people back and forth, Paytas also got backlash for impersonating Faye. On October 21, they uploaded a video on their channel, My Chemical Imbalance, where they preached lord and reflected on their action. 
At the time of writing, the video has 241 likes and 611 dislikes. Similarly, most of the comments are dragging Paytas for their cosplay.