Trisha Paytas and Moses Hacmon Accused of Mocking the Free Britney Movement After Parody Video Goes South
Trisha Paytas mocked Britney Spears's engagement and conservatorship.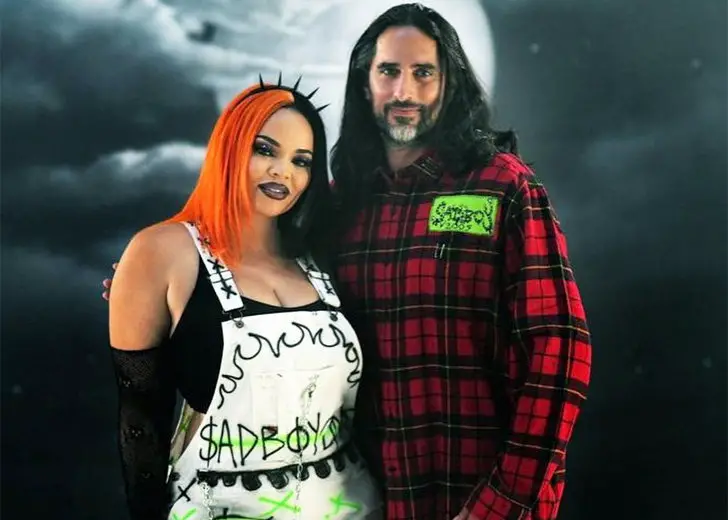 Ever since Trisha Paytas launched their YouTube channel, they have let people know they love Britney Spears. Paytas is perhaps one of the biggest fans of the Queen of Pop and has openly supported her throughout the years. 
They have sung covers of Spears's songs in cosplay and even recreated the singer's Instagram. Similarly, Paytas has also spoken up against Spears's infamous conservatorship and the Free Britney movement. 
However, sometimes their support misses the mark. Recently, they uploaded a parody of the popstar's engagement with their fiancé, Moses Hacmon, and received backlash for it. 
Trisha Paytas Mocked Britney Spears's Engagement 
Spears got engaged to her longtime boyfriend, Sam Asghari, on September 12, 2021, while fighting the battle of conservatorship against her father. She announced the news on her Instagram by uploading a picture showing off the ring. 
Soon after, Paytas recreated the singer's picture with Hacmon and gushed about being engaged at the same time as Spears. On October 18, 2021, they uploaded a video titled 'Famous Pop Star Bullied For Getting Engaged!'
While Paytas did not explicitly mention Spears's name, it was evident that the video was about her. 
In the video, Paytas' name is Barbie Pears, and they are a pop star living under the shadow of their father. The video starts with Hacmon sneaking into Pears's house to meet them.
The couple meet in secret, where they discuss Pears's secret project. Then, while playing with a rose, they prick their hand on a thorn. Hacmon shows his concern, but Pears neglects it, saying it was nothing to what they've faced for the past ten years.
In the next scene, the duo talks about wanting to get married and having babies. Paytas mentions that their dad liked Hacmon, and everyone could see how happy they were with him. 
This directly references Spears's statement in the court when she announced she wanted to marry and have babies. Similarly, Asghari making Spears happy for the last five years is appreciated by her fans and followers. 
Continuing with Paytas' parody, they say that they would be happy once they were free. Hacmon responds by showing his support and saying everyone was behind the #FreeBarbie movement — another reference to Spears. 
Hacmon holds up a magazine and reveals Spears on the cover. He further explains that the movement won't stop until Pears gets their fundamental human rights back.
Pears explains how they feel like an animal in a cage and says that the #FreeBarbie movement had motivated them to go to court and explain their situation. In the third scene, Pears exclaims they were happy to speak to the court, delighted that the truth was out.
This was again related to Spears when she went to the court and exposed the dark secrets of her conservatorship. Then Hacmon kneels on one knee and proposes to Pears, to which Pears says yes.
In the next scene, Pears is overwhelmed and crying and wants to delete everything from social media. This was a reference to the time Spears went on a vacation to celebrate her engagement after deleting her social media. 
Another connection Paytas made in the parody was people dragging Asghari for being engaged to Spears. They mainly refer to Octavia Spencer's private apology to Spears and Asghari after commenting on Spears's engagement post, asking her to get a prenup. 
Paytas says that celebrities and influencers are people and should be treated humanly at the end of the video. They further said that everybody deserves happiness no matter what. 
The Backlash 
As soon as Paytas uploaded the parody, the backlash started. At the time of writing, the video has 382 likes and over 1.2k dislikes.
People commented on the video, saying it was a mockery of the long conservatorship Spears had to face for over a decade. Many people also accused Paytas of banking on the singer's trauma and being tone-deaf. 
One particular person commented Paytas would not be happy if someone were impersonating them. The commenter assumed Paytas would find the cosplayer creepy and would accuse them of stalking her. 
Paytas responded to this comment and said they would do nothing of the sort. Instead, they mentioned Dakota Paytas, a person who cosplays Paytas on TikTok. 
The YouTuber said they were honored by the TikToks. They reminded that many people dress up as Spears, and the Queen of Pop has always shown appreciation to her fans.
Regardless, Paytas is still receiving backlash for the video, and the ratio of likes to dislikes is increasing.