Is This the End of Trisha Paytas? Lies, Scandals and Lawsuits
It seems like the beginning of the end for Trisha Paytas.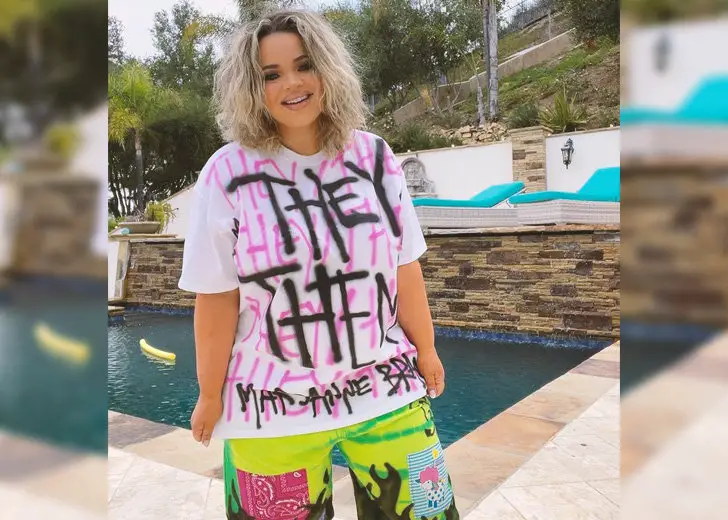 The web of lies Trisha Paytas was spinning for over a decade is slowing unwinding. Paytas has been called hypocritical, and a pathological liar before, but many fans believed otherwise. 
Unfortunately for Paytas, those fans have turned their back on them and are digging more dirt on Paytas. It all started when the YouTuber walked out from the Frenemies podcast they hosted with Ethan Klein. 
Before Frenemies, Paytas was made fun of because of their drama, wild breakdown videos on YouTube, and attacking David Dobrik's Vlog Squad. However, with the help of the podcast, Paytas was brought to good light. 
People started appreciating them, and they also helped expose Dobrik and other members of the Vlog Squad who were involved in molesting drunk girls. Similarly, they also brought attention to James Charles and his grooming allegations. 
Leaving Frenemies and turning their back on Ethan and Hila Klein was one of the worst decisions Paytas could make. They left the show because of monetary disputes and misunderstandings. 
Instead of talking it out with Ethan, they took it to Twitter and Instagram to expose private text messages, which eventually backfired. So now, Paytas is being dragged for their past actions and is close to being canceled from everywhere. 
Trisha Paytas Lied About Assault
The end of Paytas started when a small tea channel named Mysterious uploaded a long video about Paytas proving that they were a pathological liar. Mysterious did an incredible job researching and proved that Paytas lied about getting molested by their teacher. 
None of the details that Paytas told before matched, and they have changed their narrative a couple of times. They have said the teacher's name and school and asked people to search for him to make matters worse. 
Sadly, the teacher is no more in this world to defend themselves. One crucial thing Mysterious noted was that there were no records as to the teacher's arrest. 
Paytas had also accused the teacher of watching child pornography in school and said he was arrested for it. But once again, there are no records of any such actions.
Out of respect for the teacher, Ethan also archived episode 17 of Frenemies where Paytas had exposed the teacher's name. Similarly, Mysterious connected Paytas' lies with their past and revealed their series of lies as well.
She had uploaded her first video at the beginning of September 2021, and it soon gained traction. Eventually, she released couple more videos to expose Paytas. 
Paytas is currently claiming copyright on Mysterious' videos to stop the world from seeing their true side. So Mysterious took to Twitter to notify YouTube about the unlawful copyright claims. 
She pointed out that the claims were made after a manual review, which means someone from Paytas' team took the time to watch the video and copyrighted some parts. 
Everything Mysterious used in her videos was public information, but when she dug around it a little, she found out that Paytas' claims mainly were of the pictures she has now deleted from their Twitter.
Ethan helped Mysterious to dispute the copyright claims and brought the attention to YouTube. 
Trisha Paytas Is Hiding Their Tracks
Since Mysterious' videos went viral, Paytas has been hiding their lies. Copyrighting the videos was one thing, but Paytas has been removing videos from their YouTube channel, blndsundoll4mj.
Def Noodles (@defnoodlesspicy) pointed out that Paytas has removed more than a billion views from their channel. This amounts to at least 1300 videos deleted from blndsundoll4mj. 
These deleted videos included the ones in Mysterious's, making fun of JonBenét Ramsey's death, black facing, and rant videos. 
Trisha Paytas Has No Support
The walls around Paytas are crumbling down. Moses Hacmon, their fiancé, has been accused of stealthing by his ex Daphney (@ms.mercury). Paytas made fun of Daphney, and Hacmon responded to her and tried to debunk her claims, but all in vain. 
Unfortunately, Hacmon's sister, Hila, and brother-in-law, Ethan, believe Daphney and not Hacmon. According to the texts leaked by Paytas amidst the scandal, the Kleins have urged the pair to take accountability for their actions. 
Similarly, Ethan asked Paytas to make a statement clarifying the accusations against their teacher, but they asked Ethan not to tell them how to deal with their trauma. Paytas also said they have talked with the teacher's family, but there is no proof. 
On September 18, 2021, Daphney hinted she wanted to sue and get Hacmon arrested for stealthing. Moreover, Paytas is currently being sued by Anna Campbell. 
Campbell filed a defamation lawsuit against Paytas and many others. On the other hand, Paytas is also losing their income sources. They are losing subscribers from YouTube. 
Similarly, their skincare line, Miracle Elixir, has been removed from Glow Skin Enhancement's (GSE) website. GSE confessed they took this step since they were getting a lot of hate messages. 
Many of Paytas ex-fans have contacted other sponsors like FashionNova to cut the cord with Paytas. Additionally, there is a petition going on to deplatform them from all social media platforms. 
The petition to ban them started two years ago, but it is gaining a lot of traction now because of all the events that unfolded. At the time of writing, it has over 100k signatures.
Currently, neither Paytas nor Hacmon have made any statement about the ongoing situation. Therefore, all we can do is wait and watch.