Who Is Trippie Redd Dating Now? He Had a Brief Relationship with Rapper Ayleks
A look into Trippie Redd's dating history.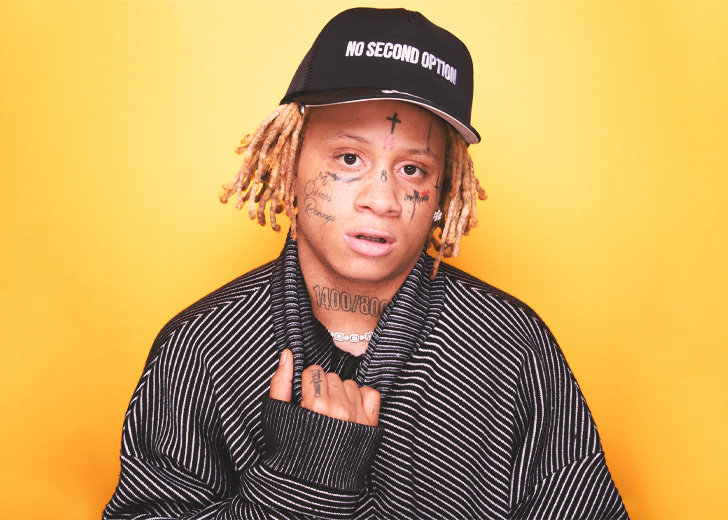 Rapper Trippie Redd came into the rap scene in 2015 with a series of online songs. He is classed as a mumble rapper who draws influences from various popular rap and rock artists.
Some of the prominent musicians he's been compared with are R&B singer T-Pain, rapper Gucci Mane, and Lil Wayne.
He got the recognition of a wider audience with his 2019 mixtape A Love Letter to You 4 and later with his 2021 debut studio album titled Trip at Knight. 

Source: Instagram
A Peek into Trippie Redd's Career Thus Far
The Canton, Ohio native started rapping at an early age. His brother, also an aspiring rapper, died in a car crash when Redd was just ten years of age. It further inspired the rapper to make a name for himself in the rap business. 
The prodigy began releasing mixtapes and rap videos, the success of which helped him land a big label deal with Strainge Entertainment, a music production company founded in 2016. 
His song 'Love scar' from his 2019 mixtape took him to the heights of popularity. His other songs, 'Dark Knight Dummo,' 'Taking a Walk,' and 'Topanga' helped him break into Billboard's Hot 100 charts. 
Redd's success continued with his third studio album Pegasus released in 2020. The album reached number two on the Billboard 200. 
The promising rap artists have already worked with notable names such as late XXXTentacion, Chance the Rapper, Young Thug, Future, Busta Rhymes, and late Juice WRLD. 
Trippie Redd's Relationship History with Rapper Ayleks
As per YourTango.com, rapper Redd was previously in a relationship with fellow rapper Ayleks. However, their relationship is not known to last any longer than a few months.
In April 2018, Rapper Redd took to his Instagram to announce his love life with Ayleks. Later in an interview with Montreality, he revealed the events of their first meeting.
As per Redd, the two found love for the first time on Instagram. First, Redd noticed her profile, and later when he was in New York, Redd "hit her up" with a message on Instagram.
His then-girlfriend responded, acting "tough" and "cool," but ultimately, the two got hooked on each other. 
In the same chat, Redd classed himself to be a casual lover and revealed how spending time with Ayleks "everyday 24/7" was romantic for him. Ayleks, who was sat beside him during the video interview, promptly added, "I feel like every day is romantic."
Unfortunately, their relationship is understood to have ended prematurely. However, the only hint of the breakup between the two can be taken from Ayleks' single 'No Feels' lyrics released in 2018.
In the song, rapper Ayleks can be heard confessing to having had a broken heart that needed to heal. 
Trippie Redd and Coi Leray
After his separation from Ayleks, rapper Redd was briefly known to be dating rapper Leray. As reported by HotNewHiphop.com in 2020, Leray accepted being in a relationship with the rapper.
She talked openly about Redd during the short chat and called him a "star" and a "big dude out here." But, unfortunately, like his first love affair, this bonding too ended in a hiccup. 
At present, rapper Redd is not known to be dating anyone, at least not in the public eye.