Bhad Bhabie Boasts an Impressive Collection of Tattoos: Shows off Favourite Arm Tattoo
Bhad Bhabie, who has an impressive collection of tattoos, revealed her arm tattoo to be her favorite in one of her YouTube videos.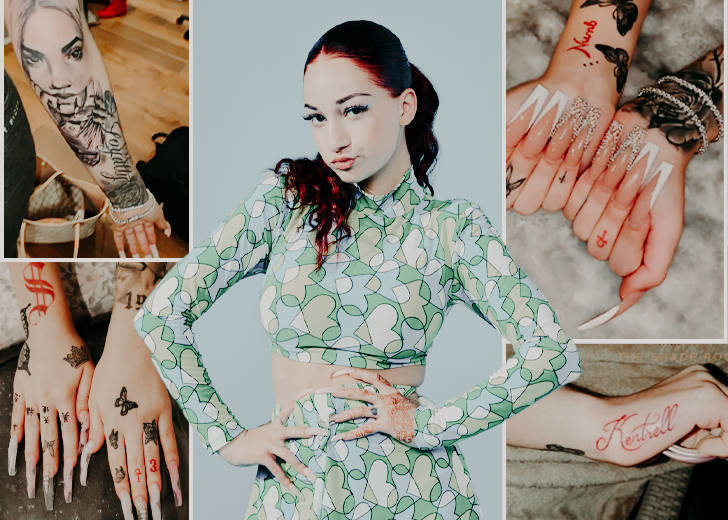 The young rapper, Danielle Bregoli, famously known as Bhad Bhabie, has quite an impressive collection of tattoos on her.
According to an article by Inked from May 2019, the rapper had over 15 tattoos on her body. However, it is safe to assume that, with time, the number has increased, as the rapper loves getting herself some new tats every once in a while.
Her First Tattoo
Among her pool of tattoos, Steal Her Style reported that her first tattoo was the "Loyalty" tattoo on her foot, which she had at the age of 12. Since the tattoo looked sloppy and childish, she later had it covered up with flowers. 
However, the word meant a lot to Bregoli. So she had it tattooed again, this time around, on her right forearm, written in a beautiful script font with a butterfly next to it. 
In addition, the "Loyalty" tattoo also served as a tribute to the late rapper XXXTentacion, who had the word "Loyalty" tattooed on his chin. 
Tribute To her Friend
The rapper XXXTentacion, aka Jahseh Onfroy, who was a very close friend of Bregoli was murdered on June 18, 2018, at the young age of 20. 
Following his sudden death, Bregoli got the "numb" tattoo on her right forearm, which was a tribute to Onfroy since he had the same ink below his right eye.
When paid attention, one can notice that her tattoo actually reads "Nunb" as the cursive letter "m" is supposed to have three arches. However, she had that done on purpose to make it look identical to Onfroy's Tattoo. 
Her Favourite Tattoo
In one of her videos posted on her YouTube Channel on Jan 30, 2021, the rapper flaunted some of her new tattoos. Less than a minute into the video, she revealed that the tattoo of her face atop stacks of cash, inked on her right inner bicep, was by far her favorite.
Bregoli Spoke Up Against Sexually Harassment
Speaking out in the support of Hannah Archuleta, who filed a sexual harassment lawsuit against the teen residential facility Turn-About-Ranch, Bregoli posted an eight-minute-long video on her YouTube channel.
Having been an alumna of the program, the rapper also attested that the ranch denied the teens basic privileges, like a proper bed and/or good food.