Trevon Diggs Isn't His Son's Favorite Footballer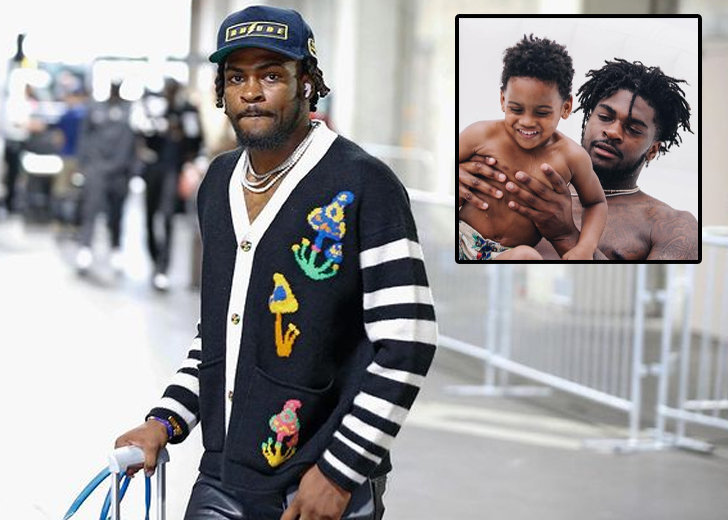 Trevon Diggs' son Aaiden Diggs is undoubtedly following in his father's footsteps as a footballer. 
The young boy aims to be an NFL player, and his interest in football is understandable given his family's inclination towards football.
His father is the Dallas Cowboys cornerback, and his uncle, Stefon Diggs, is the famous wide receiver of the Buffalo Bills.
In addition, his other uncle Darez Diggs is also a professional footballer. 
Courtesy of his family's involvement with sports, Aaiden is a big-time football fanatic, although he is just five years old as of this time of writing.
He loves attending his father's games and seeing players tackle the ball. 
Trevon Diggs' Son Is His Biggest Hype Man
Whenever Aaiden attends his father's game, he makes sure to root for his dad and excite him up. 
And his vocal support has been caught on the camera multiple times, which has also won him many hearts.
For instance, in August 2021, the Dallas Cowboys game was featured on HBO's Hard Knocks. And while the footballers got their screen time, Aaiden also succeeded in garnering some attention in the show. 
He was seen introducing his dad to a game attendee. "My dad's named Trevon, Trevon Diggs!" he stated. 
Then in another shot, he was seen calling his dad by name and asking him to, "Believe in yourself! Make sure you do good!"
As his dad made a complimentary move, he jumped on his seat, expressing excitement. He even funnily mentioned that they were trying to make money. 
Needless to say, Diggs' son's uplifting cheers melted the hearts of millions. And he is undoubtedly one of Digg's most prominent hype men.
But although he roots for his dad, Diggs is not his favorite player from his favorite team, Dallas Cowboys. Diggs' son admires his father's fellow teammate. 
Trevon Diggs Isn't His Son's Favorite Player
Diggs' son adores the Cowboys' quarterback, Dak Prescott, and swoons over his game skills. 
According to New York Post, Diggs' baby boy admired Prescott, saying he wanted to train for Prescott. He even said he would like to have his phone number. 
But he hit the headlines when he adorably confused Prescott with another NFL player, Patrick Mahomes.
Diggs' kid got an opportunity to meet his favorite player through HBO's Hard Knocks.
In an episode aired on September 2021, he met Prescott. But, it was hilarious because when Prescott gave him a surprise visit, the first question he asked was, "Are you Patrick Mahomes?" 

Trevon Diggs with his son during his main event. (Source: Instagram)
When Prescott corrected him, and he realized that his favorite player was right in front of him, he couldn't contain his happiness. 
He instantly said it was "nice to see you." He even mentioned preparing a dance and said it was his "future touchdown dance." 
According to People, Aaiden excitedly spoke about how Prescott was his favorite NFL quarterback. 
He mentioned Prescott was the best quarterback in the entire world. 
After the video of Digg's boy confusing two NFL players went viral, Mahomes sent him a signed jersey as a gift for him on Christmas.