Who Is Stefon Diggs' Girlfriend? The NFL Player's Dating Life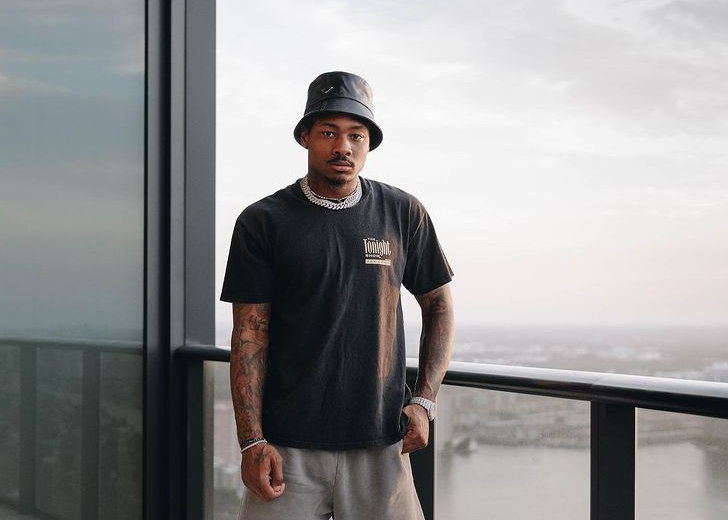 Stefon Diggs is an American Football player for the Buffalo Bills of the National Football League (NFL). 
He played college football at Maryland University and was drafted by the Minnesota Vikings in the fifth round of the 2015 NFL draft. 
Diggs received a 5-year extension, playing two more seasons in Minnesota before being traded to Bills in 2020.
He was traded to Bills for a few reasons, among which his deteriorating relationship with the team members seems to be one.
He also has a brother who plays for the Dallas Cowboys' cornerback named Trevon Diggs. 
Stefon Diggs and His Girlfriend
Diggs stirs the news with his girlfriend and controversies now and again. 
Diggs' on-off relationship with his baby mama, Tyler Marie, has been on the news several times. Marie gave birth to their daughter in October 2016.
The sparks about Diggs and his baby mama getting back together ignited when the fans saw his daughter during the season opener in 2018.
This rumor turned out to be false, as they both don't even follow each other on any social media platform.
He seems to have a close relationship with his daughter. 
Diggs has been rumored with many other names, keeping aside his baby mama. Some were his girlfriend, but none made it to the wife list. 
In 2017, he was with a girl, Reyna. However, the relationship wasn't serious, and she didn't ever become his girlfriend. 
Later, she accused Diggs on social media of forcing her to abort his unborn child. She alleged he didn't want to take responsibility for the child.
She then back lashed him for asking her to do such and asking him to reimburse her $500 she spent on abortion. 
She also posted Diggs' phone number and Snapchat id publicly to her followers so that they could get Diggs to pay her back.
Reyna even disclosed information that stated Diggs got two women pregnant simultaneously. 
Diggs was also linked with Stripper Dani The Dream. However, nothing was confirmed by the supposed couple. 
A few months after Dani, Bridget Kelly was Diggs' gossiped girlfriend. 
This news was confirmed after Kelly openly tweeted about Diggs during his first preseason game of the season.
Stefon Diggs and His Final Score
Stefon likes to maintain his low-profile feed, making the fans curious about his girlfriend and relationships.
The last wave Diggs created was when he dated actress Tae Heckard, former NBA player Brandon Jennings' ex-partner.
Heckard is also known for her part in the famous series The Game. 
Fans criticized Heckard for going after Diggs, as he seemed not to claim her and make it official. Their relationship was complicated as Diggs seemed to like his options kept open. 
The issue regarding their age gap was also a matter of concern to the audience.  While Diggs was only 24 years old, he dated Heckard, 41.
She also shares a child with Jennings. Diggs and Heckard split up right before his 2019 NFL trip. 
Despite his decorated love life, the player is apparently single at present.