Meet Kansas City Chiefs QB Patrick Mahomes' Fiancee Brittany Matthews
Brittany Matthews and Patrick Mahomes are high school sweethearts.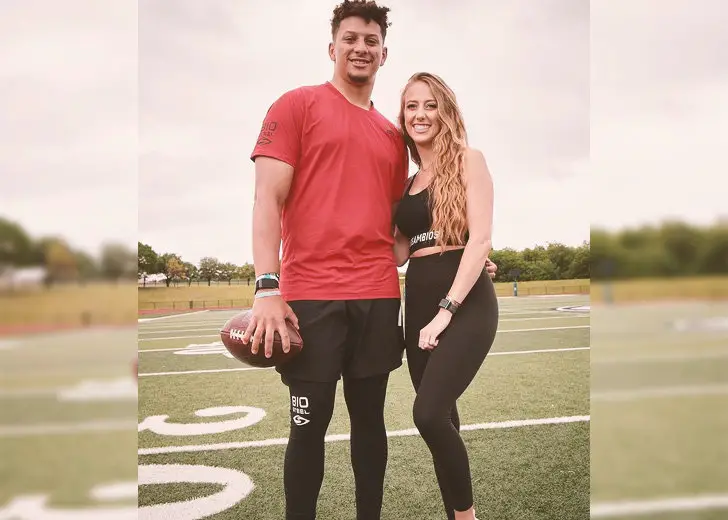 Earlier this year, on February 20, Patrick Mahomes and his fiancee Brittany Matthews welcomed their first child — a daughter, Sterling Skye.
The couple announced the baby's arrival by sharing a photo of their family of three holding hands on Matthews' Instagram. In the snap, the little one's hand was wrapped around Mahomes' finger while the first time mother wore a necklace bearing the baby's name.
And while the couple has been doing great as parents, some fans of the Kansas City Chiefs quarterback are still trying to figure out who really is his soon-to-be wife, Matthews.
So, here is everything you need to know about Mahomes' partner, as well as the couple's relationship.
Brittany Matthews Is a Certified Personal Trainer
A glance at Matthews' Instagram handle shows that she regularly posts workout videos, sharing tips to maintain a healthy lifestyle and stay fit. This is because she isn't any regular Instagram influencer but a certified personal trainer.
After receiving a four-year bachelor's degree in kinesiology from the University of Texas at Tyler, she became a certified personal trainer. Following that, she turned her skills into a business venture by starting Brittany Lynne Fitness, an online fitness training program.
The description of her fitness program on its official website reads,
Brittany Lynne Fitness was created out of my love for fitness and how it makes me feel. My programs are guided workouts that can be completed by anyone...For me, the gym is my safe place. It's the place where I can let go of everything around me and just focus on myself and making myself better.
Her fitness career is also credited to her sporting background. She played soccer at the university and continued it later, as she signed a deal to play soccer overseas for Iceland's UMF Afturelding/Fram team.
However, she does not play the sport anymore but owns a professional women's soccer team with a few people. 
Brittany Matthews and Patrick Mahomes Are High School Sweethearts
The love story between Matthews and Mahomes started after they met each other while studying at Whitehouse High School in Texas. When they met, the football quarterback was a sophomore, while Matthews was a junior.
The two subsequently began dating when Mahomes played safety for his high school football team while also playing basketball. Meanwhile, Matthews excelled as a soccer player.
The couple attended different colleges after high school, but that didn't keep them apart from each other. In fact, they grew individually in their careers with each other's support and love, and after dating for years, they eventually got engaged in 2019.
The 25-year-old quarterback proposed to Matthews shortly after receiving his Super Bowl ring prior to the 2019 NFL season. "On a day that was meant to celebrate you, you turned it into celebrating us," Matthews wrote on Instagram, sharing the news of his engagement.
Now, with years into the relationship and a baby by their side, the couple might be eying getting married soon. So, don't be surprised if the wedding announcement comes in a short time.