5 Heartwarming Pictures of Patrick Mahomes and Brittany Matthews' Baby Sterling
Patrick Mahomes and his fiancée Brittany Matthews share their little bundle of joy with the world.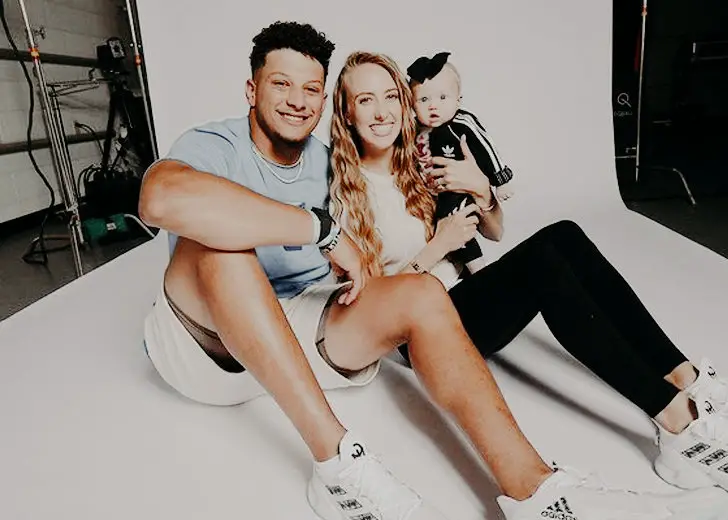 Patrick Mahomes and Brittany Matthews (his fiancée) welcomed their baby girl, Sterling Skye, on February 20, 2021. 
The couple made the announcement via Instagram with a set of matching photos and revealed their little angel was born at six pounds and eleven ounces. 
The couple has been gushing about their daughter on their socials ever since. Here are a few pictures to catch you up on the athletic couple and their adorable daughter. 
Welcome Home, Sterling!
Starting off on a high note, this snap was uploaded to Mahomes' Instagram on February 21, 2021.
The snap features a beautiful family moment where little Sterling was seen holding on to her father's index finger with her left hand while his hand was being held by the new mother. 
All the while, the backdrop for this awe-inspiring snap was Matthews' glittering necklace that read, "Sterling." Incidentally, this post was also where the couple announced their daughter's name to the world. 
A Little Bundle of Happiness!
The next picture in this list came exactly one month after the first, and as you might have guessed already, it was a post celebrating Sterling turning one month old. 
Mahomes looked as if he was the happiest man on the face of Earth as he lovingly gazed at his little angel. The new father was sporting a white polo shirt with golden accents while his infant daughter donned the most adorable pink bow on a headband. 
Up until this point, fans and well-wishers had yet to see Sterling's face. They would have to wait a couple of more months for that. But one thing was certain; baby Sterling had inherited her mother's golden locks. 
Hello World!
On June 11, 2021, both Mahomes and his fiancée took to their respective Instagram handles to reveal Sterling's face to the world. 
The snap saw the whole family sitting down against a white background as they posed for the camera. The Kansas City Chiefs quarterback wore a blue Adidas tee paired with off-white shorts. 
The baby mama let her blonde hair loose on her plain white t-shirt and wore a pair of fitting black trousers to complete her look. 
As for baby Sterling, she looked absolutely adorable in a black tracksuit with white stripes. She also donned a black bow headband—a minimalist accessory. 
A Family of Three
Technically, the previous entry on this list qualifies as a family photo, but it's not exactly what comes to mind when you hear the word family photo. Take a look at this snap, and you'll see what we mean.
Although the snap framed the most generic family photo pose there is, one cannot help but smile at the heartwarming photo. 
Happy Father's Day!
The final post on this list came fairly recently from Matthews on Father's Day. 
It was Sterling's first Father's day, but as evident from the series of snaps on the soccer star's Instagram, the father-daughter duo had plenty of moments to celebrate. 
Matthews also included the couple's two furry babies, Steel and Silver Mahomes, in the same posts.