Is Timothee Chalamet Still Dating Eiza Gonzalez?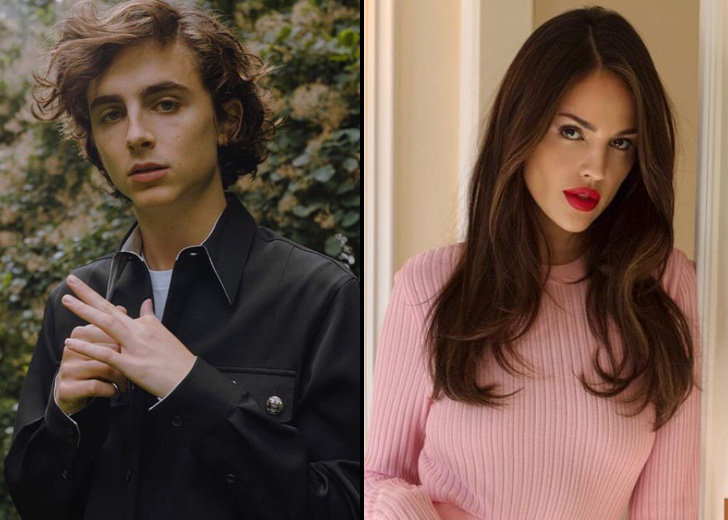 Timothee Chalamet and Eiza Gonzalez made the rounds when they were spotted passionately making out in Cabo in June 2020.
Even though the pair didn't discuss their relationship in public, they were photographed almost every day during their vacation, and in the pictures, they were seen sharing some intimate moments.
The surprise news even excited the fans, as they were happy to witness their favorite stars dating each other.
Timothee Chalamet and Eiza Gonzalez's Romance Was Short-Lived
Chalamet and Gonzalez, who began dating in the summer of 2020, could not take their romance further.
The relationship was short-lived, as various reports stated they were only romantically involved during their vacation.
Reporting on a similar topic in October 2020, E! News stated that the two were not dating each other "for a while now." One source also told the outlet that they "weren't together for long, just that Cabo trip."
Similarly, another source added that she "seemed single" when speaking with Gonzalez and did not mention Chalamet either.
Not just her, but when the Call Me by Your Name star spoke with GQ in November 2020, he didn't hint a thing about his relationship with the actress.

A fan posted pictures of Timothee Chalamet and Eiza Gonzalez from their vacation. (Photo: Twitter)
Instead, he shared how he felt about the photos of him making out with his last girlfriend, Lily-Rose Depp. The two dated for well over a year before ending in early 2020.
"I went to bed that night thinking that was one of the best days of my life," Chalamet told the outlet.
"I was on this boat all day with someone I really loved, and closing my eyes, I was like, indisputably, 'That was great.' And then waking up to all these pictures, and feeling embarrassed, and looking like a real nob? All pale? And then people are like: This is a P.R. stunt. A P.R. stunt?! Do you think I'd want to look like that in front of all of you?!"
Fast forward to the present, and there is no information whatsoever about them rekindling their short-lived romance. They apparently seem to be occupied in their respective careers.
Timothee Chalamet and Eiza Gonzalez's Relationship Status Now
Following Chalamet and Gonzalez's split, the actor sparked dating rumors with his ex-girlfriend, Depp.
As per Entertainment Tonight, the pair was spotted together in March 2021, fueling rumors of them getting back together. But nothing was confirmed.
Back around 2013, he was also linked to Madonna's daughter Lourdes Leon. At the time, he was 17. The two reportedly met while attending LaGuardia High School in New York City.
Gonzalez, on the other hand, famously dated her lacrosse player boyfriend, Paul Rabil, after the breakup with Chalamet.
The couple began dating in the spring of 2021, but the relationship didn't go the distance. After seven months together, they called it off in November 2021.
A report from Just Jared in December 2021 stated that the split was amicable.
"The split happened a few weeks ago and it wasn't ugly at all," a source told the publication. "Their work schedules just weren't aligning and it put a strain on their relationship. They're going to remain friends though!"
Likewise, in the past, she was linked to the likes of Luke Bracey, Josh Duhamel, D.J. Cotrona, Pepe Diaz, and Alejandro Fernandez.